Timesheet and Expense Management Software for Mobile & Web
Remove paper with our flexible time tracking and timesheets software. Make submitting timesheets and expenses a breeze.
Flexible timesheets that work for you
Both Fieldworkers and Office staff can easily fill in and manage weekly timesheets. You can get accurate hours and expense data from your fieldworkers, instantly. You can allow your field team to create time logs and expenses in a way that works best for you.
Our timesheets are flexible and you can use them in a few ways, depending on how you work and how you want your data captured. Time tracking made very easy!
Complete Forms
Timesheets can be filled out from the office or the field, giving your entire team an easy way to submit data.
Capture Data
It also gives the office a way to capture data for fieldworkers and make changes if required.
Approve
It's really easy to check and approve timesheets from the dashboard and you can batch approve submitted timesheets at once, to save time.
View everything from office and mobile
You can add and manage time logs and expenses on behalf of staff from within the web-based application in the Timesheets section.
Create time log templates to make your process fit for you, and easy as pie for your fieldworkers.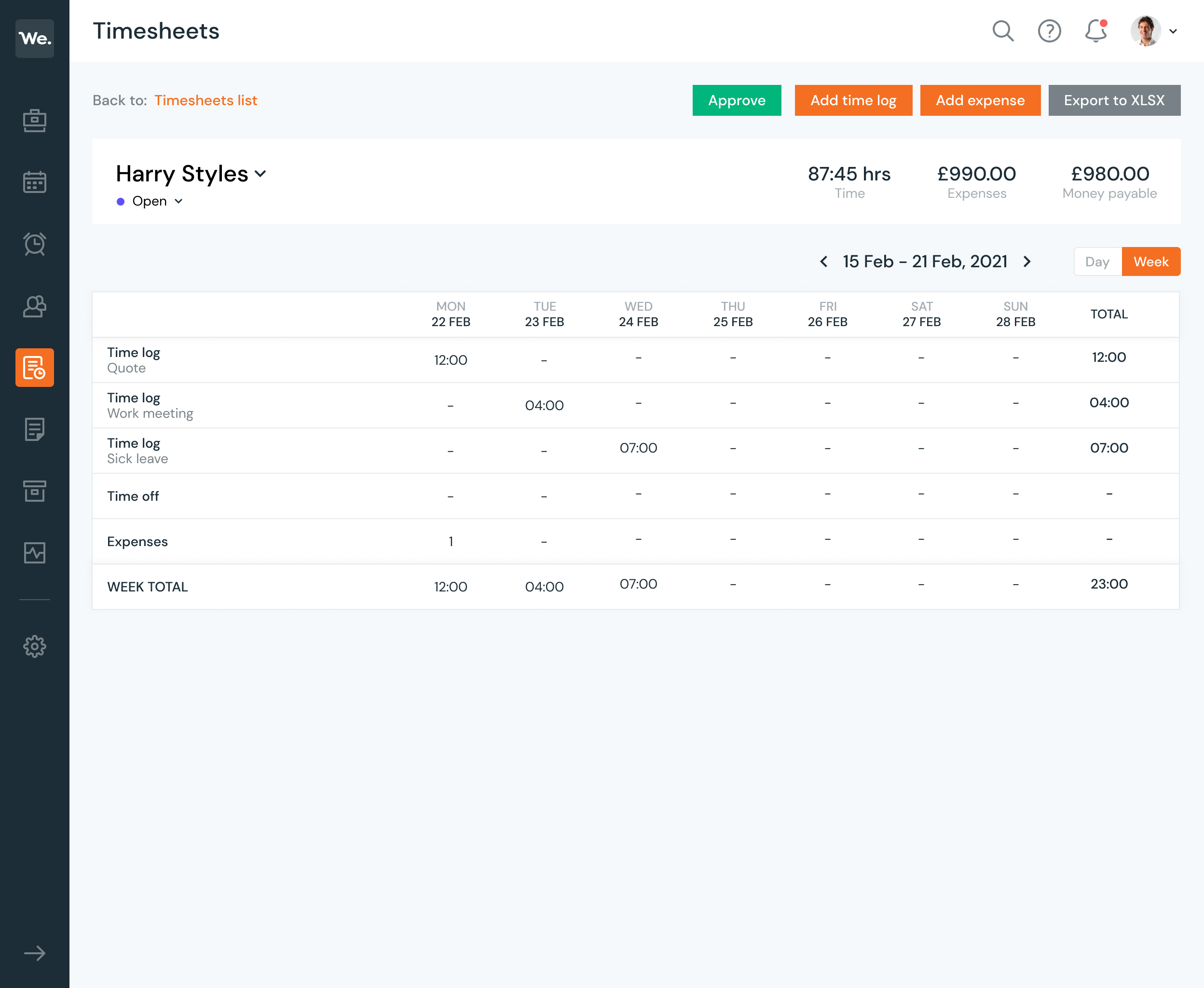 Once your staff have submitted timesheets, they will then be ready to approve or decline. Job and Project Management is all about reducing time spent on admin. Having a quick and easy time tracking and employee timesheet management software is one easy way to free up your day for acquiring more business.
Export timesheet data via Excel for reporting or if you need to import into a separate HR or Payroll software. Whatever your workflow, Workever can fit in and streamline the process
Helping businesses just like yours
Find out why customers use our software to remove paperwork, improve communicaton, plan, manage and run efficient, growing businesses.
Great software for our nationwide team
With steady growth and incline in customers, we approached Workever. We rapidly went from dis-organised excel files to one centralised, organised system that our entire enterprise now operates on.
Miles Ward
Spalls Nationwide Cleaning & Facilities
It's really easy to use!
We now have everyone working digitally, we can plan in advance, and the technicians can easily see what's going on all the time, so changes to schedules are no longer a problem. The technicians no longer have to keep coming into office.
Mike Philbin
Manager at Nu-Life Floor Care Ltd
50% reduction in paperwork!
The Workever and Xero integration has helped us eliminate the need to double enter data. I love the fact I can invoice in Workever and all of my data automatically appears in Xero. It's brilliant!

Michelle Avis
Office Manager at Drains Ahead
Schedule Any Job and Manage Your Workforce​
No commitment, no auto subscriptions, no credit card required
The advantages of using our timesheets