All of your forms at your fingertips
With Workever's custom form builder, you can easily digitise your forms. Fill them out on the fly and get on your way – faster.
Our lightning fast mobile forms software make it easier than ever to eliminate paper forms. Just input the info you need, and your fields will be put into a form using our form builder software. Assign it to the job, and you're off!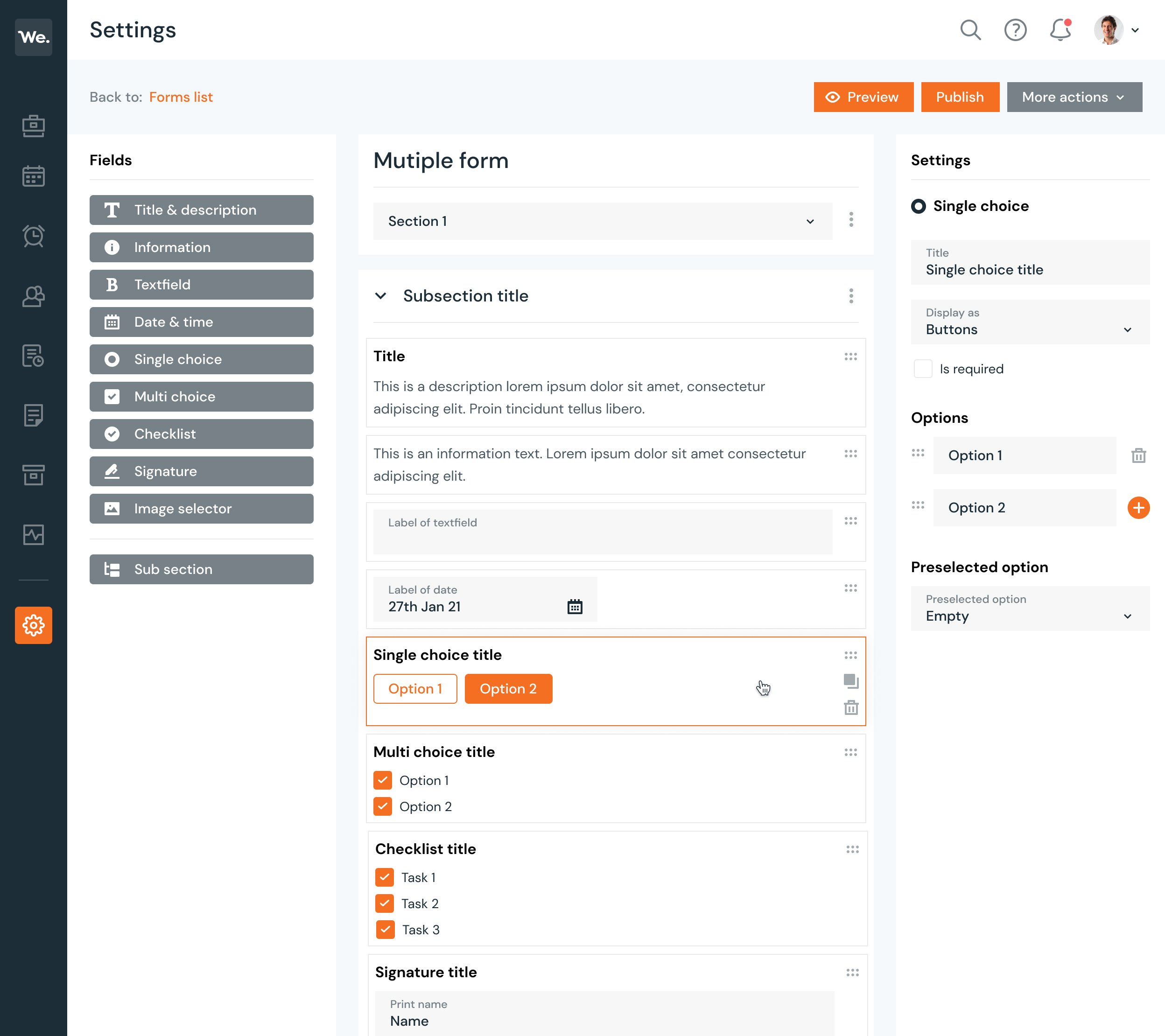 All the field forms that you set up will appear in the mobile app as easy-to-use options. Fill out everything you need in seconds, rather than minutes. Then get your customer's signature on the mobile form and be on your way.
With the form completed, it's easier than ever for the office to send it to your customer. Download, print it, or email it – all from right inside Workever.
Helping businesses just like yours
Find out why customers use our software to remove paperwork, improve communicaton, plan, manage and run efficient, growing businesses.
Great software for our nationwide team
With steady growth and incline in customers, we approached Workever. We rapidly went from dis-organised excel files to one centralised, organised system that our entire enterprise now operates on.
Miles Ward
Spalls Nationwide Cleaning & Facilities
It's really easy to use!
We now have everyone working digitally, we can plan in advance, and the technicians can easily see what's going on all the time, so changes to schedules are no longer a problem. The technicians no longer have to keep coming into office.
Mike Philbin
Manager at Nu-Life Floor Care Ltd
50% reduction in paperwork!
The Workever and Xero integration has helped us eliminate the need to double enter data. I love the fact I can invoice in Workever and all of my data automatically appears in Xero. It's brilliant!

Michelle Avis
Office Manager at Drains Ahead
Easy to use job and field management software
No commitment, no auto subscriptions, no credit card required
A type of program that enables you to design and fill in online forms on a computer. Most forms packages contain a number of sample forms that you can modify for your own purposes. Newer forms software packages enable you to publish a form on the Internet so that anyone with Internet access can fill it out. Workever's online forms and form creation process is convenient and easy to use. We offer contact forms, online payments, web forms and professional forms to name a few.
Create online forms
Our lightning-fast mobile software makes it easier than ever to eliminate paper forms. Just input the info you need, and your fields will be put into a form using our form builder software. Assign it to the job, and you're off!
Our online form builder software allows users to create forms using a drag-and-drop interface. They are flexible tools capable of creating many types of fillable forms, including surveys, quizzes, and questionnaires. These forms can be shared or embedded on web pages where users can procure responses, and response data is gathered and stored within the application itself.
The online form builder aims to be intuitive and easy to use, streamlining the process of creating forms so users can focus on collecting and analysing data. These tools enable companies to rapidly build forms aimed at gathering information from a given audience. Some companies use online forms to collect information from potential customers or clients on projects or opportunities.
Some can operate as a standalone solution, while other types of software, like CRM software, lead capture software or survey software, can include online form building functionality. Additionally, online form builders will often offer numerous integrations so users can share forms and export data quickly and easily. Say goodbye to a messy pile of client contact forms, mobile forms and form submissions, just create online forms. It works similarly to Microsoft forms but is more suited to your specific industry.
Our online form builder has the following functions
Offer a drag-and-drop interface or simplistic interface that builds fillable forms.
Provide native form building features and do not rely on integrations to provide online form building
Allow users to share forms with an audience or embed forms in a website to collect data
Provide analytics on form submission data
Provide multiple templates for specific, distinct types of fillable forms
Why form software is essential
Form automation software is essential for businesses. Here are a few facts about form software.
It saves on the cost of paper – an average office worker goes through 10,000 sheets of paper per year
It's an inefficient way to handle documents
On average 120 dollars in labour is lost because of misfiled documents
it makes data collection much easier
The form automation process
In principle, it's the idea of creating, sharing, completing, and managing forms electronically to eliminate waste and inefficiency inherent in paper-based systems.
The principle of form automation applies to anything from applications, questionnaires, contracts, surveys; anything and everything that could be printed to paper. In practice, it refers to the software tools we use to get the job done.
Different approaches to form automation
There are two main problems that form automation tries to solve:
Creating and managing electronic forms
Managing legacy paper forms
In the first case, certain tools allow the entire form life-cycle to exist digitally, which completely removes the need for paper.
Tools like this can take the form of CRM, electronic surveys and contracts, or reports generated from analytical data. This is generally the more desirable route to take, as it is the one that allows for truly paperless workflows, and thus the greatest degree of automation and efficiency.
Managing legacy paper forms is a sub-optimal compromise at worst, and a temporary solution that lasts as long as it takes to digitize the entire backlog of paper forms at best.
For any company, methods for managing legacy documents will be necessary for converting existing paper archives to digital but must be coupled with a strategy for transferring the creation and management of future documents to digital.
Create and manage your documents
The best way that companies can do this is by using excellent form software.
Form software is anything that's designed to make the creation and management of electronic forms and documents possible.
It's great for making sure that time isn't wasted on lost or misfiled paper documents, and that alone can save you a great deal of headache.
But, form software alone is only part of the puzzle. What really makes a difference is whether or not that form of software is capable of automation.
Terminology can be confusing, but I'll try and make it simple. Basically, some form software will have automation, some form software won't. Bottom line: make sure you have forms automation software like Workever.
Key Features of Form Automation Software
Good form automation software will be designed to help you improve efficiency and eliminate wasteful processes from your business.
Choosing the best online form builder will depend on what business goals you're trying to achieve. Undoubtedly, there are also many ways in which a particular software tool could help you achieve those goals.
Nonetheless, when searching for the right form automation software, be on the lookout for these key features that will definitely make your life easier:
Forms automation software is only as good as the extent to which the electronic forms can be customised. Being able to quickly and easily build custom forms with a range of different fields, as well as pre-made templates and rich multimedia is essential to any good form automation software.
Sharing is essential for collaboration and the elimination of inefficiency in the transfer of documents; this process must also be secure.
Access to confidential forms and documents must be protected where necessary, and the control of this access given to relevant interested parties.
Electronic forms make storing and accessing documents quick and easy, but in order to mitigate complications and protect against system failure, your forms should all be securely backed up.
Cloud storage offers a secure centralised location for categorising and locating forms and documents quickly and easily while minimising the risk of data loss or corruption.
It's also a good idea to make sure that you can access your documents offline. While many cloud-based systems are designed to let you work offline, it's not always the case. Remote teams can use this type of solution to submit automated forms and the forms get updated automatically after internet access is regained.
Enabling your clients and employees to quickly and easily sign forms electronically is an important feature for streamlining any process of review, validation or approval. Some form automation software will have this feature in-built into the process, or have it readily available as an integrated solution.
Integration is a crucial component of a well-oiled form automation machine. With integration, you can introduce form automation throughout your business workflows, and ensure maximum automation via integrating with the other products and systems you use.