Invoicing Software for Business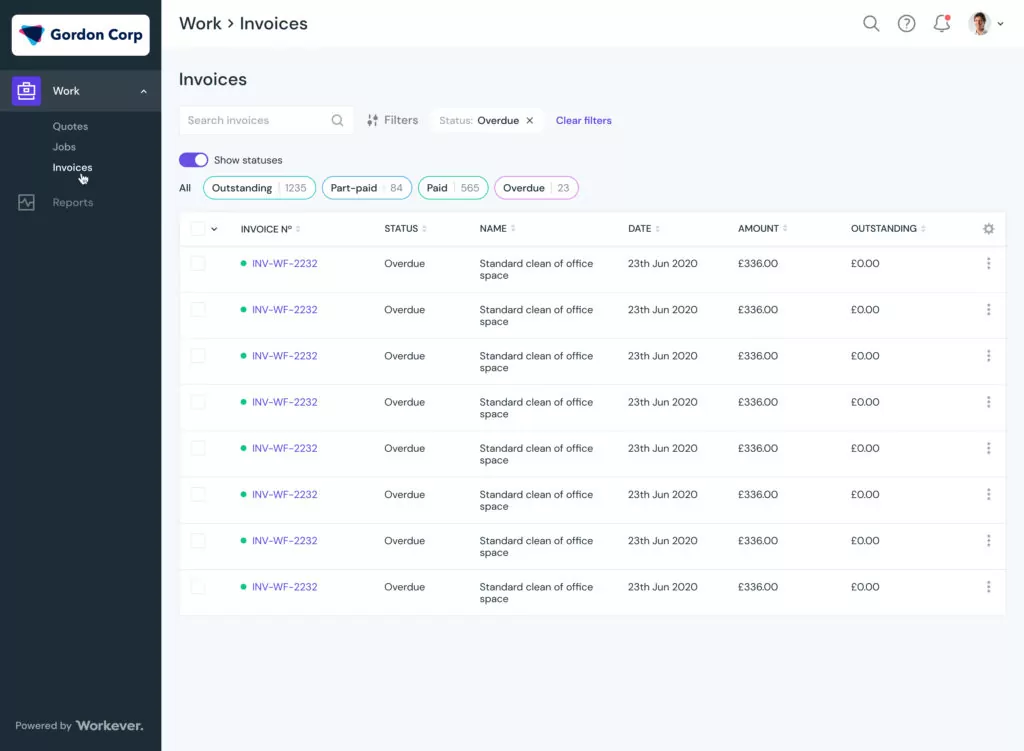 With Workever, you can also prepare invoices for your customers with ease. With invoicing and customer info in one place, you never have to let anything fall through the cracks again. Invoicing and billing automation is an integral part of job and project management and by reducing admin, you free up more time for winning new business.
Quickly build professional and custom quotes for customers, including costs and any attachments you need to provide. Then send them directly or make them ready in the customer portal where customers can pay bills via online customer portal.
Now that you're ready to get started, make sure to set up a job for the work. There's no magic here, it's just time-saving invoice software; just click the "convert to job" button and all your customer and job information will be set up for you!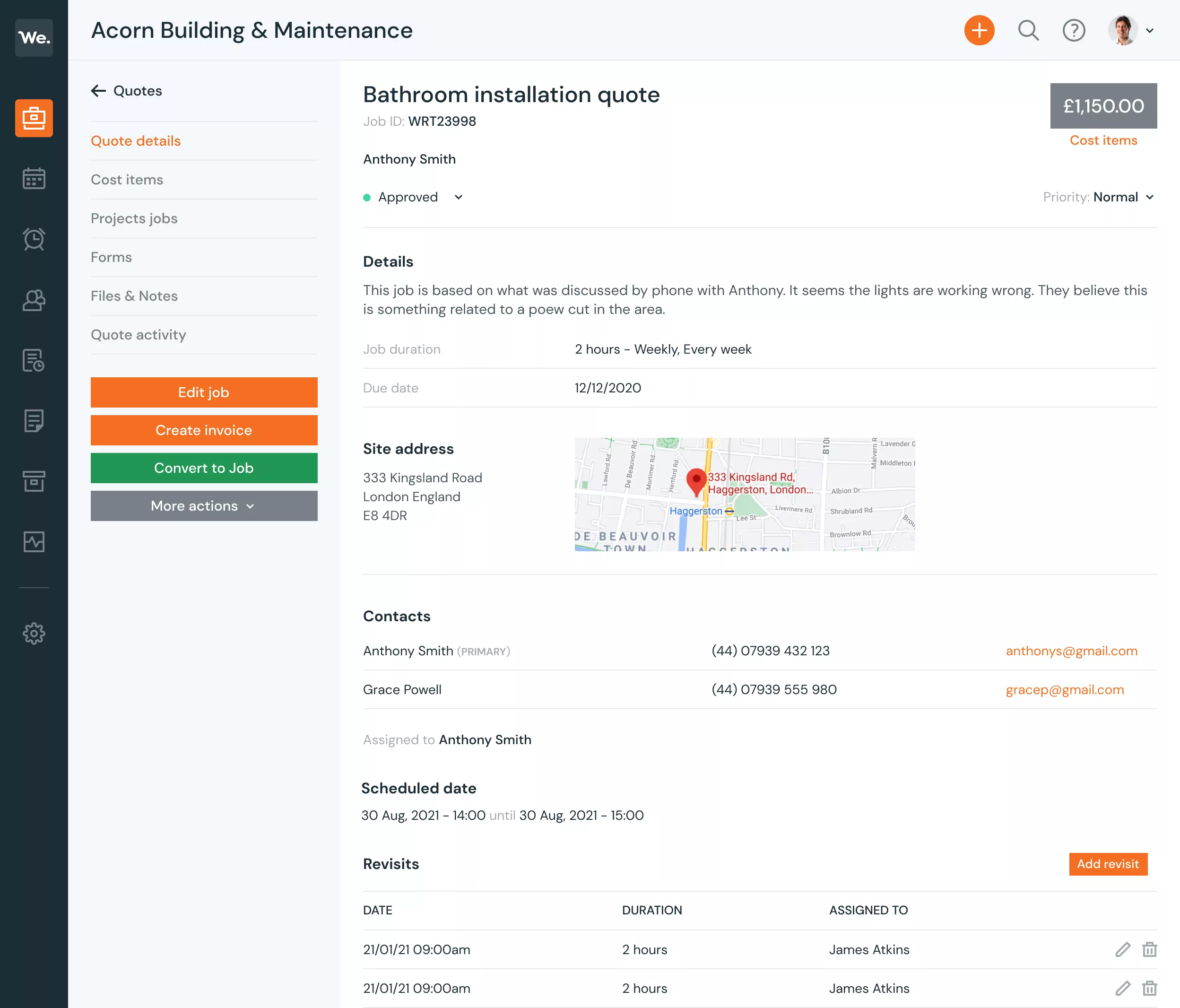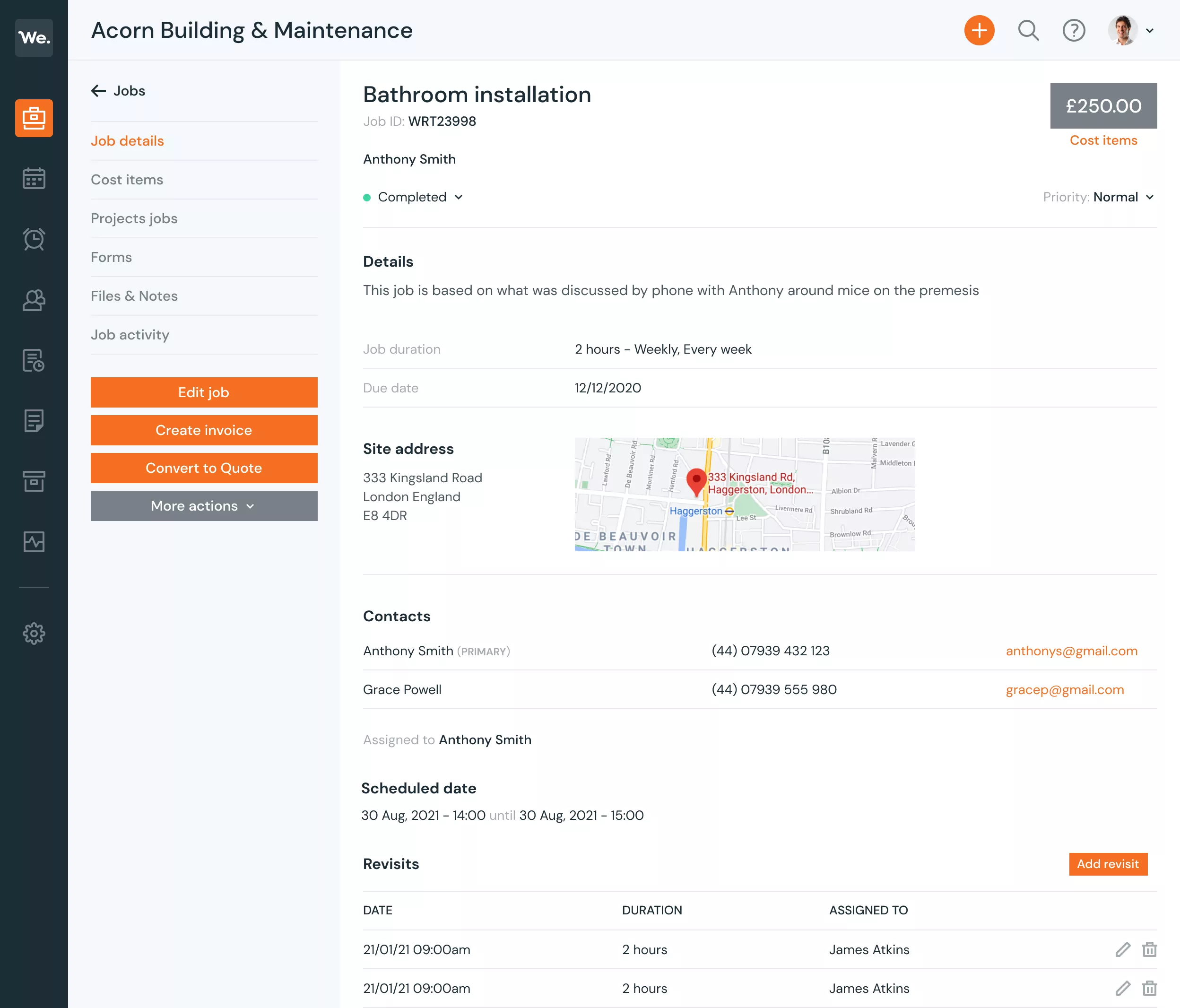 Getting started on the work after a quote has been accepted is as easy as clicking a button. Start your work right away by clicking the "accepted" button in your job's quote. Your client will be informed, and you can keep things moving.
You don't have to wait for the office to send invoices for your work. Create and send invoices right after you've finished. Then you and your customer can sign off on payments from any device. It will update in the system immediately.
Your all-in-one management software
Invoicing Software for Business
Workever's billing and invoicing software is used by a huge range of business types and industries, find out what sort of companies use our software to reduce admin and increase business.
Billing & Invoicing Automation improves cash flow
You need to save time in order to bring in new business. Workever's custom Invoice templates, recurring invoices, automatic payment reminders and billing software make this entire process automatic and synchronised.
Helping businesses just like yours
Find out why customers use our software to remove paperwork, improve communicaton, plan, manage and run efficient, growing businesses.
Great software for our nationwide team
With steady growth and incline in customers, we approached Workever. We rapidly went from dis-organised excel files to one centralised, organised system that our entire enterprise now operates on.
Miles Ward
Spalls Nationwide Cleaning & Facilities
It's really easy to use!
We now have everyone working digitally, we can plan in advance, and the technicians can easily see what's going on all the time, so changes to schedules are no longer a problem. The technicians no longer have to keep coming into office.
Mike Philbin
Manager at Nu-Life Floor Care Ltd
50% reduction in paperwork!
The Workever and Xero integration has helped us eliminate the need to double enter data. I love the fact I can invoice in Workever and all of my data automatically appears in Xero. It's brilliant!

Michelle Avis
Office Manager at Drains Ahead
Easy to use job and field management software
No commitment, no auto subscriptions, no credit card required
Invoicing Software for Business
Do you have a business? Are your invoices getting out of control? If you're looking for an easy way to organise and manage the invoicing process, then you've come to the right place. There are many steps in the process of creating a professional invoice. A company needs to track time and expenses, issue invoices, follow up with clients who haven't paid their bills yet-almost too much work for one person! Workever's easy-to-use software will help you store all your customer info in one place and give you templates that make it easier to create an invoice or send out reminders about unpaid balances due on past invoices without any hassle.
Billing and Invoicing Software
Ever heard of the term "paperless office"? Invoice software is a key component to making that happen. Paper invoices are expensive, inefficient and unreliable to some extent! So ditch your old paper invoice system for one that offers many benefits including saving money on material and postage costs; reducing time spent writing out invoices, quotes, receipts or calculating credits owed to customers; improving customer satisfaction by providing them with an electronic documents instead of having to wait 2-3 days for their copy in snail mail format or fax machine (remember those things?)
Invoice software is a tool that helps businesses create invoices online for any products sold or services offered to customers. The software typically has features that allow small businesses to create and send invoices, send and receive notifications on invoice updates, accept online payments, time tracking of payments, generate reports and provide accounting services.
Workever's Billing and Invoicing Features
Workever helps businesses create professional invoices. Our invoicing software is beneficial to small businesses because it has an extensive content library of invoice templates to help you create and send professional invoices.
Businesses also have the option of creating custom invoices to fit the particular situation. The software allows you to attach files and images that you can use while creating your invoice to add your branding nuances. Let your customers take you seriously with professional looking invoices.
Have clients who receive the same services and at the same price? Creating individual invoices for each of these clients manually can be tedious and ultimately inefficient. Our invoice software allows the creation of batch invoices from a single-entry input. You don't have to worry about the monotony of creating a similar invoice over and over again- this lets you save up on time as well.
Easily send or print out invoice account statements from the billing software. With just a click, you can view all customer information, job details, and pricing without getting the information from multiple places. Workever syncs all the information you provide on customers with the other details from the payment service program and other sites to generate an accurate invoice statement. You can also export these statements to PDF.
You're done with the job and it's time to get paid. In one click, you can convert any past work into an invoice for easy payment by a client! They will receive notification of your request for money and they'll sign off on the payment. From your job tab, simply convert the job into an invoice using the "One click job to invoice" button, no magic, no extra steps needed.
Workever has a Stripe payments add-on that allows you to receive online payments via credit cards. After invoicing, your clients, getting paid doesn't have to be a waiting nightmare or a series of lengthy payment procedures. Whether you're in the office or the field using your mobile app, simply process the debit or credit card payment using the add-on on our billing software.
You never have to worry about tracking payments manually again. With automatic updates and reminders, you'll know when clients pay for their invoices so that you can bill them accordingly or send out a reminder if they haven't paid yet. This tool also allows communication with customers on upcoming bills in case of something like up-coming subscription renewals!
Flexibility is key in today's business world. With our invoicing app, you can choose the device that best fits your needs to create and send an invoice! No matter your location, you can create invoices on any device and send them to your customers. You can access our invoicing app using both iOS and Android devices to easily create and send invoices in the field once you finish a job.
How good is billing and invoicing software if you cannot link it to your accounting software? This would create inefficiencies because you would have to copy and transfer data from one system to another. The chances of creating fatal data entry errors are high, which could lead to hefty consequences during an accounting audit.
Workever allows you to integrate the invoicing and billing software with Xero and QuickBooks online accounting software. Whether your small business prefers Xero or QuickBooks for accounting, you can automatically sync your invoices, customer contacts, sales tax rates, account codes, and payments.
Forget the hassle of having to fetch customer details from several spreadsheets or files. With Workever, you have all the customer information in one central location, making it easy to keep track of all the data associated with your customers.
With just one click, you can view past invoices, payment status, pending or upcoming invoices, and you can communicate with your customers more effectively. In case you need to prepare or send statements to them, you can provide accurate information within a short time frame.
Online invoicing software is a great way to save time, automate the process of sending and tracking your invoices. You don't have to manually create and send them out or follow-up with customer on unpaid balances
Many businesses have recurring invoices, and with our invoicing software, you don't have to repeatedly create new invoices for ongoing projects. Set up recurring invoices for your customers and have them sent at the time interval indicated in your agreement with the customer. This saves time for both the business owners and the customers.
Business owners don't have to worry about delayed payments or non-payments because they forgot to send an invoice on time. Recurring invoices ensure that customers make the payment on time and help businesses have predictable cash flow.
In the event that a customer doesn't pay for their subscription, you can set up automatic payment reminders to make sure they know what's coming. If there is an issue with charging your customers' credit card on file, we'll give them notifications so they don't lose track of their payments!
Choosing the right invoicing software depends on a range of things, including your industry, size of the business, budget, and personal preferences. Invoicing is an essential aspect of your business but can be time-consuming and require a lot of accuracy.
While choosing an invoicing software, you need to select one that automates most of the processes. The software should also be scalable for business owners, whether they are small businesses or larger ones.
The software should be flexible to meet your needs. For example, if you serve clients who use multiple currencies, the invoicing software should have this option. It should also have a range of accounting features or integrations to accounting programs.
Workever provides businesses with wholesome solutions for invoicing and billing. It offers a range of customisable invoice templates for invoice creation, offers different pricing options to fit your business needs, enables you to accept payments, and has a range of accounting tools and services.
Recurring billing is a form of billing where customers are automatically charged for the same product or service on an agreed-upon schedule. Recurring billing is often used to charge monthly, quarterly, or yearly subscriptions. For example, a gym or streaming service subscription, or general supplies of a product to an institution in a pre-agreed quantity is a recurring bill.
Recurring invoices give businesses several advantages. You can save time, money, and make your life easier with recurring invoices. You don't have to worry about missing an invoice or forgetting a date because the software will automatically send them for you! In addition this guarantees that both parties are on top of their obligation so there's no worries when it comes down to paying up for goods rendered.
Recurring invoices help businesses forecast their revenue because they can predict their cash flow. Given the advantages of using recurring billing, if your small business provides such services, then recurring invoices are a perfect fit for your business.
Businesses benefit from using invoice software in various ways regardless of the size of the company. Here are a few gains from using the software.
Professional look
Invoice software helps you create professional invoices with good layouts and incorporate all the essential details of customers and your business. You also have the option to print out the invoices.
Improved cash flow
Since creating and sending invoices is faster using software, your business can improve on cash flow. You can receive payments faster and earlier. Invoice software also helps in predicting cash flow using the data from recurring bills.
Faster payments
You can accept credit card payments which make the payment process faster. The integration with Stripe not only enables businesses to accept credit cards and debit cards but also offers payment security.
Increased accuracy
The chances of errors in the invoice details reduce significantly with invoicing software compared to using spreadsheets or paperwork.
Increased efficiency
Invoicing software streamlines the billing and invoicing process. Less time is consumed in the creation and sending of invoices through automation. You also have all the customer information in a central area including their transaction history.
Get the Best Invoicing Software for Small Businesses
We understand you need to have the customer, product, or service and the invoice details in sync- so we make it our business to keep your organisation running like a well-oiled machine. Workever helps you keep track of every invoice and connects the details of the job to the customer. We have helped companies to create over 180,000 invoices and facilitated the payment using features on the billing and invoicing software.
Increase your job capacity, organise and improve your small business by easing your billing and invoicing process with our software. Not sure where to start? Try out our free 14 days trial and have a feel of our billing software. You can also schedule a live demo for your team of 5+ completely free, no credit cards required.
Workever is one of the easiest invoice software to use, has intuitive features and a user-friendly interface. You don't need to pay any set-up fees, and our pricing is affordable even for small businesses. Over the past seven years, we have helped 1000+ customers create invoices, streamline invoicing and billing, hasten the getting paid process and generally increase profitability. It's time we did it for you too.