Invoicing Software for Business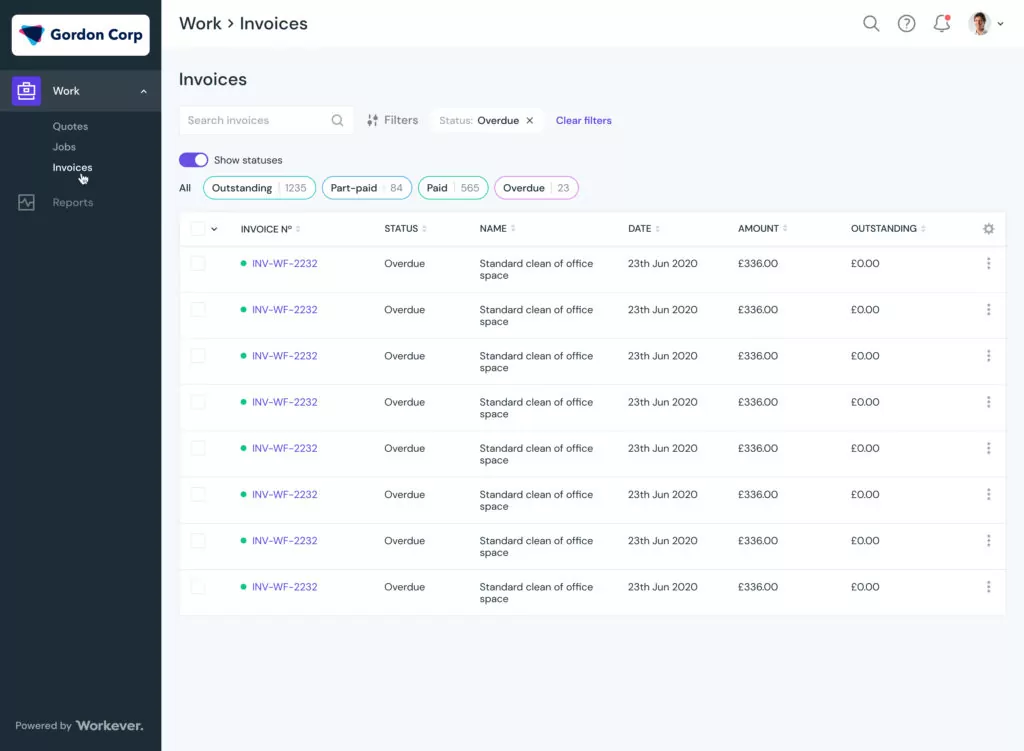 With Workever, you can also prepare invoices for your customers with ease. With invoicing and customer info in one place, you never have to let anything fall through the cracks again. Invoicing and billing automation is an integral part of job and project management and by reducing admin, you free up more time for winning new business.
Quickly build professional and custom quotes for customers, including costs and any attachments you need to provide. Then send them directly or make them ready in the customer portal where customers can pay bills via online customer portal.
Now that you're ready to get started, make sure to set up a job for the work. There's no magic here, it's just time-saving invoice software; just click the "convert to job" button and all your customer and job information will be set up for you!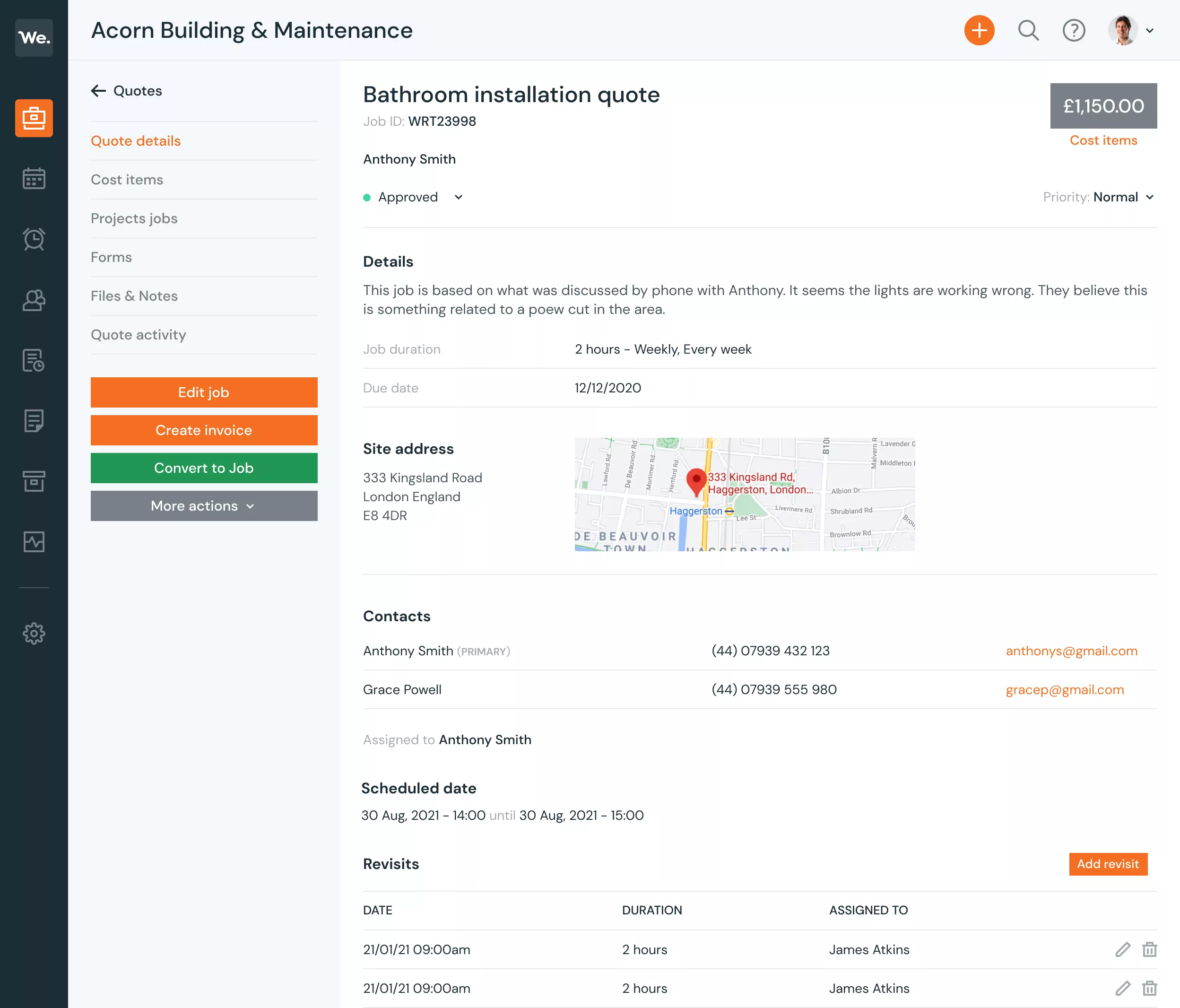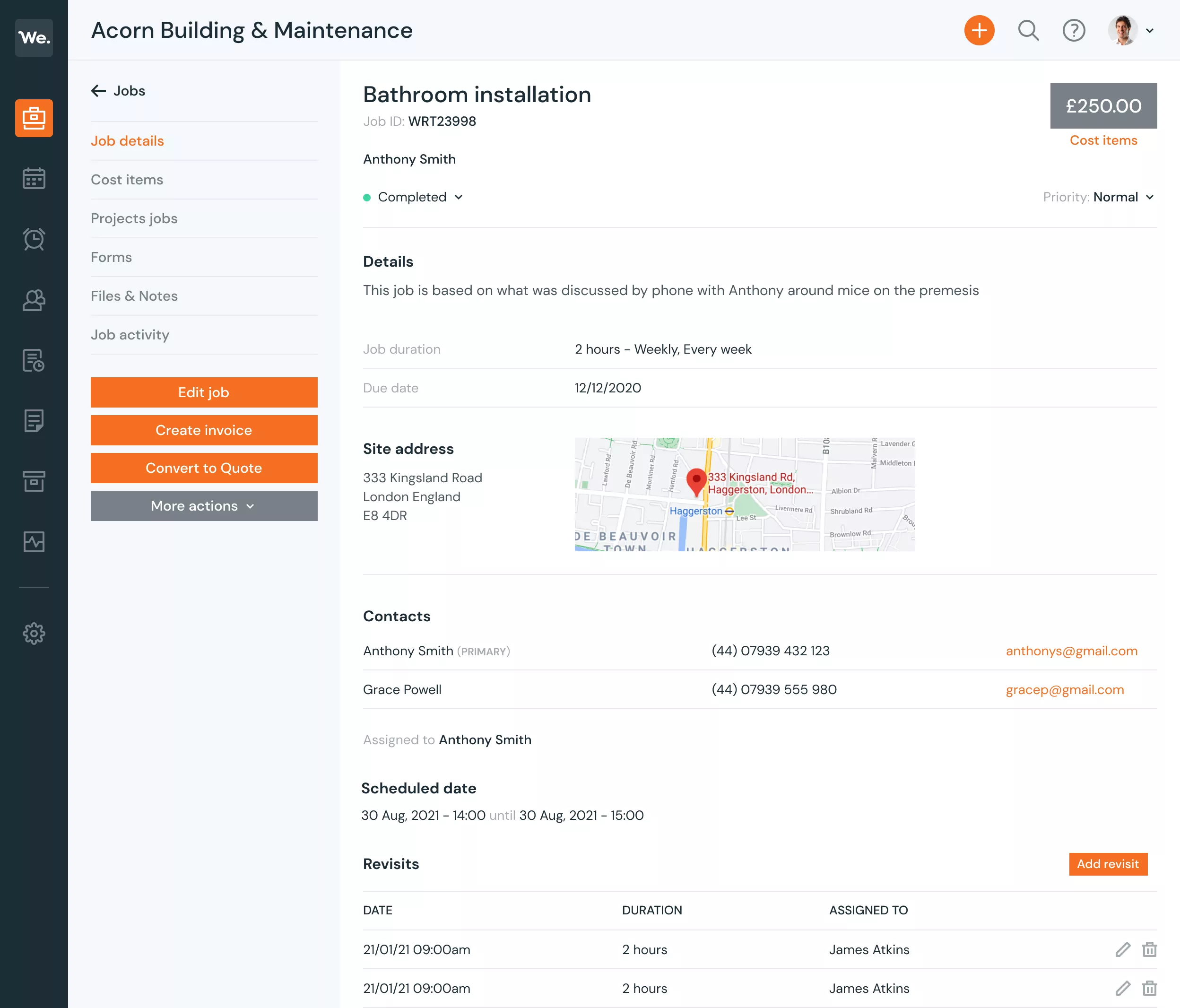 Getting started on the work after a quote has been accepted is as easy as clicking a button. Start your work right away by clicking the "accepted" button in your job's quote. Your client will be informed, and you can keep things moving.
You don't have to wait for the office to send invoices for your work. Create and send invoices right after you've finished. Then you and your customer can sign off on payments from any device. It will update in the system immediately.
Your all-in-one management software
Invoicing Software for Business
Workever's billing and invoicing software is used by a huge range of business types and industries, find out what sort of companies use our software to reduce admin and increase business.
Billing & Invoicing Automation improves cash flow
You need to save time in order to bring in new business. Workever's custom Invoice templates, recurring invoices, automatic payment reminders and billing software make this entire process automatic and synchronised.
Helping businesses just like yours
Find out why customers use our software to remove paperwork, improve communicaton, plan, manage and run efficient, growing businesses.
Great software for our nationwide team
With steady growth and incline in customers, we approached Workever. We rapidly went from dis-organised excel files to one centralised, organised system that our entire enterprise now operates on.
Miles Ward
Spalls Nationwide Cleaning & Facilities
It's really easy to use!
We now have everyone working digitally, we can plan in advance, and the technicians can easily see what's going on all the time, so changes to schedules are no longer a problem. The technicians no longer have to keep coming into office.
Mike Philbin
Manager at Nu-Life Floor Care Ltd
50% reduction in paperwork!
The Workever and Xero integration has helped us eliminate the need to double enter data. I love the fact I can invoice in Workever and all of my data automatically appears in Xero. It's brilliant!

Michelle Avis
Office Manager at Drains Ahead
Easy to use job and field management software
No commitment, no auto subscriptions, no credit card required
Invoicing Software for Business
Do you have a business? Are your invoices getting out of control? If you're looking for an easy way to organise and manage the invoicing process, then you've come to the right place. There are many steps in the process of creating a professional invoice. A company needs to track time and expenses, issue invoices, follow up with clients who haven't paid their bills yet-almost too much work for one person! Workever's easy-to-use software will help you store all your customer info in one place and give you templates that make it easier to create an invoice or send out reminders about unpaid balances due on past invoices without any hassle.
Billing and Invoicing Software
Ever heard of the term "paperless office"? Invoice software is a key component to making that happen. Paper invoices are expensive, inefficient and unreliable to some extent! So ditch your old paper invoice system for one that offers many benefits including saving money on material and postage costs; reducing time spent writing out invoices, quotes, receipts or calculating credits owed to customers; improving customer satisfaction by providing them with an electronic documents instead of having to wait 2-3 days for their copy in snail mail format or fax machine (remember those things?)
Invoice software is a tool that helps businesses create invoices online for any products sold or services offered to customers. The software typically has features that allow small businesses to create and send invoices, send and receive notifications on invoice updates, accept online payments, time tracking of payments, generate reports and provide accounting services.
Workever's Billing and Invoicing Features
Workever helps businesses create professional invoices. Our invoicing software is beneficial to small businesses because it has an extensive content library of invoice templates to help you create and send professional invoices.
Businesses also have the option of creating custom invoices to fit the particular situation. The software allows you to attach files and images that you can use while creating your invoice to add your branding nuances. Let your customers take you seriously with professional looking invoices.
Choosing the right invoicing software depends on a range of things, including your industry, size of the business, budget, and personal preferences. Invoicing is an essential aspect of your business but can be time-consuming and require a lot of accuracy.
While choosing an invoicing software, you need to select one that automates most of the processes. The software should also be scalable for business owners, whether they are small businesses or larger ones.
The software should be flexible to meet your needs. For example, if you serve clients who use multiple currencies, the invoicing software should have this option. It should also have a range of accounting features or integrations to accounting programs.
Get the Best Invoicing Software for Small Businesses
We understand you need to have the customer, product, or service and the invoice details in sync- so we make it our business to keep your organisation running like a well-oiled machine. Workever helps you keep track of every invoice and connects the details of the job to the customer. We have helped companies to create over 180,000 invoices and facilitated the payment using features on the billing and invoicing software.
Increase your job capacity, organise and improve your small business by easing your billing and invoicing process with our software. Not sure where to start? Try out our free 14 days trial and have a feel of our billing software. You can also schedule a live demo for your team of 5+ completely free, no credit cards required.
Workever is one of the easiest invoice software to use, has intuitive features and a user-friendly interface. You don't need to pay any set-up fees, and our pricing is affordable even for small businesses. Over the past seven years, we have helped 1000+ customers create invoices, streamline invoicing and billing, hasten the getting paid process and generally increase profitability. It's time we did it for you too.