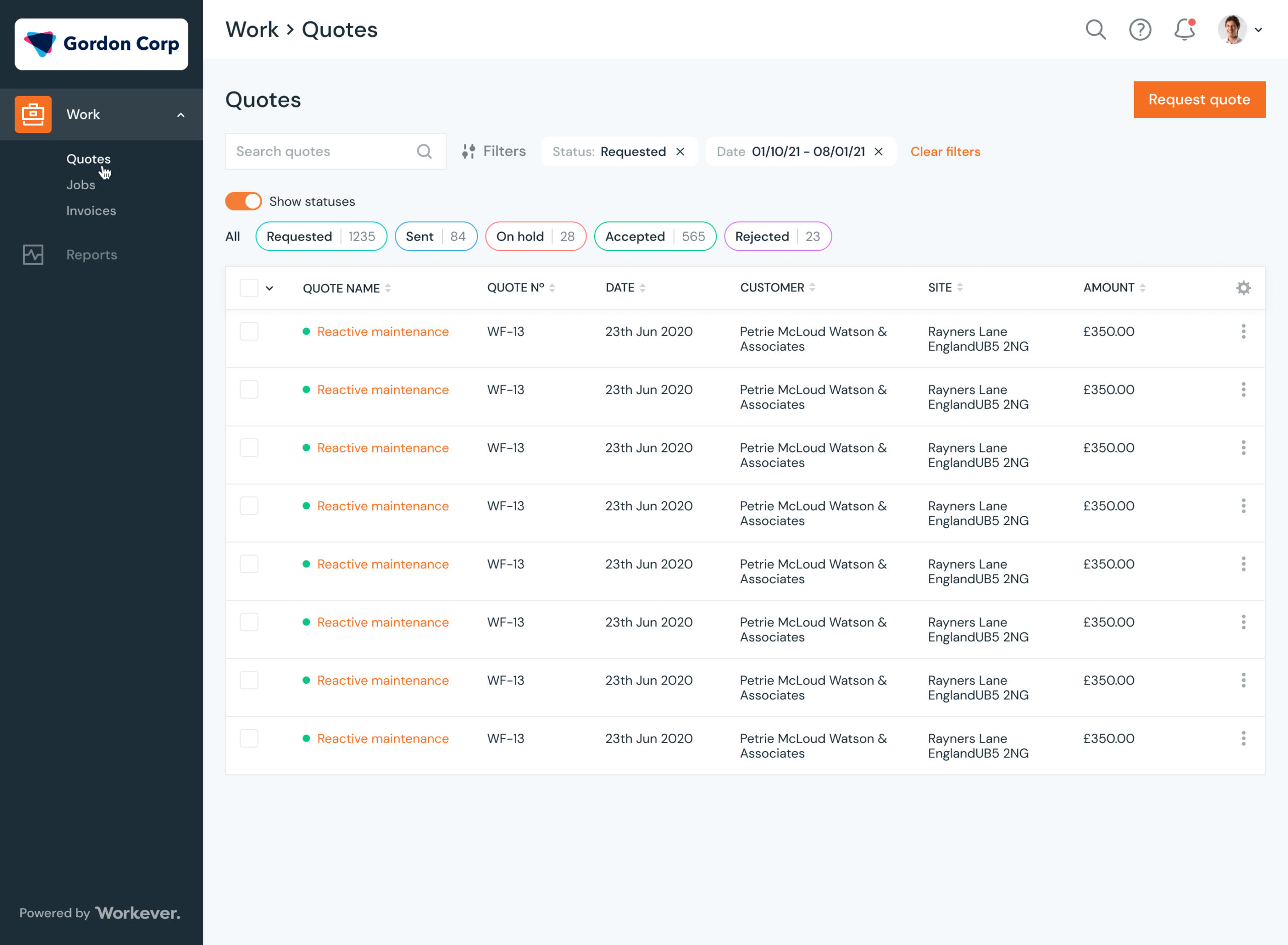 Better communication
with one click
Workever's customer portal software allows for up to the minute news on the jobs you're working on – without the endless phone calls and emails. Introducing an element of self-service to your customer's journey using a client portal is one sure-fire way to increase business whilst reducing workload.
Stop Spending Hours Updating People​
It's no secret that people want real-time updates and to know exactly when their delivery or maintenance person will arrive. Client portals are ideal because they create happy customers that feel valued.
Have you ever been waiting for a delivery and found there was no helpful tracking information? It's frustrating, and we can near guarantee you'll switch to a different courier in the future.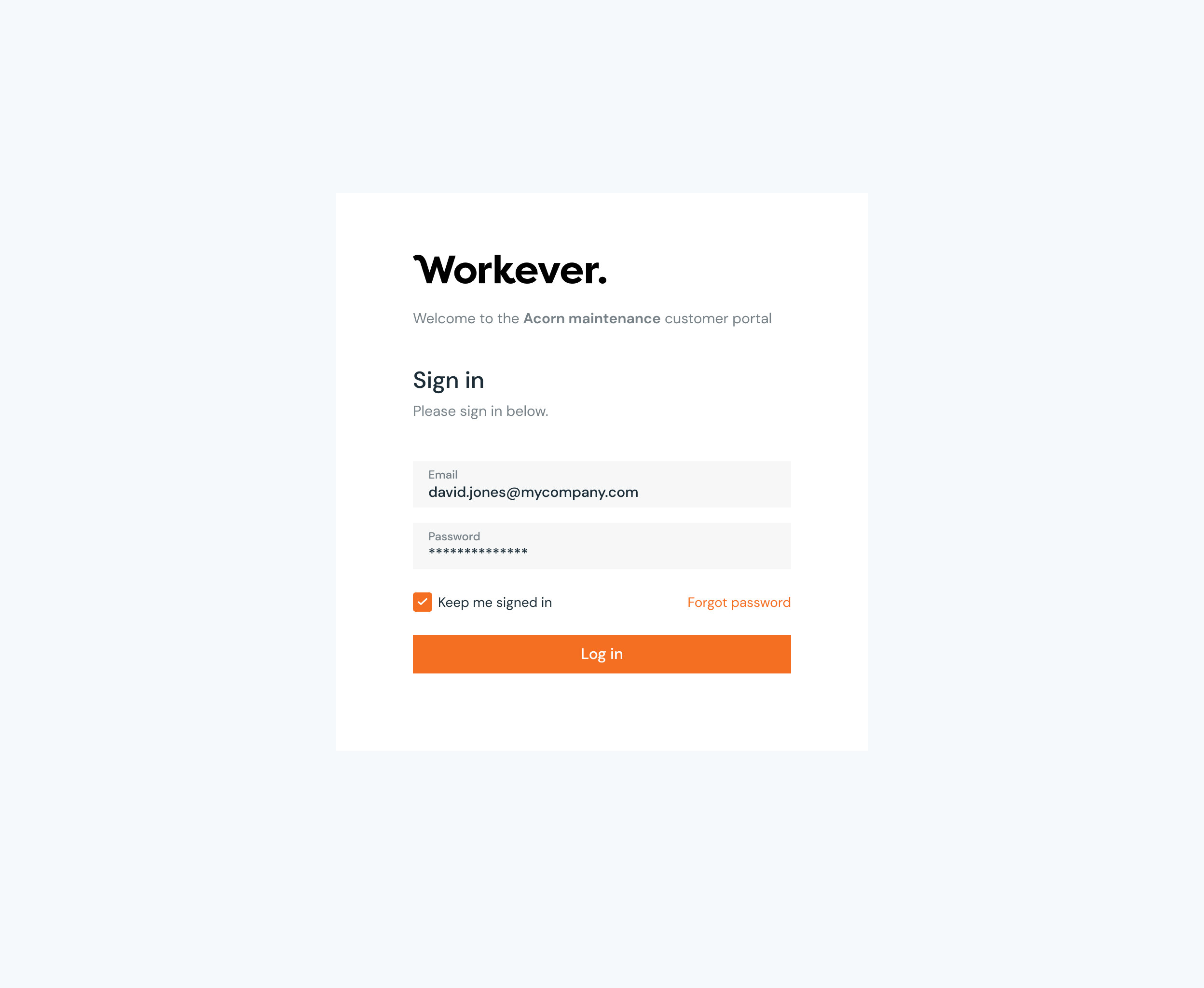 Let the customer do the work!
Give your customers access, spend less time updating them, and keep everyone better informed than ever before with Workever's secure customer portal feature. Customers can even request jobs. Keep the business coming in without lifting a finger!
Your all-in-one management software
Easy Online Service Requests
No need to jostle around on your desk to find a pen anymore – let your customers schedule appointments with you online through the customer portal.
It's so much easier than your customers picking up the phone, and if you can offer convenient booking solutions through our innovative platform, you're more likely to secure more customers.
Quotes And Invoices In One place
Send all your quotes and invoices through one customer access point. Keep a single way for everyone to see the same information and stay aligned forever.
No more forms in the post; stay on top of your accounts and let our software system do the heavy lifting. It's that simple.
Full Customer & Job History
You and your customers will both see the entire history of your work together in one place. So you'll never forget crucial historical data again.
Any new employee can provide customer service to your clients with real-time data and updates. Not only can this help to boost team morale, but it will also free up time without new employees having to do a lot of background research.
With all documents in one place, reviewing those documents is so much faster. Forget using five different software to handle your forms and documents – all you need is Workever.
Our software allows you to share files, send out contracts and provide your clients with vital resources.
Automate sales and accounting with a client portal
The best thing about Job and Project Management software is how they simultaneously reduce admin time and facilitate the handling of extra business.
The less chasing you have to do, the more time you can spend on winning customers. And with Workever's client portal software, your customers can make payments via their mobile app.
Helping businesses just like yours
Find out why customers use our software to remove paperwork, improve communicaton, plan, manage and run efficient, growing businesses.
Great software for our nationwide team
With steady growth and incline in customers, we approached Workever. We rapidly went from dis-organised excel files to one centralised, organised system that our entire enterprise now operates on.
Miles Ward
Spalls Nationwide Cleaning & Facilities
It's really easy to use!
We now have everyone working digitally, we can plan in advance, and the technicians can easily see what's going on all the time, so changes to schedules are no longer a problem. The technicians no longer have to keep coming into office.
Mike Philbin
Manager at Nu-Life Floor Care Ltd
50% reduction in paperwork!
The Workever and Xero integration has helped us eliminate the need to double enter data. I love the fact I can invoice in Workever and all of my data automatically appears in Xero. It's brilliant!

Michelle Avis
Office Manager at Drains Ahead
Easy to use job and field management software
No commitment, no auto subscriptions, no credit card required
Why You Need Client Portal Software
Client portal software is one of the most valuable tools at your disposal when it comes to business management solutions. It simplifies company processes, removes ambiguity and enhances your project management.
There are many other reasons why a customer portal can create a better business future for you today.
Good customer service can create a great impression with your customers, but excellent customer service builds brands. People like to control their future, and one of the most annoying elements of service-based companies is when people can't find the information they need.
By implementing a customer service platform, your customers can take advantage of self-service features, which creates a better experience.
Any great brand knows that they need to build a community feel with their customers and give them a sense of security -knowing that they can manage their bookings, queries and any other issues that may arise.
Our clients love the convenience Workever offers. It's time we did the same for you.
There are many reasons to choose Workever as your customer portal software provider – especially if you're a field-based company. Our platform enables you to perform remote project management and give customers complete control of their services, payments and support.
With cost-effective pricing solutions per user and a free trial, you can create a better future for your business and customers.
If you'd like to know more about the benefits of Workever, feel free to get in touch and chat with us today. Our friendly team is available and looks forward to discussing your projects.