Service Contracts Software
A home for service contracts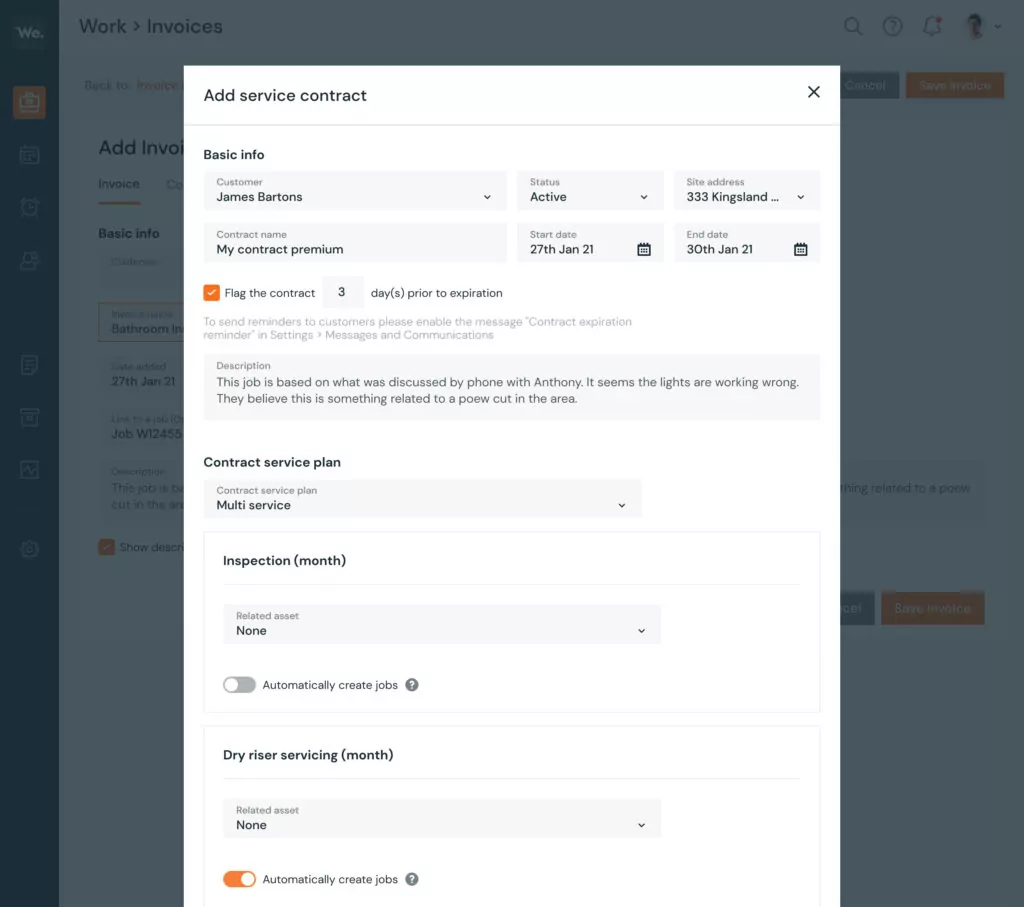 Create customer service agreements and automatically schedule visits. Flexibly invoice customers on your own terms.
All The Details in One Place
Have a service contract for planned maintenance? You can update Workever with every detail of the agreement – including any custom fields you need. Then build jobs, assign assets, and attach contacts to the contract, so all your data is in one place
Automation to keep customers happy
Everybody wants to make sure your agreement will be carried out as the contract details. So give a little comfort to your customers with an easy to send pdf copy of their contract. That way you both have the same information all the time.
Your all-in-one management software
Once you agree with your customer on exactly what you're doing and when, you can integrate a service plan to automatically create and assign jobs to your workers. And if you have a service contract as well, you can attach the plan to the contract – an easy team-up!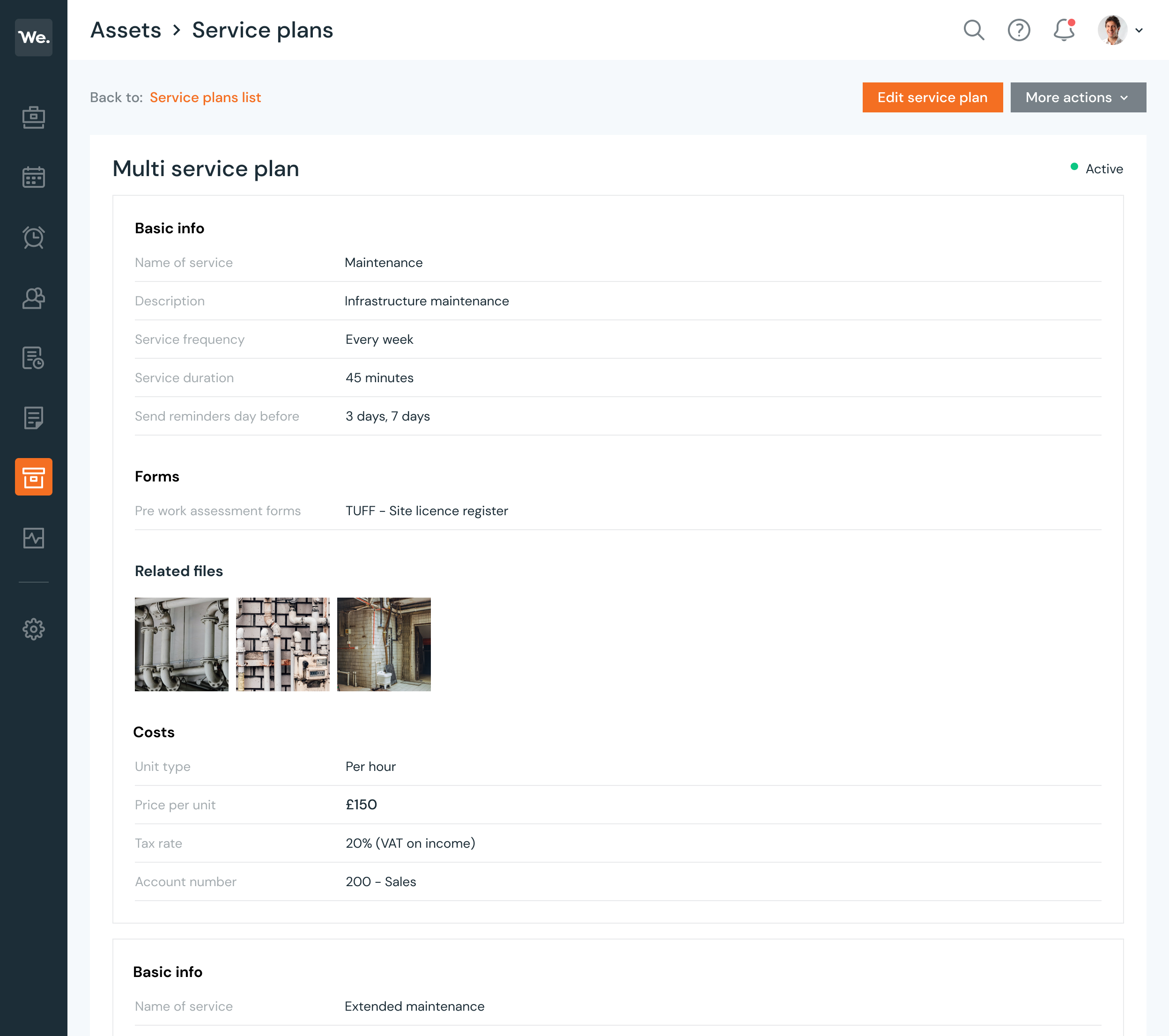 Plan your billing in your own way
Bill your customers as fits your business – ad hoc, or on a set schedule with a predetermined price per job. Don't change your business practices, just make them more efficient.
Helping businesses just like yours
Find out why customers use our software to remove paperwork, improve communicaton, plan, manage and run efficient, growing businesses.
Great software for our nationwide team
With steady growth and incline in customers, we approached Workever. We rapidly went from dis-organised excel files to one centralised, organised system that our entire enterprise now operates on.
Miles Ward
Spalls Nationwide Cleaning & Facilities
It's really easy to use!
We now have everyone working digitally, we can plan in advance, and the technicians can easily see what's going on all the time, so changes to schedules are no longer a problem. The technicians no longer have to keep coming into office.
Mike Philbin
Manager at Nu-Life Floor Care Ltd
50% reduction in paperwork!
The Workever and Xero integration has helped us eliminate the need to double enter data. I love the fact I can invoice in Workever and all of my data automatically appears in Xero. It's brilliant!

Michelle Avis
Office Manager at Drains Ahead
Easy to use job and field management software
No commitment, no auto subscriptions, no credit card required
What is Service Contract Software?
Service contract management software is a type of asset management software that allows companies to manage customer contracts and assets. With this type of software, you can get quotes for new services; track the current status of service orders; run reports on your business's financials; and much more.
Our service contract management software programs are cloud-based, which means they're hosted online. This makes them easy to use from any location with an internet connection—just log in from anywhere and go! Cloud-based solutions also cost less than traditional on-premise servers because there are no hardware or maintenance costs involved.
Benefits of Using a Service Contract Software
Contract management software is not necessarily right for every company; however, there are many benefits associated with having this kind of system, if you're interested.
Deliver better customer service while streamlining processes through features like e-signatures.
Improve contract renewals and acquisition of new customers.
Automate many of your organisation's day-to-day tasks to free up more time for employees.
Reduce the number of employee errors during renewal periods
Encourage timely payment with invoicing automation.
Save time on ongoing administrative tasks like gathering and processing data
In the business of service provision, a service contract is an agreement between a business and customers which entails a detailed work agreement between the parties. This entails the terms of service, conditions of service, service expectations, and consequences of noncompliance.
Service contracts can be hourly, fixed fees, non billable or recurring. Under these main categories, a contract can have different structures. For example, a fixed fee contract can mean a predetermined figure, a certain percentage, a fixed hourly amount that doesn't change regardless of circumstance. Each service contract entails the finer details between the service provider and the customer.
Service Contract Management Software
Contract management is one of the integral parts of a business and whose mismanagement can lead to hefty extra costs. However, human contract management comes with many risks. For starters, contracts contain a lot of detailed information on dates, service agreements, and key terms which might get forgotten in the course of time. A change in employees could also result in confusion of the contract agreements, not to mention misplacement of physical copies of contracts.
As a solution for this problem, companies now use contract management software because of the ease of management. The systems are cloud based, accessible on desktop and mobile devices, offer automation of many processes including contract renewals, work scheduling, approval of workflows, invoicing, and billing. The management software has lifecycle management tools that allow businesses to remain competitive.
Eliminating over-reliance on human memory to fulfil all the agreements of the entire contract lifecycle makes contract management systems a useful tool in reducing long term costs, risk of being in breach of contracts as well as enhance auditing.
The data obtained from a contract management system is also useful for human resources managers in contract renewals, and tracking compliance which affects firing and promotion decisions. It also helps in making decisions on enterprise resource planning when it comes to contracts with third parties.
7 Reasons Why Workever is the Best Contract Management Software
When choosing a contract management software you want one that provides you with the capabilities to upscale your business, increase efficiency and streamline contract creation all the way to invoicing and payment. There are many different types of contract management softwares available on the market today that include a wide variety of features to best fit different sized business operations. From customising existing software and automating processes for smaller companies, to more advanced cloud-based solutions that have numerous benefits and allow you to scale up as your company grows, there's a package for everyone.
If you're looking for an effective way to streamline the agreement renewal process and keep everyone in-the-know about their contracts, we recommend taking a look at our Service Contracts Management Software . With all of the features included in this software, you'll have everything you need to effectively manage your contracts on your own. Workever gives you contract management tools that allow your business to thrive.
Below are key features that make Workever the preferred contract management system.
You can have all the details of your contract in one place so it's easier to manage it. Easy contract management allows you to focus on the parts that help you grow your revenue as a business. Automated renewals and billing for service providers are key in ensuring profitability. Workever is a contract automation platform that supports automated billing for both recurring cycles and custom ones.
The Workever platform simplifies the process of contract creation since you can create a standard contract that fits most customers. The contract can have pricing details such as the pricing of various parts, the pricing of labour, and the guidelines of pricing. Customers can also streamline the renewal of contract agreements by setting reminders. The software also has tools that allow you to capture customer signatures and set reminders for any required signature. All the details needed in the approval process are streamlined in the platform.
You can also manage your service plans. Service plans are an important profit point for any services enterprise. Regardless of how you package your service plans, whether it's annual or monthly plans, basic, standard, or premium plans, you can easily set them up and manage them. You can also easily make changes to the plans depending on the needs of your business. The system also allows integrations with other software such as payment programs making it easy to pay for your plan.
With so many aspects of the business to handle, it's very easy to lose track of the warranty details. Our software makes warranty tracking easy because it tracks the expiration dates. For customers with custom needs, the details are easily added to the contract. It's also a good tool to define and remind customers of the aspects covered in the warranty-that way they know what potentially leads to increased costs for the company.
Automated preventive maintenance is a smart way to ensure efficiency and increase profitability. You want to keep your customers happy by making sure their equipment gets the scheduled servicing and you want to optimise your resources.
Workever provides you with a reliable preventative maintenance manager that automatically creates work orders for recurring maintenance schedules and sets reminders for field service dates. Your maintenance contracts have a comprehensive service history on the products. It also has a checklist for the required tasks during the servicing of the equipment.
The office administrators have an easy time coordinating the field team since they can create automated notifications on preventative maintenance cases. The drag and drop feature on the software lets you create an efficient schedule for your technicians in the field- a resource that is very useful for enterprise resource planning.
Service Level Agreements (SLAs) are important because they help in the management of customer expectations. Service level agreements also quantify the levels of actions and the possible consequences. For example, if a service level agreement states that a certain job should be completed by a certain time then not meeting the deadline would be in breach of the contract.
Using the robust inspection management feature on our software, you are able to see the different agreements and get an indication of the progress. The person undertaking the task is reminded of their responsibility, and the possible consequence of failing to complete it as per the agreement.
This feature is important in many fields because you can track the progress of your employees and use the information to inform your HR decisions. When dealing with customers, this feature gives you evidence of a breach of contract and offers a path for recourse. You can also maintain high levels of customer satisfaction by ensuring compliance with all the service level agreements to a tee.
The feature also gives you a uniform way of tracking and reporting adherence to contracts because you can use the same checklists.
When it comes to service contracts, it's not a one-size-fits-all situation. Different customers have different needs and a good contract management software gives users a provision to create a customised service contract and create templates that suit your business.
Having the capabilities to create a custom contract is a smart way to woo new customers and retain the old ones because you can fit their unique needs into your contract. You also eliminate the need to sign several agreements because you can have all the terms of service in one contract. You are also able to set automatic renewals for these contracts which helps you leverage profitability.
Depending on your billing cycles, you can set up automated invoice generation. You don't have to worry about losing revenue by providing free services after a contract expires.
Contracts form the basis of a good working relationship with your customers. For many businesses depending on whether the contract is formal or informal many parties such as a legal team may be involved in the making and amending of the contract. Sometimes with manual contracts and the numerous numbers of documents involved, the parties in the contract may not have access to all the information.
Workever streamlines the communication on contracts among all the parties involved. Our software allows you to create copies of the agreements and send them as pdf files to your customers. That way you all have the same format of the document and have the same information to create a smooth working environment.
Choose the Best Service Contract Management Software​
Not sure where to start? Schedule a live demo on Workever if your business has 5 or more employees. You can also sign up for a free trial using your email and we will promptly send you an email with the details of your username, password, and a link to your account.
After the 14 days free trial period, you can pay to continue using your account and if you used dummy data you can simply clear it. However, if you feel that our software is not the right pick for your business you don't have to take any further action as the subscription will automatically be canceled at the end of the trial period.
You have the option of either an annual or monthly plan. The standard plan runs on a month-to-month basis with no contract. However, you can save up to 15% if you choose the annual subscription.
The pricing is straightforward and each user pays on a monthly or yearly basis. The price depends on your company size or number of users. You also don't have to pay any support fees because that's included in the package and no one will ask you to pay any setup fees.
If you're having trouble with any aspect of the system whether it's in the setup or the use of the software, you can easily reach us by sending a message or calling us and we'll help you out.
Join the leagues of thousands of happy customers who have used Workever's contract lifecycle management tools to remain ahead of their competition. We've had over 180,000 service contracts created using our software. The businesses have seen increased revenue and a larger number of contract renewals. Try us today!