Your Complete Job Management Toolkit
Worker's GPS Tracking tools allow your field service business to make smarter scheduling decisions by knowing where your field team are at any point. Respond to emergencies and last minute bookings with swift effectiveness.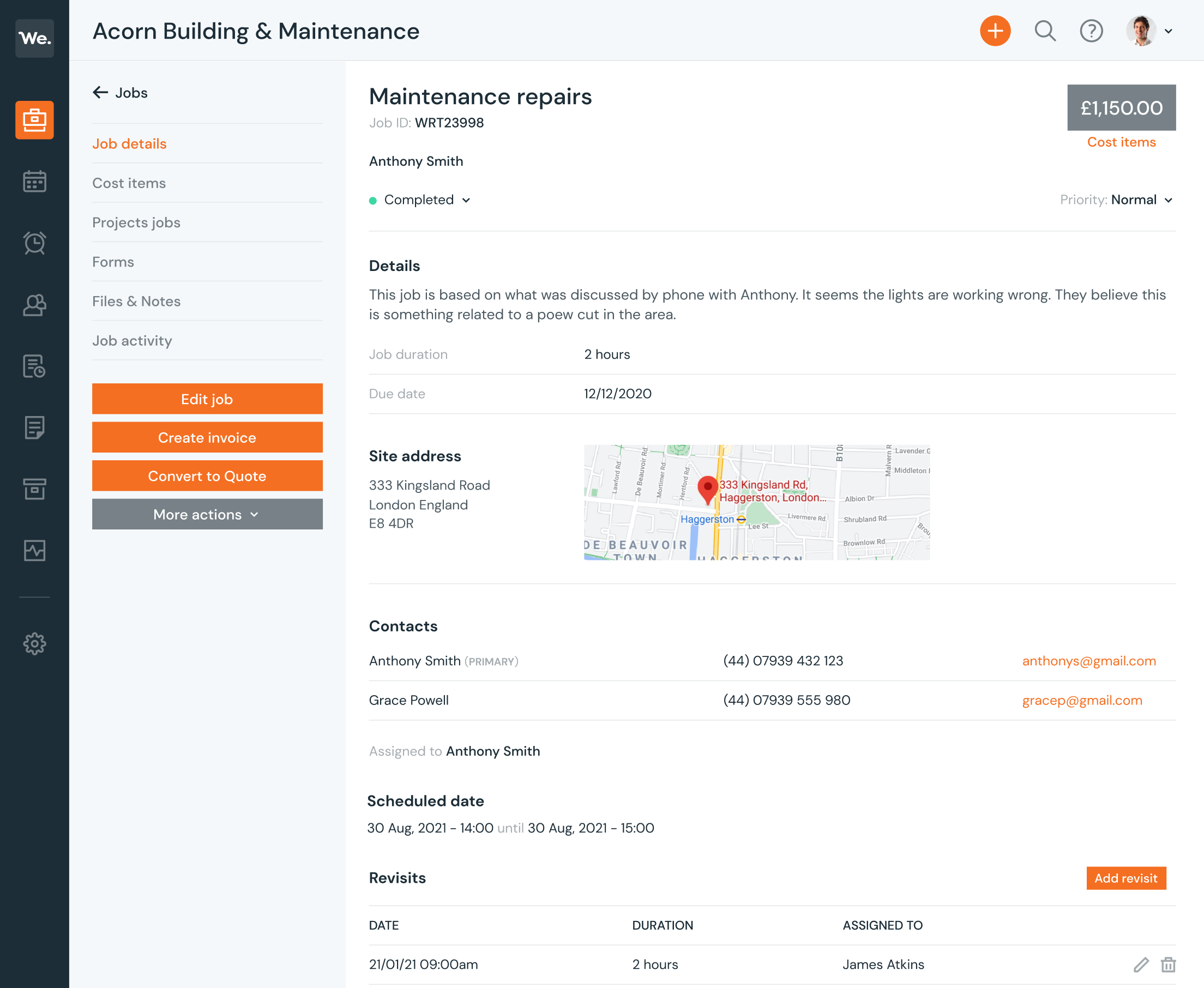 Track your team's location on a live map
Fieldworkers using our mobile app for iOS or Android can be tracked live on a map, viewable on your desktop, meaning you and your business can make smarter scheduling decisions, as and when, new jobs come in.
Be a more flexible and responsive business
When emergencies or last minute bookings arise, having the ability to dispatch job details to your nearest fieldworker will allow for much faster response times and in turn, faster job completion times. Which in the end, means one very happy customer.
Everything you need in one place
Schedule Your jobs instantly
Set up all your jobs – planned and unplanned – in the scheduler. It takes seconds to add a new job, and the cloud-based solution will update everyone in instantly.
Helping businesses just like yours
Find out why customers use our software to remove paperwork, improve communicaton, plan, manage and run efficient, growing businesses.
Great software for our nationwide team
With steady growth and incline in customers, we approached Workever. We rapidly went from dis-organised excel files to one centralised, organised system that our entire enterprise now operates on.
Miles Ward
Spalls Nationwide Cleaning & Facilities
It's really easy to use!
We now have everyone working digitally, we can plan in advance, and the technicians can easily see what's going on all the time, so changes to schedules are no longer a problem. The technicians no longer have to keep coming into office.
Mike Philbin
Manager at Nu-Life Floor Care Ltd
50% reduction in paperwork!
The Workever and Xero integration has helped us eliminate the need to double enter data. I love the fact I can invoice in Workever and all of my data automatically appears in Xero. It's brilliant!

Michelle Avis
Office Manager at Drains Ahead
Schedule Any Job and Manage Your Workforce​
No commitment, no auto subscriptions, no credit card required
What Is GPS Tracking And How Does It Work?
What Are The Business Benefits Of GPS Tracking Devices?
GPS tracking devices significantly increase fleet productivity. GPS tracking Businesses have the insights and tools to optimise driver output, while virtually eliminating any idle time through a variety of actionable data. The ability to streamline driver and dispatch interactions also improve the communication loop between the road and office.
In turn, GPS tracking devices help decrease the time drivers spend between jobs, maximising their work day and increasing business profitability.
Additional Benefits Of GPS Tracking
GPS tracking is a practical tool for fleet managers for many reasons. GPS tracking devices give you visibility into your fleet vehicle's locations, but that's not all. Here are some other key benefits of GPS tracking.
A GPS tracking system lets you optimise your fleet's routes. You can easily locate your drivers and determine which is closest to a particular job. You can send the closest driver and reroute the rest of your vehicles if needed. This saves you time and money while keeping your customers happy.