All-In-One Job Management Software
An essential part of any business operation is the ability to efficiently capture and data across operations. Workever's Files, Notes & Images features connect customers with jobs and team members with one another. No more lost data! Everything is backed up and synced from mobile to desktop, via the cloud.
Your fieldworkers can now capture all types of data onsite including forms, customer signatures, photos, documents and notes, which all sync back to the office in real time.
Everything that happens on the desktop version of our app is synced with your fieldworker's mobile app version, and vice versa, meaning that every part of your team will have the info they need at hand.
Everything you need in one place
Connect data to customer profiles
With all your site data connected to customers, it becomes very easy to impress customers with efficient data recall. You can even see all of their past quotes, invoices and payments.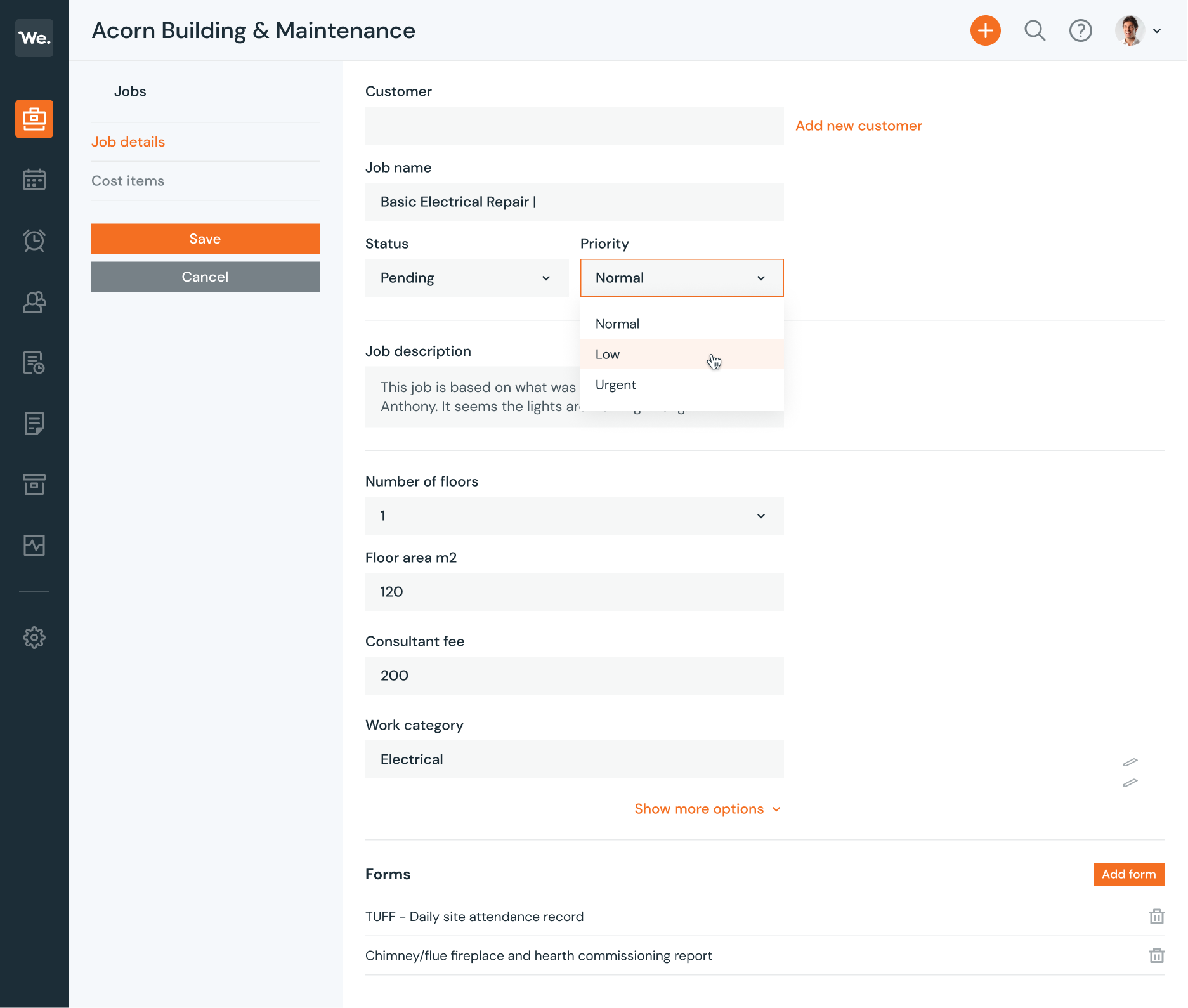 Run an organised digital business
All of your documents can be digitised and connected to Workever, and again export to excel. No more wasted paperwork!
Helping businesses just like yours
Find out why customers use our software to remove paperwork, improve communicaton, plan, manage and run efficient, growing businesses.
Great software for our nationwide team
With steady growth and incline in customers, we approached Workever. We rapidly went from dis-organised excel files to one centralised, organised system that our entire enterprise now operates on.
Miles Ward
Spalls Nationwide Cleaning & Facilities
It's really easy to use!
We now have everyone working digitally, we can plan in advance, and the technicians can easily see what's going on all the time, so changes to schedules are no longer a problem. The technicians no longer have to keep coming into office.
Mike Philbin
Manager at Nu-Life Floor Care Ltd
50% reduction in paperwork!
The Workever and Xero integration has helped us eliminate the need to double enter data. I love the fact I can invoice in Workever and all of my data automatically appears in Xero. It's brilliant!

Michelle Avis
Office Manager at Drains Ahead
Easy to use job and field management software
No commitment, no auto subscriptions, no credit card required
Why you need to streamline your document management with Workever
Document management is the process of handling documents in such a way that information can be created, shared, organised, and stored efficiently and appropriately. As such, learning how to create a document management system is critical for businesses.
Many businesses deal with high-stakes information that needs to be kept secure and private or accessed quickly. In such instances, a smoothly operating document management system is essential. But even if your business is of a more casual nature, it is still important to keep proper records for accounting and for the sake of efficiency. Multiple files on a desktop with one or more tags can be extremely messy, so why not organise your files in the best way possible. Get your tidy desktop back.
Easily organise your company's information
Sometimes it feels like you're drowning in documents. Who's got the latest version of that whitepaper? Where can you find that subcontractor's paperwork from five years ago? And why is everyone emailing long documents to each other rather than just providing what's important? Let's face it—your computer search bar isn't always great at, you know, finding things.
With Workever you can centralise, organise, and manage your company's documents, spreadsheets, multimedia files, emails, videos and even Slack conversations. It's a flexible way to store information in any format securely, and to make sure the right people can find it, no matter where they are. Spaces and notebooks keep things organised, while sophisticated search grammar and syntax empower teams to find what they need, when they need it. So stop digging through files and searching your network for documents. Our software is perfect for organising files and puts it all at your fingertips.
Get organised and productive
Work anywhere: Keep important info handy—your notes sync automatically to all your devices
Remember everything: Make notes more useful by adding text, images, audio, scans, PDFs, and documents
Get it done: Bring your notes, tasks, and schedules together to get things done more easily
Find things fast: Get what you need, when you need it with powerful, flexible search capabilities
File management in the digital age
Businesses need ways to store, organise files, share, and update their files over time. Most businesses these days rely on robust document management software. Using a digital solution reduces the need for physical document storage in file cabinets and boxes. It also improves security, regulatory compliance, document retrieval, file backup, and disaster recovery.
Find everything easily – it's like a cloud-based filing cabinet
With a cloud-based DMS, your team can find files and access documents instantly from anywhere and with any device. Multiple people can work on the same document, which minimises the potential for conflicting duplicates of the same file. There's no need to backup files, as a cloud-based DMS saves everything automatically.
Using a cloud document management solution, large files can be shared much faster than with an on-premises system. Finally, as cloud systems are generally subscription-based, they eliminate the large upfront costs and effort needed to implement an on-premises solution, not to mention the effort and IT hours required to maintain and update that solution over time.
A good document management system includes the following features:
People work with a variety of documents every day. These include word processing files, spreadsheets, design files, PDFs, emails, images, digital notepads, audio recordings, writing notes, digital photos, web pages and new files. A good DMS will seamlessly capture, store, and organise all of these document types.
What you get with Workever's document management system:
Whether your document management needs are simple or complex, our team has got you covered. Our intuitive user experience, cloud-based approach, and flexible structure make it easy to design a system that suits your team. Organise files, web pages and add tags it's so easy and manageable not time-consuming.
Create a space to store and share onboarding documents for new hires. House your sales collateral in a system of notebooks within your sales team's space. Simply designate meeting notes and brainstorming sessions, with spaces and notebooks organised by departments, teams, or projects. Just drag and drop.
We make it easy to capture and store not only text but also handwritten notes and images like photos. Simply use your phone's camera to snap a picture of a whiteboard, business card, or anything you want to capture. Then save the image to a note that contains related information, or save it to a new blank note then drag and drop. Workever even makes text within PDFs and images searchable for easy retrieval.