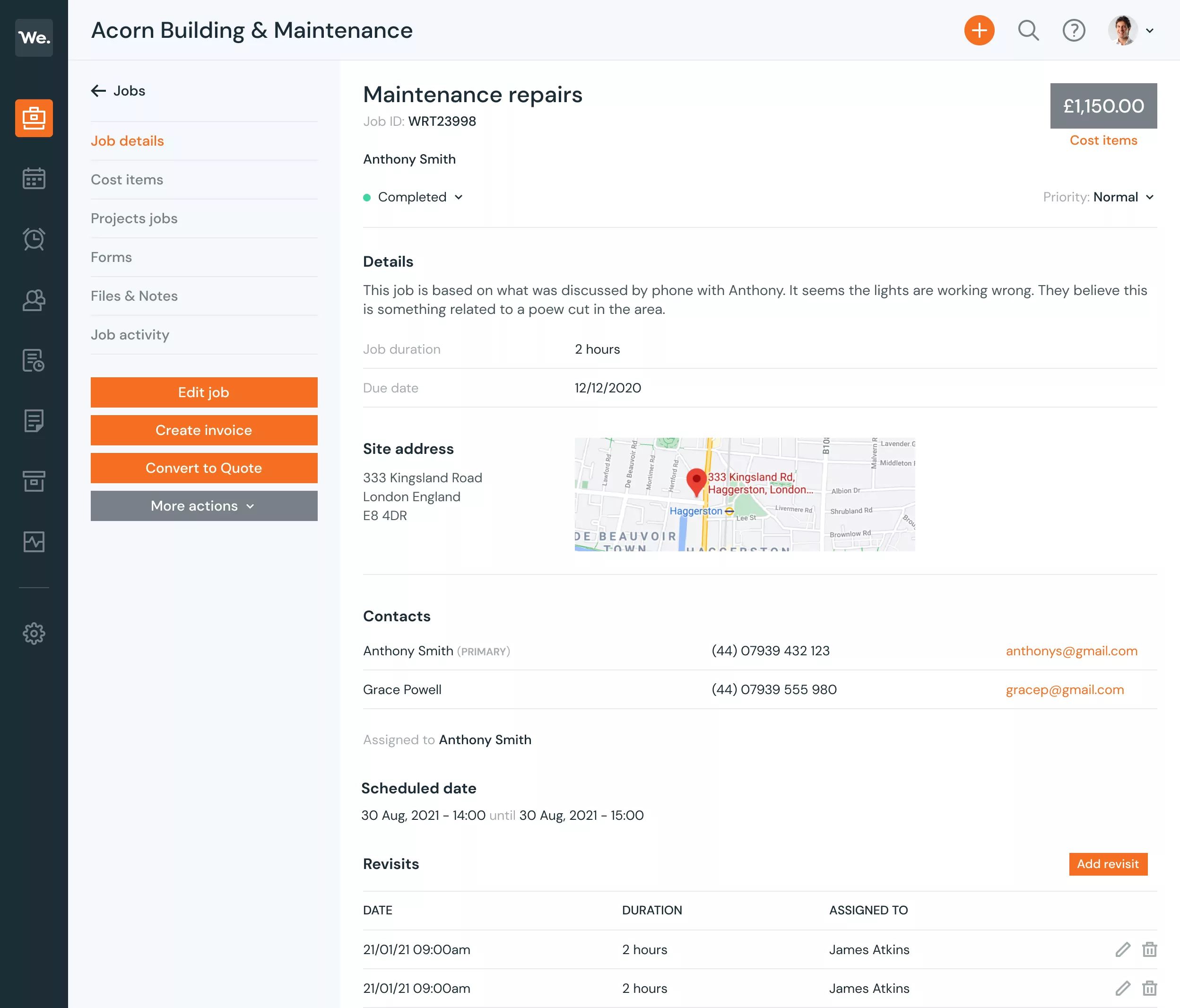 Your All-In-One Job Management & Field Service Toolkit
Workever:
Jobber Alternative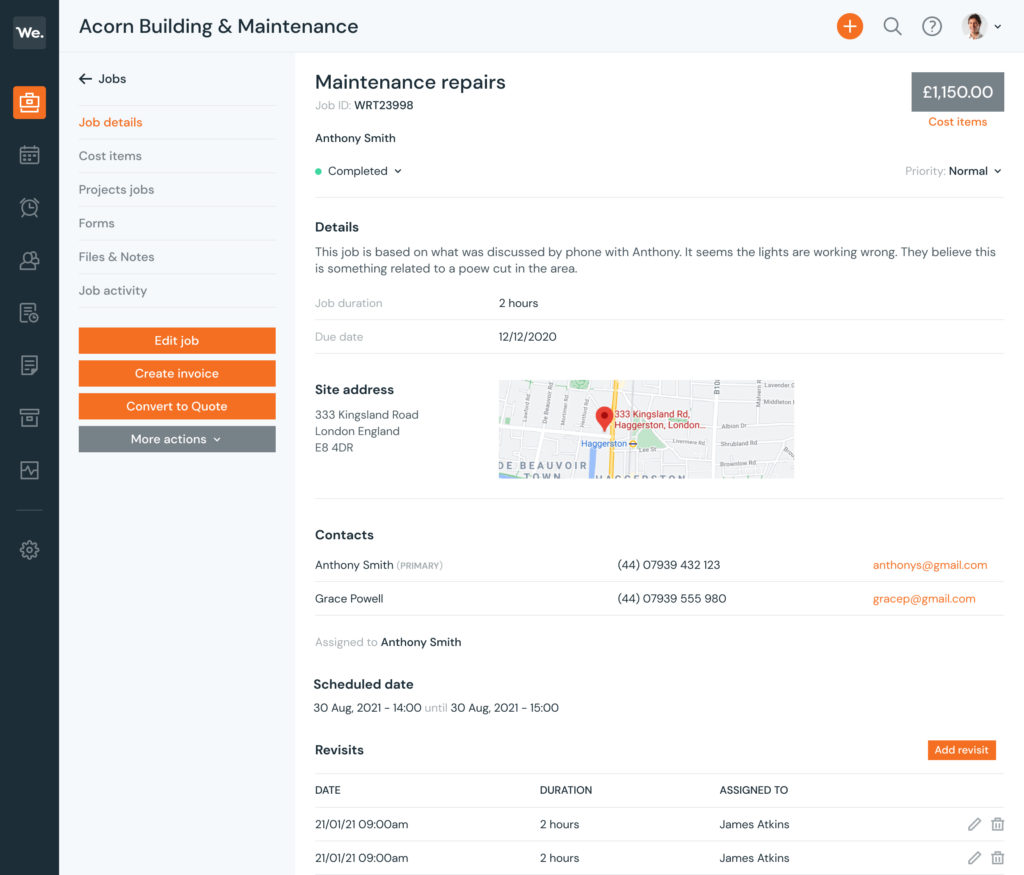 Which cloud-based field service management software solution is better for your needs? From functionality to price and special features, let's dive in to discover who will come out on top.
What Is Service Management Software?
Jobber & Workever: The Complete Review
To understand why Workever is Jobber's biggest competitor, we need to look at what each platform offers. First, let's take a look at the background information of each provider.
As a field service management software provider, Jobber is well known with businesses of all sizes – but it's predominant with small businesses.
The software serves people in trades including electricians, plumbers and landscapers. It's useful for companies with field based employees, because the software keeps them connected to the head office and makes it easier to streamline communications.
Field managers have a difficult time keeping in touch with their employees, and it's more complicated than people working collaboratively in an office environment. There are plenty of useful features, which we'll cover later on.
Workever is a UK based company that provides easy to use service management software. The field management tool enables professionals to take orders, provide updates and streamline their communications.
The software is designed for companies of up to 250 people, with the main aim to make life easier for field workers. It's also often regarded as the easiest software to use, so it's ideal for people that are tech phobic.
Now you know what each software option is, it's time to look at all of the features each offers so you can make a decision that suits your needs.
What makes an app shine while others get left behind? One major factor is the set-up process, which is essential for most business owners. Unless you're a tech genius, then you want to find a field management software provider that does all of the heavy lifting for you.
When it comes to software applications, there will always be a set-up process required, but both Jobber and Workever try their best to make it a simple and enjoyable one.
Jobber has a simple interface, which makes the set-up experience enjoyable. All you need to do is click the large green button that says start free trial, and you're ready to sample the software.
You'll need to put in your contact details, and other home service lines that will access the app. Once you've completed this step, Jobber will take you to the interface dashboard, where you can access your settings and get to grips with the features.
The main benefit of Jobber is the range of tutorials at your disposal. You can choose from a basic set-up guide to integrating your software with other devices.
Jobber has an excellent set-up process, but you will need to handle the settings yourself. If you're not a fan of tutorials, you might find getting to grips with the software a bit tedious.
Workever has a quick and easy sign up process and you can have access to a demo account in 20 seconds. All you need to do is enter your personal information, then click the start free trial button.
Similarly to Jobber, Workever has a range of helpful tutorials to aide you in the set-up process. The thing we like most about these tutorials is how condensed they are.
You won't need to sit through guides for hours, because the team at Workever understand that action based learning is always better than digesting streams of information through long guides.
Integrations take basic software and turn it into a powerhouse of productivity. A class example of integrational features is WordPress and its plugins.
WordPress itself is a powerful website tool, but when you had integrations such as form builders and SEO tools to your base website, it can transform your business.
We wanted to see which integrations Jobber and Workever offer and how they measure up.
The team at Jobber understand that a simple app isn't enough for businesses, so they've made sure there's a host of incredible integrations available. The chances are, if you have an app that you want to integrate, you'll be able to do it with Jobber.
| | |
| --- | --- |
| | One of the most famous invoicing tools. Provides reports and account management features. |
| | Get paid quickly wherever you are. PayPal Express reduces the need to share your business account information. |
| | The simple no frills email segmentation and marketing tool is ideal for small businesses. |
| | Streamlines the review process and allows you to remove negative feedback. |
| | Two way chat and text to shorten the sales process. |
Workever also has a host of integrations, and each of them is designed to make your business operations easier to manage. The list of apps slightly differs to Jobber, but we were particularly impressed with the range of options for professional companies.
| | |
| --- | --- |
| | Handy invoicing and account management software. |
| | Stripe allows you to take online payments and has more functional tools available than PayPal. |
| | Great software that enables you to import vital information from Workever to create spreadsheets. |
| | Automated SMS messaging to keep managers and customers informed. |
| | Email marketing software that makes it easier to store and manage your work contacts. |
Now for the fun part; the features. Every software application should offer exciting features, and there's no doubt that they're a huge factor in the buying process. But do Jobber's and Workever's features make the field management process a more enjoyable experience?
In the next section, we'll look at a range of features that field management software providers should offer you access to and see if both Jobber and Workever uses them.
A CRM tool helps businesses to manage their client relationships and streamline communication processes for everyone involved. It's beneficial for service providers and users because it allows people to request a service and make changes to their appointments.
Administrative work takes up a significant chunk of the business day, but most clients would be happy to have access to a CRM tool rather than spending ages on the phone.
Email & SMS messaging is a convenient way to keep your customers informed without making a phone call. Most applications will let you automate each communication stream so you can provide real-time updates to your clients.
One of the essential features of email and SMS marketing tools is providing your clients with real-time updates. Nobody can control traffic problems or unforeseen circumstances. Still, an on my way text message or an apologetic I'll be late message is much better than just showing up hours after the original appointment time.
People can also receive reminder texts about their appointment or tracking texts for receiving goods.
Customer Features: Jobber vs Workever
When it comes to customer support features, Jobber and Workever deliver a suite of useful tools and integrations. Each software provider enables you to integrate Quickbooks, and the payment process is simplified through PayPal and Stripe integrations.
Ultimately, both providers over perform in this area, and there's not much difference in the integrations they offer. Workever seems to prefer Stripe, while Jobber offers Stripe but is more geared towards PayPal.
Business Management Features
Let's face it, accounting is the most crucial aspect of running a successful business, but it's also the most boring. Invoicing poses many issues, and late invoices are a significant problem for business owners. Excellent accounting software should keep you on track with your invoices and automatically send reminders to your clients.
Both Jobber and Workever have their accounting features and the ability to integrate Quickbooks with their software for a more productive experience.
Scheduling doesn't just mean planning appointments; it's also essential that you include the jobs and estimated time each one will take. Two of the most crucial scheduling features you should have are a calendar and a job scheduling tool. Both will make it easier to view your team's availability and look at how efficiently they work.
Jobber and Workever let you schedule jobs a year in advance, which means you can address staff shortages to keep your business running smoothly.
Punctuality can make or break a business. It's that important. When customers are told they'll receive goods or services at a specific time, they expect the company to deliver. In some cases, it's impossible to guarantee that your field workers will be at the agreed job on time, but GPS tracking can be beneficial. Not only does it provide real-time updates about where a team member is, but it can also work in combination with notification software to send automated SMS messages and emails explaining that the appointment will be delayed. GPS tracking also encourages workers to be more reliable because they're less likely to go AWOL if they know you can track their movements.
Both Workever and Jobber have advanced tracking software, which offers updates and notifications to your management team and customers.
The ability to track your business operations guarantees that you'll spend less money on stock replenishment. There are three types of tracking features you should look for with field management software.
Tracking Features: Jobber vs Workever
Both Jobber and Workever offer excellent tracking features to make business operations easier for management, field workers and customers. The one significant difference we noticed was how each handles inventory management.
Workever's suite of general inventory management features offers high levels of functionality, and it's ideal for generalised businesses to use.
Jobber offers inventory management, but the platform is more focused on its chemical substances tracking service.
If you operate within a specialised industry that requires chemicals, then Jobber offers a more personalised experience. But if you provide a broad range of services such as HVAC plumbing, lawn care, and sales then Workever is the best option.
Just because a software provider has all the features you could ever want, it doesn't mean they're the best option. Pricing is a definitive factor in choosing which field service management software is best for your business.
So, let's take a look at how Jobber and Workever measure up when it comes to taking your money. Both Jobber and Workever offer three different pricing tiers and offer discounts for one annual payment. There are monthly options too, but the costs vary.
| | | | | |
| --- | --- | --- | --- | --- |
| | | | | Basic organisation features. No processes. |
| | | | | General organisation features without only customer payment options |
| | | | | |
| --- | --- | --- | --- | --- |
| | | | | Organisation and processes. |
| | | | | Organisation, accounting and processing features. |
| | | | | |
| --- | --- | --- | --- | --- |
| | | | | Complete access to all features. |
| | | | | Complete access to all features. |
Which is the Best Field Service Management Software?
As you can see, both Jobber and Workever have a host of valuable features and can be an ideal solution to grow your business, but which is better?
While both have similar features, Workever's integrations seem to be more powerful and geared at improving your business processes. The inventory feature covers all bases and enables you to track and replace your parts automatically. The defining factor in which is better is the pricing. While Jobber offers a variety of packages for a set number of users, Workever works on a price per user basis, which can be more cost-effective.
For example, if you're a small business with four field workers, you'd have to upgrade to the Jobber package, which allows seven users and costs more money. Workever charges a set price per user, so you can upgrade the package as you grow, which means you'll never be out of pocket.
Overall, Workever and Jobber have many features in common, but Workever is a cost-effective solution for smaller service businesses that want more control over their finances. The field service management software also seems to put convenience above all others things and offers a superb user experience. It's definitely one of the more cost-effective alternatives to Jobber and we love how it benefits diverse service businesses and service professionals alike.
If you'd like to try the software management system, you can book a free trial today.
Frequently Asked Questions
You start with a 14 day free trial which lets you try everything Workever has to offer. At the end of your trial you can then enter payment details and continue with your account. If you have entered any dummy data that can also be cleared. If the software doesn't work for you then no further action is required and it will automatically cancel at the end of your trial.
Manage any Job or Project with ease
No commitment, no auto subscriptions, no credit card required