Timesheet and Expense Management Software for Mobile & Web
Remove paper with our flexible time tracking and timesheets software. Make submitting timesheets and expenses a breeze.
Flexible timesheets that work for you
Both Fieldworkers and Office staff can easily fill in and manage weekly timesheets. You can get accurate hours and expense data from your fieldworkers, instantly. You can allow your field team to create time logs and expenses in a way that works best for you.
Our timesheets are flexible and you can use them in a few ways, depending on how you work and how you want your data captured. Time tracking made very easy!
Complete Forms
Timesheets can be filled out from the office or the field, giving your entire team an easy way to submit data.
Capture Data
It also gives the office a way to capture data for fieldworkers and make changes if required.
Approve
It's really easy to check and approve timesheets from the dashboard and you can batch approve submitted timesheets at once, to save time.
View everything from office and mobile
You can add and manage time logs and expenses on behalf of staff from within the web-based application in the Timesheets section.
Create time log templates to make your process fit for you, and easy as pie for your fieldworkers.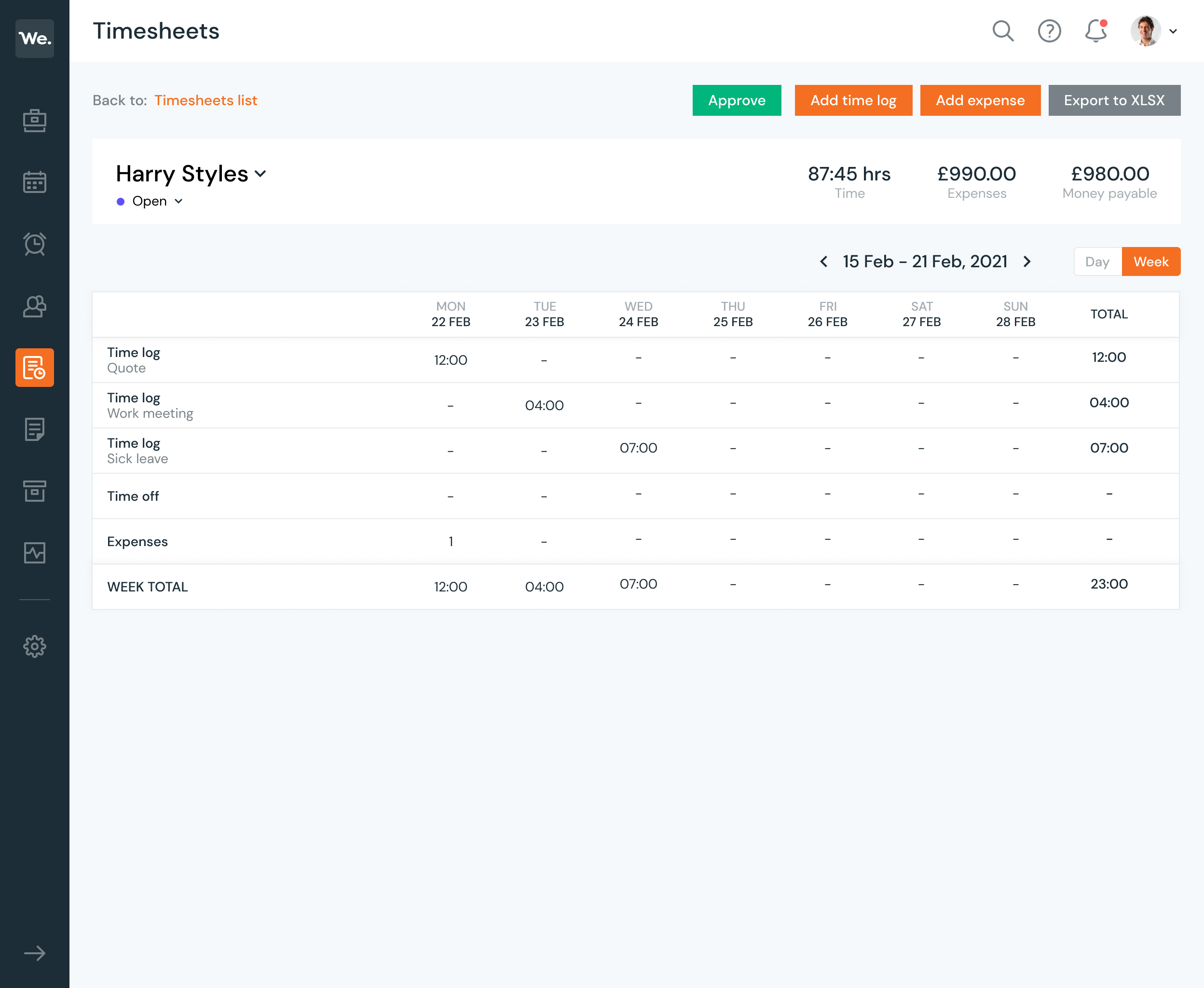 Once your staff have submitted timesheets, they will then be ready to approve or decline. Job and Project Management is all about reducing time spent on admin. Having a quick and easy time tracking and employee timesheet management software is one easy way to free up your day for acquiring more business.
Export timesheet data via Excel for reporting or if you need to import into a separate HR or Payroll software. Whatever your workflow, Workever can fit in and streamline the process
Helping businesses just like yours
Find out why customers use our software to remove paperwork, improve communicaton, plan, manage and run efficient, growing businesses.
Great software for our nationwide team
With steady growth and incline in customers, we approached Workever. We rapidly went from dis-organised excel files to one centralised, organised system that our entire enterprise now operates on.
Miles Ward
Spalls Nationwide Cleaning & Facilities
It's really easy to use!
We now have everyone working digitally, we can plan in advance, and the technicians can easily see what's going on all the time, so changes to schedules are no longer a problem. The technicians no longer have to keep coming into office.
Mike Philbin
Manager at Nu-Life Floor Care Ltd
50% reduction in paperwork!
The Workever and Xero integration has helped us eliminate the need to double enter data. I love the fact I can invoice in Workever and all of my data automatically appears in Xero. It's brilliant!

Michelle Avis
Office Manager at Drains Ahead
Easy to use job and field management software
No commitment, no auto subscriptions, no credit card required
The advantages of using our timesheets
Our time tracking software will help you understand where you are wasting labour. Our timesheet software is developed to help weed out tasks that take longer than necessary and assist you in making decisions as to how you can optimise your tasks and keep track. Our mobile app is easy to use on the move and in real-time.
Bill accurately
Timesheet software helps you in billing accurately. They are a way of letting your clients know that you can handle their projects efficiently and their money is not going to waste. With timesheets, your clients don't need to worry about constantly checking the status of their projects. Our time tracking timesheet app lets them see how much time you have dedicated to them, as proof of how accurate your billing is. Remember if time isn't tracked in a timesheet report it's non-billable.
With our time tracking software, you can create invoices and never have to stress about accurate billing again.
Automate your billing
Organisations that render services to clients based on billable hours use timesheets for billing. Having a timesheet report can reduce your costs by automating billing and invoicing. Automated billing can also increase revenue.
Improve project management
Time tracking software is a surprisingly important tool for project management in the following ways:
By tracking time on a project, they help in qualifying an employee for a new project, role, or job based on performance.
By analysing time usage, you can determine the skill of someone in a particular area and utilise them in parts of a project for which they're better suited.
They help in identifying areas in which an employee takes more time than allocated and needs additional training.
They are helpful in measuring the overall efficiency of your project.
They help in identifying the availability of workers assigned to a project, making it easy to distribute the workload among group members.
They enable project managers to monitor progress and anticipate delays.
They help project managers estimate expected work hours, employee time, costs and compare them to the real cost of the project during execution.
Save money for your company
Time tracking software lets you know exactly what your employees are working on. They track the efficiency and productivity of workers by comparing the amount of time they work with the output they produce. Timesheet software helps to spot employees that perform poorly and cost your company money. By telling you who is productive and who is not, timesheets help save a lot of money for your company.
How to save your team's time when using our timesheets
Time tracking in itself is an additional task. Employee time is valuable, and you don't want your employees wasting time on a complicated timesheet app, but with Workever it doesn't have to be a chore. Our time tracking software makes this process quick, efficient and easy for everyone involved.
If you regularly complete the same tasks for the same projects, you can use the common "Copy Last Week" feature to auto-populate your timesheet for this week. Either hit 'save' straightaway, or make a few tweaks and submit it. This will help your team members track time easily.
You can even save time when you're creating a bespoke weekly timesheet. If your time tracking software links to your project schedule, you can "Auto-Fill" to pull through the tasks that you have been assigned, saving you the job of typing them out. The added benefit here is that they'll automatically feed your time data back to the project schedule. Time tracking and keeping on top of billable time has never been easier. Your employees will be pleasantly surprised as to how easy it is to use our time tracking software. As a management tool, its features are unrivalled.
Start time tracking today
The easiest way to see if time tracking will be of benefit to you and your business is to simply commit and start recording your time on tasks. The hardest aspect of keeping time is maintaining the habit.
When applied properly, project timesheets will quickly become the norm for your team, and completing them will be another aspect of collectively achieving success. Soon, you'll wonder how you ever managed to run your projects without the rich data that time tracking will provide.
It won't be long before your estimates improve, your confidence in hitting deadlines is bolstered and your project success rates increase.
1,000,000+ Jobs Completed
We understand fieldwork. Over the last seven years, we've helped more than 1,000 customers increase their job capacity, helping them organise and improve their businesses.
It's time we did the same for you.