Manage Your Field Team And Track Results
Managing your fieldworkers can be a huge hassle. First, you don't always know where they are. Then, when you do know, you can't actually see how they're doing on their daily jobs. Luckily Workever, the premier tool for fieldworker team management, can help.
Manage every aspect of your team
Whether it's Timesheets, Expenses, Scheduling, Data Sharing or Reporting and Analytics; Workever has everything you need to make management an easy, all-in-one process.
Keep track of your workers
Use Workever's built-in GPS tracking technology to know where your fieldworkers are at all times. You'll be able to track their progress on a job, stay updated on their location, and see when they're on the move. Then, once you have the information you're looking for, you can make sure to send them in the right direction. All without time-consuming phone calls or emails.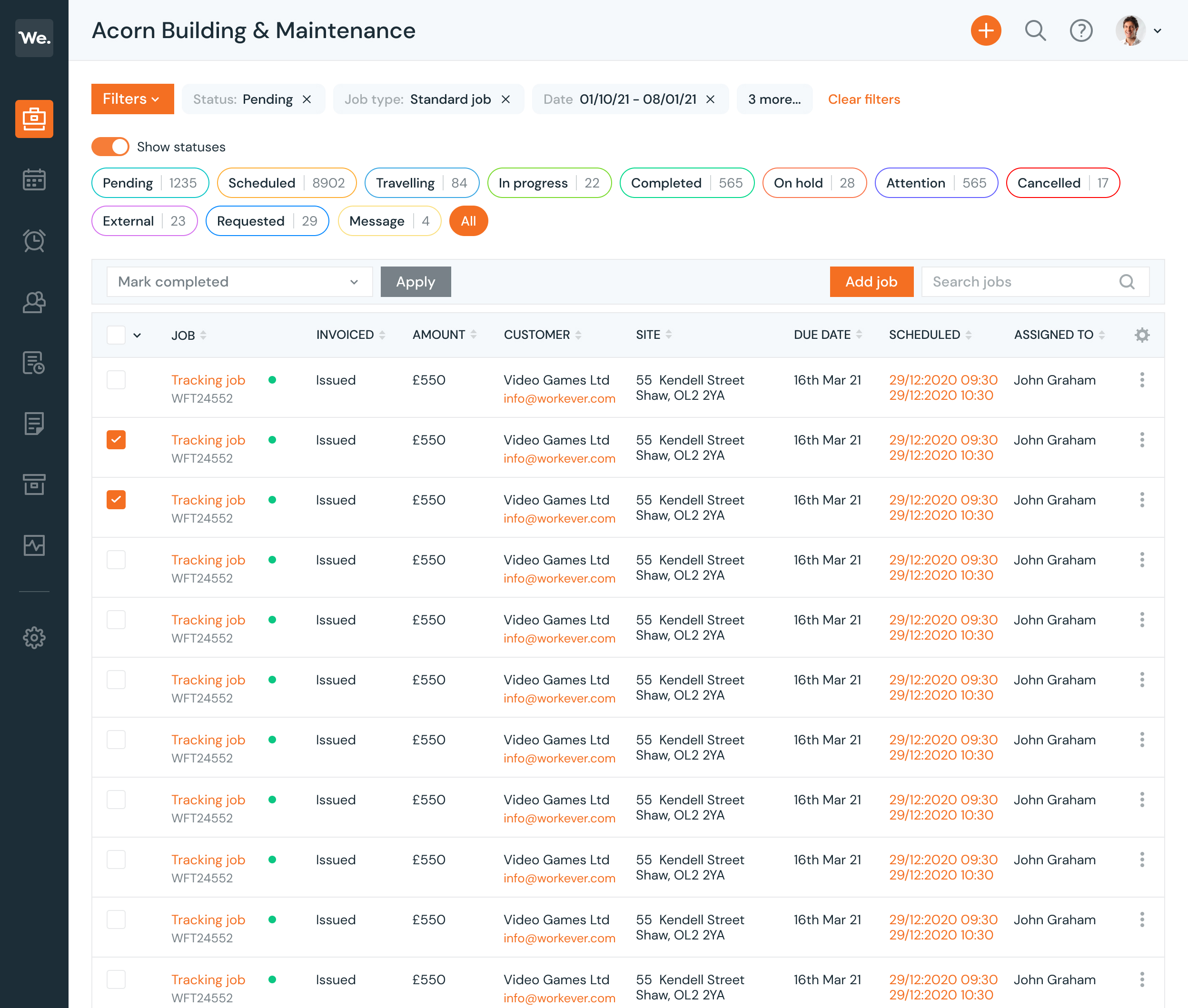 With all jobs visually displayed on the tracking software, you can clearly see every single job your workers are on. Did an emergency situation arise? With the visual scheduler you can see who's available to take on the new job, and assign your workers with a simple drag-and-drop motion. It doesn't have to be difficult to manage and with Workever, it isn't. Just look at the visual schedule to know right away.
Everything you need in one place
Manage Worker Permissions
Different companies require their fieldworkers to interact with their clients in many different ways. Sometimes they need access to your client's information or your invoicing data. Sometimes they don't. Give your fieldworkers exactly the permissions you want to run your business the way you know best.
Manage Timesheets & Expenses
Both Fieldworkers and Office staff can easily fill in and manage weekly timesheets. You can get accurate hours and expense data from your fieldworkers, instantly. You can allow your field team to create time logs and expenses in a way that works best for you. Our timesheets are flexible and you can use them in a few ways, depending on how you work and how you want your data captured.
Helping businesses just like yours
Find out why customers use our software to remove paperwork, improve communicaton, plan, manage and run efficient, growing businesses.
Great software for our nationwide team
With steady growth and incline in customers, we approached Workever. We rapidly went from dis-organised excel files to one centralised, organised system that our entire enterprise now operates on.
Miles Ward
Spalls Nationwide Cleaning & Facilities
It's really easy to use!
We now have everyone working digitally, we can plan in advance, and the technicians can easily see what's going on all the time, so changes to schedules are no longer a problem. The technicians no longer have to keep coming into office.
Mike Philbin
Manager at Nu-Life Floor Care Ltd
50% reduction in paperwork!
The Workever and Xero integration has helped us eliminate the need to double enter data. I love the fact I can invoice in Workever and all of my data automatically appears in Xero. It's brilliant!

Michelle Avis
Office Manager at Drains Ahead
Easy to use job and field management software
No commitment, no auto subscriptions, no credit card required
Maximise your team's productivity
Team management software enhances team collaboration and project management, but also boosts your team's productivity and work quality. Sometimes using simple tools, such as time-tracking apps or task boards, can go a long way. However, sometimes you need a more holistic approach to get all the aspects of your team management under control, this can be achieved when you use the right team management software like Workever.
Managing your team isn't only about to-do lists and time allocation. Depending on the size of your team and the nature of your work, you can combine multiple software features to enhance teamwork and store important data about your projects, customers, tasks and other activities.
How to make the most of team collaboration
Your team is always connected with Workever. You can have multiple people assigned to multiple tasks, and add comments and files so work is stored on the cloud and all in one place, accessible by desktop and mobile. Whenever a task or project is updated, everyone gets alerted to collaborate in real-time to get the work done.
What you can do with Workever's team management software
Schedule – assigning and prioritising tasks on the calendar
Team collaboration – chats and document sharing
Project management – adding work and tasks to collaborative team projects and tracking project progress
Data storage – centralised access to information about your customers, contacts, team, business, important news
Reporting and analytics – work and project reports, time tracking, dashboards
Manage your projects in the best way possible
Help your entire team stay on top of tasks and projects, simplify employee on-boarding all with Workever. Collaborate using one team management software and communicate in context to keep everyone aligned.
Effective team management and time tracking projects can be easy. Use our timeline feature to plan who will work on what. Get things done more efficiently and make team collaboration enjoyable.
How to manage your project using our team management software
With Workever's team management software you can do planning, tracking and delivering all in one place. No matter how complex the project is and no matter what level of communication is necessary: whether with an in-house team, an external team or collaborating with both, our team management software solution can help you and your team stay connected.
Some of what can be tracked and measured include the more complex processes of a project. These nuances include team communication, deadlines and budget.
Make task assignments easy with the ability to assign tasks to new owners, prioritise each item, set due dates, and track time.
Streamline processes with Workever's Project management tool
One of the biggest benefits of using our project management software is improving efficiencies. To do this, it's necessary to find out what is slowing you down, and resolve that.
The simplest way of achieving this is through effective to-do lists and efficiently delegating tasks.
To-do lists
Workever's interactive tasks lists that allow you to add all upcoming tasks. They also come with the option of setting reminders for deadlines. This helps prioritise tasks and to-do lists. It also enables you to see tasks being completed, who's completing them, and how long it's taking.
Delegating tasks
Making sure the right team members complete the appropriate tasks doesn't need to be time-consuming. Our system lets you assign tasks quickly.
And it will notify the team member that a task has been assigned to them in real-time. With in-built messaging, you can easily communicate with your team to let them know what's going on.
Shared tasks
Creating shared tasks, or adding a team member to a task, improves collaboration. When a task is assigned to multiple people, it will show up in all their tasks lists. Comments can be seen in real-time, making it easier to track what each person is doing.
Team Management Software for all kinds of businesses
Workever is used by a wide range of businesses and industries, such as maintenance and repairs companies, contractors and tradespeople. Businesses use our software to reduce admin, to organise task management and for time tracking.
We Have 180,000+ Service Contracts Created
Join the leagues of thousands of happy customers who have used Workever's contract lifecycle management tools to remain ahead of their competition. We've had over 180,000 service contracts created using our software. The businesses have seen increased revenue and a larger number of contract renewals. Try us today!