Manage Your Field Team And Track Results
Managing your fieldworkers can be a huge hassle. First, you don't always know where they are. Then, when you do know, you can't actually see how they're doing on their daily jobs. Luckily Workever, the premier tool for fieldworker team management, can help.
Manage every aspect of your team
Whether it's Timesheets, Expenses, Scheduling, Data Sharing or Reporting and Analytics; Workever has everything you need to make management an easy, all-in-one process.
Keep track of your workers
Use Workever's built-in GPS tracking technology to know where your fieldworkers are at all times. You'll be able to track their progress on a job, stay updated on their location, and see when they're on the move. Then, once you have the information you're looking for, you can make sure to send them in the right direction. All without time-consuming phone calls or emails.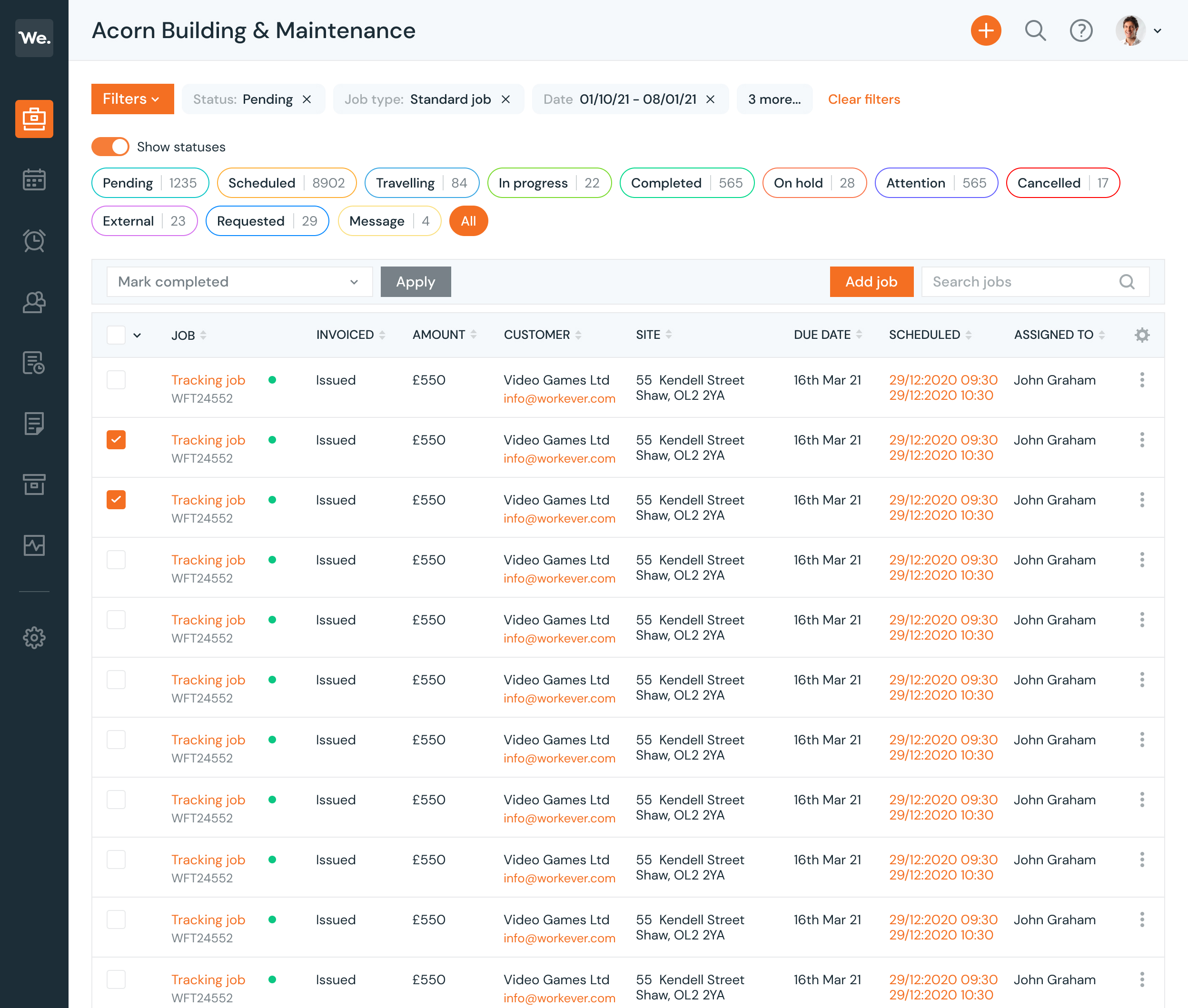 With all jobs visually displayed on the tracking software, you can clearly see every single job your workers are on. Did an emergency situation arise? With the visual scheduler you can see who's available to take on the new job, and assign your workers with a simple drag-and-drop motion. It doesn't have to be difficult to manage and with Workever, it isn't. Just look at the visual schedule to know right away.
Everything you need in one place
Manage Worker Permissions
Different companies require their fieldworkers to interact with their clients in many different ways. Sometimes they need access to your client's information or your invoicing data. Sometimes they don't. Give your fieldworkers exactly the permissions you want to run your business the way you know best.
Manage Timesheets & Expenses
Both Fieldworkers and Office staff can easily fill in and manage weekly timesheets. You can get accurate hours and expense data from your fieldworkers, instantly. You can allow your field team to create time logs and expenses in a way that works best for you. Our timesheets are flexible and you can use them in a few ways, depending on how you work and how you want your data captured.
Helping businesses just like yours
Find out why customers use our software to remove paperwork, improve communicaton, plan, manage and run efficient, growing businesses.
Great software for our nationwide team
With steady growth and incline in customers, we approached Workever. We rapidly went from dis-organised excel files to one centralised, organised system that our entire enterprise now operates on.
Miles Ward
Spalls Nationwide Cleaning & Facilities
It's really easy to use!
We now have everyone working digitally, we can plan in advance, and the technicians can easily see what's going on all the time, so changes to schedules are no longer a problem. The technicians no longer have to keep coming into office.
Mike Philbin
Manager at Nu-Life Floor Care Ltd
50% reduction in paperwork!
The Workever and Xero integration has helped us eliminate the need to double enter data. I love the fact I can invoice in Workever and all of my data automatically appears in Xero. It's brilliant!

Michelle Avis
Office Manager at Drains Ahead
Schedule Any Job and Manage Your Workforce​
No commitment, no auto subscriptions, no credit card required
Maximise your team's productivity
Manage your projects in the best way possible
Help your entire team stay on top of tasks and projects, simplify employee on-boarding all with Workever. Collaborate using one team management software and communicate in context to keep everyone aligned.
Effective team management and time tracking projects can be easy. Use our timeline feature to plan who will work on what. Get things done more efficiently and make team collaboration enjoyable.
How to manage your project using our team management software
With Workever's team management software you can do planning, tracking and delivering all in one place. No matter how complex the project is and no matter what level of communication is necessary: whether with an in-house team, an external team or collaborating with both, our team management software solution can help you and your team stay connected.
Some of what can be tracked and measured include the more complex processes of a project. These nuances include team communication, deadlines and budget.
Make task assignments easy with the ability to assign tasks to new owners, prioritise each item, set due dates, and track time.
Streamline processes with Workever's Project management tool