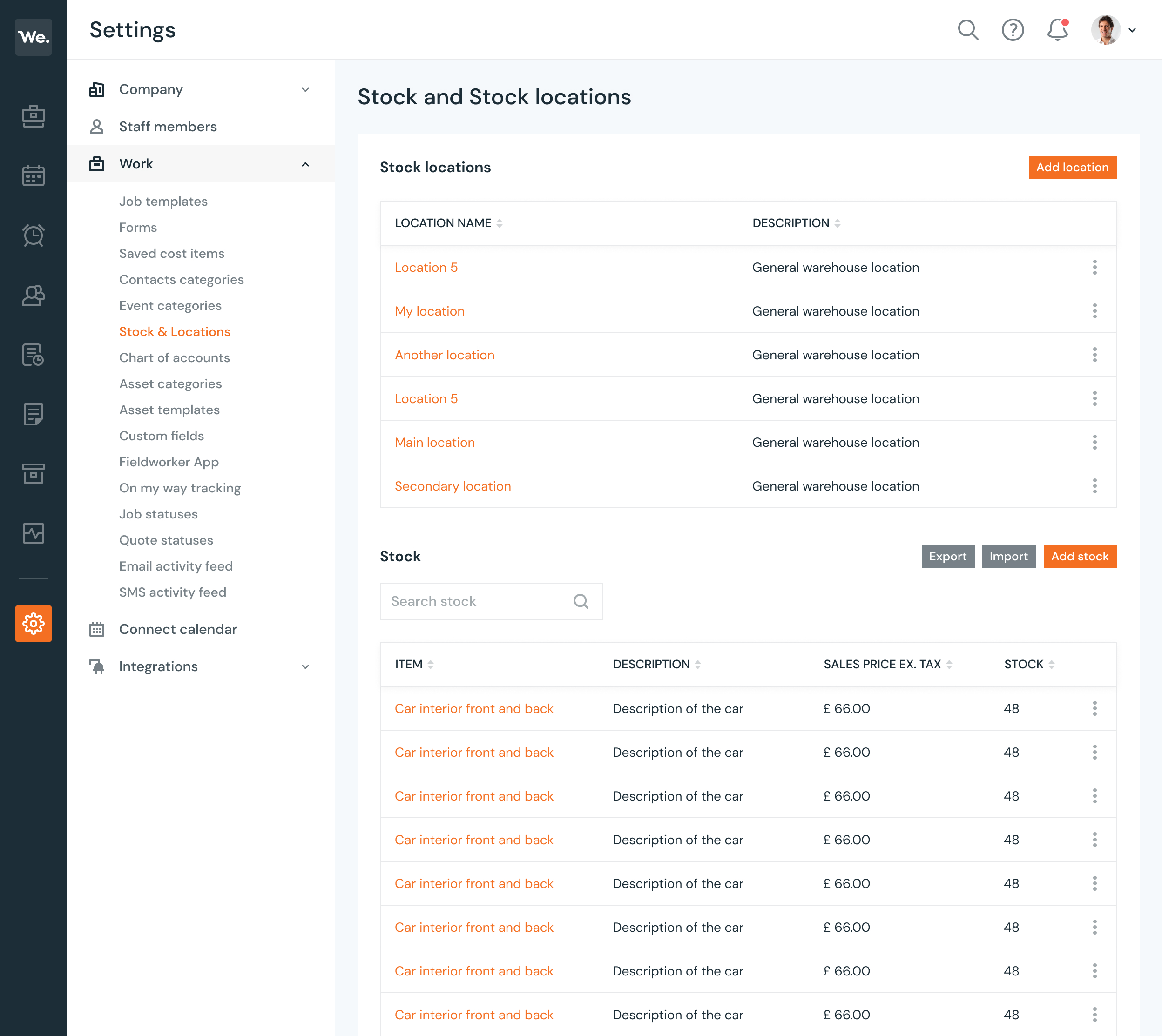 Stock Management Software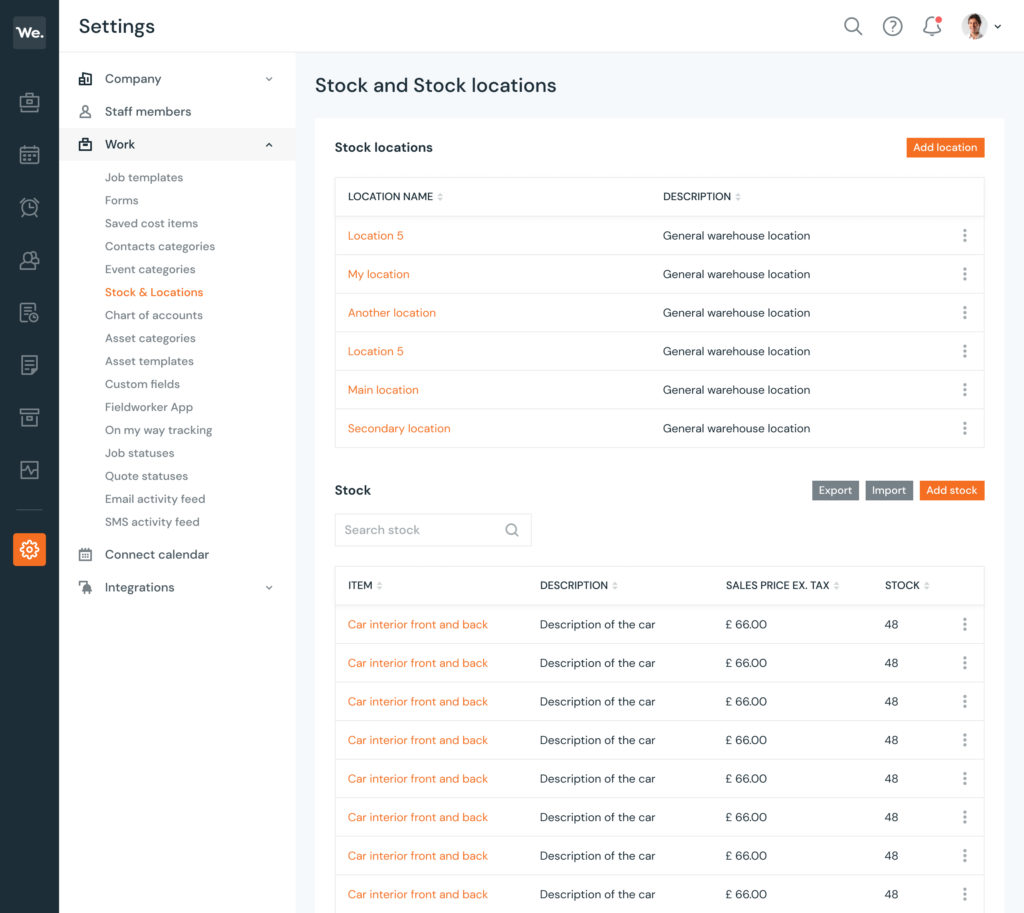 The inventory management solutions inside Workever make it easy to find the stock you have, and assign it to jobs. Know what you have, and when you need to restock.
Easily record all your stock items, their price, and how much you have inside Workever. We'll allocate and track everything automatically.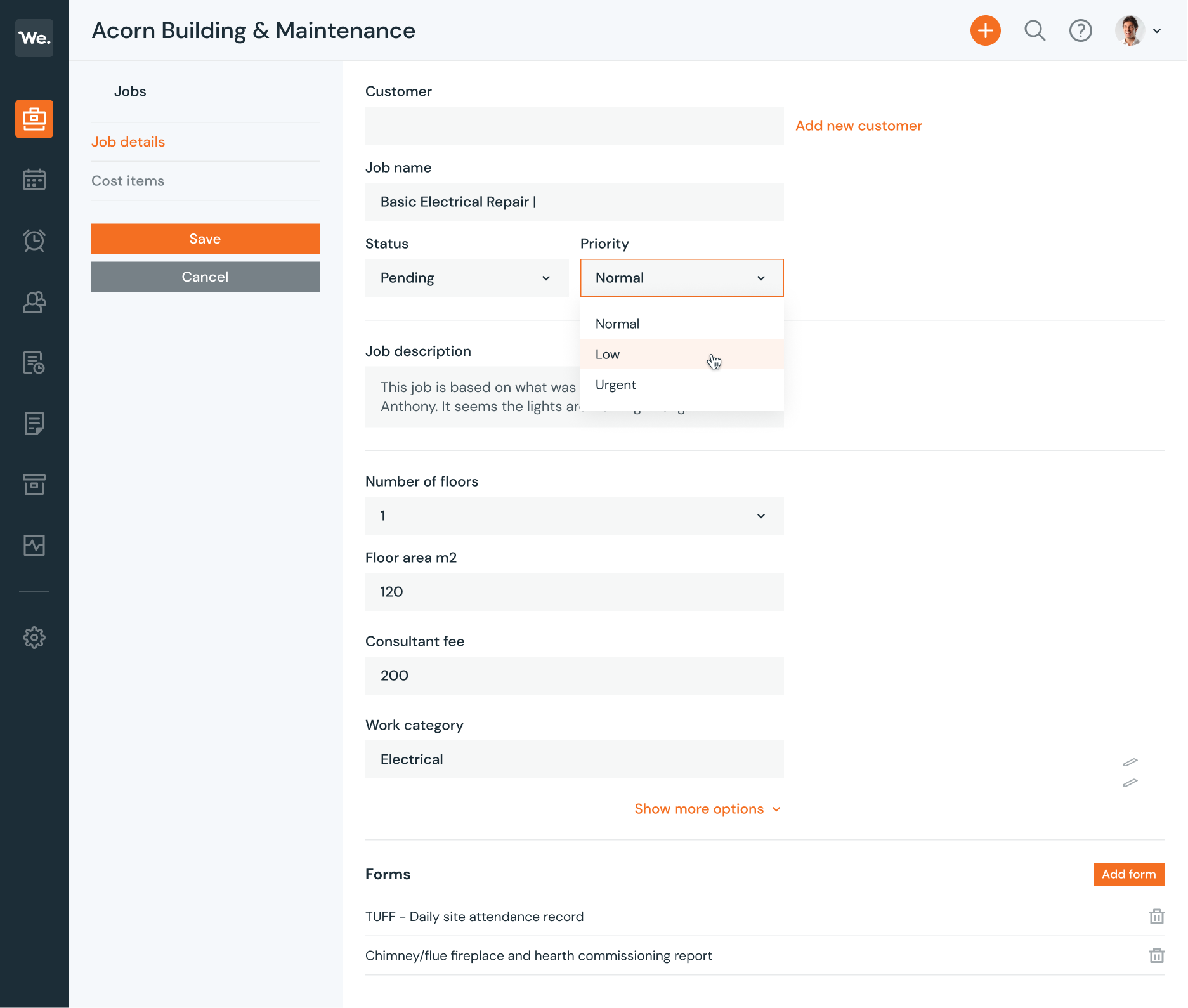 When you create a job, you can add the necessary stock to it. So your fieldworker knows exactly what to grab. Workever's stock management software will allocate the amount you need to the job.
Better stock management
= happy customers
We track the items you actually have in stock. When you use an item on a job, the stock in Workever's system depletes. And we'll tell you when you're getting low on an inventory item, so you never have to about missing stock for any job ever again.
Keep all your stock data on Workever's system or download it into an excel. Whatever works for your business, Workever has the solution.
Helping businesses just like yours
Find out why customers use our software to remove paperwork, improve communicaton, plan, manage and run efficient, growing businesses.
Great software for our nationwide team
With steady growth and incline in customers, we approached Workever. We rapidly went from dis-organised excel files to one centralised, organised system that our entire enterprise now operates on.
Miles Ward
Spalls Nationwide Cleaning & Facilities
It's really easy to use!
We now have everyone working digitally, we can plan in advance, and the technicians can easily see what's going on all the time, so changes to schedules are no longer a problem. The technicians no longer have to keep coming into office.
Mike Philbin
Manager at Nu-Life Floor Care Ltd
50% reduction in paperwork!
The Workever and Xero integration has helped us eliminate the need to double enter data. I love the fact I can invoice in Workever and all of my data automatically appears in Xero. It's brilliant!

Michelle Avis
Office Manager at Drains Ahead
Easy to use job and field management software
No commitment, no auto subscriptions, no credit card required
What is a Stock Management System?
An inventory management system is an essential business tool that helps you keep tabs on all your materials and supplies. From the stockroom to the sales floor, these software applications streamline the process of tracking, managing and replenishing inventory. And in so doing, reduce costs, save time and ensure greater visibility throughout your organisation.
It's a fact: if you don't know what items are available to sell or use, then how can you control costs? How will it be possible to improve profitability by maximising returns? You need real-time information about what your company has in store — not just for items on the shelves but also for those which might yet be utilised further down the line. Too many organisations suffer from a chronic lack of data and intelligence with regard to inventory.
How can such an important factor be allowed to remain so haphazard? It's time for a software solution that will give you complete visibility over what is in stock, where it is and how much it costs.
Yes, that sounds good, but what do I need it for?
In a nutshell: saving time and money. In the long run, all stock inventory management software (including Workever) will save you time by automating manual tasks like tracking orders or entering adjustments into the system. The opportunity cost of this saved time is substantial: For many businesses, mistakes made during simple administrative tasks can easily cost several days per employee every year! With expensive resources tied up on low-value tasks, it should come as no surprise that there are lots of other opportunities to save time and money.
As a result, stock management software will help you improve your profitability, reduce the cost of poor processes and drive efficiency throughout your entire supply chain!
Why Should You Choose Workever?
With tons of inventory management software in the market, you're probably confused about which one to pick. Here are the key features that make Workever the preferred choice:
With our inventory management software, you can easily add stock records and prices to keep track of your supply chain. The system will automatically allocate the products for you to get a full view of how much product is left at any given time.
Why You Need Inventory Management Software
As a business owner, the decisions you make with your inventory will shape not only how much money you have in the bank but also whether or not those funds can be used to improve operations. But what if there was a way for every decision made about inventory management (which is usually done manually) could actually provide data that would help future sales? That's where Inventory Management Software comes into play and why it should become part of any business plan today.
Increasing visibility on trends in supply chain performance means more information which equates to better control over everything from deliveries, pricing strategies, and managing competitor responses – all while maximising profits by using this invaluable tool. The data also allows you to see what customers are buying more, what's not working for your enterprise, make purchase orders as well as receive and make payments using the system.
FAQs on Inventory Management Software
What is the best stock management software?
The market has many inventory management systems, and dozens of people will still opt to use Excel. However, Workever is a market-leading cloud-based inventory software that is useful to businesses in almost any industry.
Workever's key features provide solutions for managing most processes in the flow of inventory in a business. Whether you want to streamline warehouse management, track shipping, inventory levels, inventory reporting, or assign inventory needed in your operations, Workever helps businesses accomplish these goals.
Can small businesses use inventory management software?
Yes, small businesses experience significant gains from using inventory management software in their operations. With management software's inventory automation, you can increase efficiency at the business, while the inventory and sales reports give you visibility on areas you can optimise to save on costs and increase profitability.
How does inventory management software work?
Think of a diligent personal assistant who knows everything about their boss, from the kind of coffee they take, medical checkups schedule to impromptu dates. The inventory management software, in this case, would be the diligent personal assistant and your inventory, the boss. The management software knows every detail about your inventory and provides quick access to this information.
The management software has all this information if you need the quantity of inventory available, supplier details, inventory number, or transaction history. What's more, the software integrates with other programs like the point of sale (POS) systems, accounting systems, ERP, or shipping integrations throughout the inventory cycle to help you with the management.
Depending on your industry, the stock management system keeps track of your inventory from the time it arrives in your warehouse through to orders, sales, shipping, and delivery. In the manufacturing industry, the system helps with the optimisation of supply levels, so you don't have excess supplies or fewer supplies when needed in the production process. Additionally, these management features are essential in financial planning, ensuring that you don't tie up your capital in supplies that are not needed immediately.
In the field service industry, inventory management systems help you record your stock, designate inventory to a job and assess how much is needed to complete the task, tracking inventory levels and alerting the team leaders of low levels. Due to the integration capabilities of the management software, inventory purchase orders and payments are also possible.
Is an Inventory Management System Important in eCommerce?
Yes. If your eCommerce business uses multi-channels for sales, you absolutely need this software. Inventory management is critical when using different sales channels because tracking each product can be hectic. The inventory software will keep tabs on products, utilise shipping integrations and give real-time updates till the product reaches the customer.
An inventory software gives eCommerce businesses a chance to make data-driven decisions. It provides accurate and fast reporting, and you can use different filters to create necessary reports. You also get better visibility of the process and product interaction with your employees. Get valuable insight into order fulfilment and weaknesses in your operations and use this information to improve your business.
How do I choose the best inventory management system for my business?
Before commencing your search for an inventory system, you need to understand the critical needs of your business. A business in the field service industry has different needs from a retail or wholesale business. The key features needed to run these individual businesses can vary a lot.
However, in general, you need to check out the inventory control tools that the software offers. Does the system allow you to make forecasts? You need to know which processes have been automated. The system should be easily configurable without the need for extra training, hardware, or software. You need to make sure the tech expertise required is readily available within your organisation or is cheaply available. Most importantly, you also need to check whether it's cloud-based or on-premise software.
You also need to ensure that the system supports integrations with other systems already in use within your organisation. You don't want to introduce counter-productivity by having to feed different system data manually. Integrations also increase the number of processes that can be automated. The system should additionally provide valuable inventory analysis that is actionable. Otherwise, you will have to create several custom filters to analyse your inventory information.
Finally, you need a robust system that will not crash multiple users undertake to use it at the same time. There's nothing worse than getting a program to increase efficiency in your operations only to have to resort to manual operations because you can't entirely rely on the system. The communication channels with your software vendor should also be evident for quick resolution of emergent problems.
Start Your Smart Inventory Management With Workever Today!
For over seven years, we have helped 1000+ customers streamline their operations, increase profitability and improve their businesses overall. Workever inventory management software has helped manage over 4000 assets.
We understand that field service management businesses have many moving parts, and we help you keep track of each of them. Get better control over your employee schedules, inventory, as well as customer and vendor information.
Start your 14 days free trial today or schedule a live demo for your team of 5 or more members. Use your real inventory data or dummy data during this period. Once you decide to pay for a subscription, you can simply replace the dummy information with your actual business details. You don't need to sign any contracts- one direct payment and you can start enjoying our services.
Our customer service support team is available on call or message us online on the site for any inquiries. If you require extra help with the set-up, we can organise for a member from our support team to guide you through.
Your competitors are using smart solutions to manage their inventory; let us do the same for you.