Stock Management Software
The inventory management solutions inside Workever make it easy to find the stock you have, and assign it to jobs. Know what you have, and when you need to restock.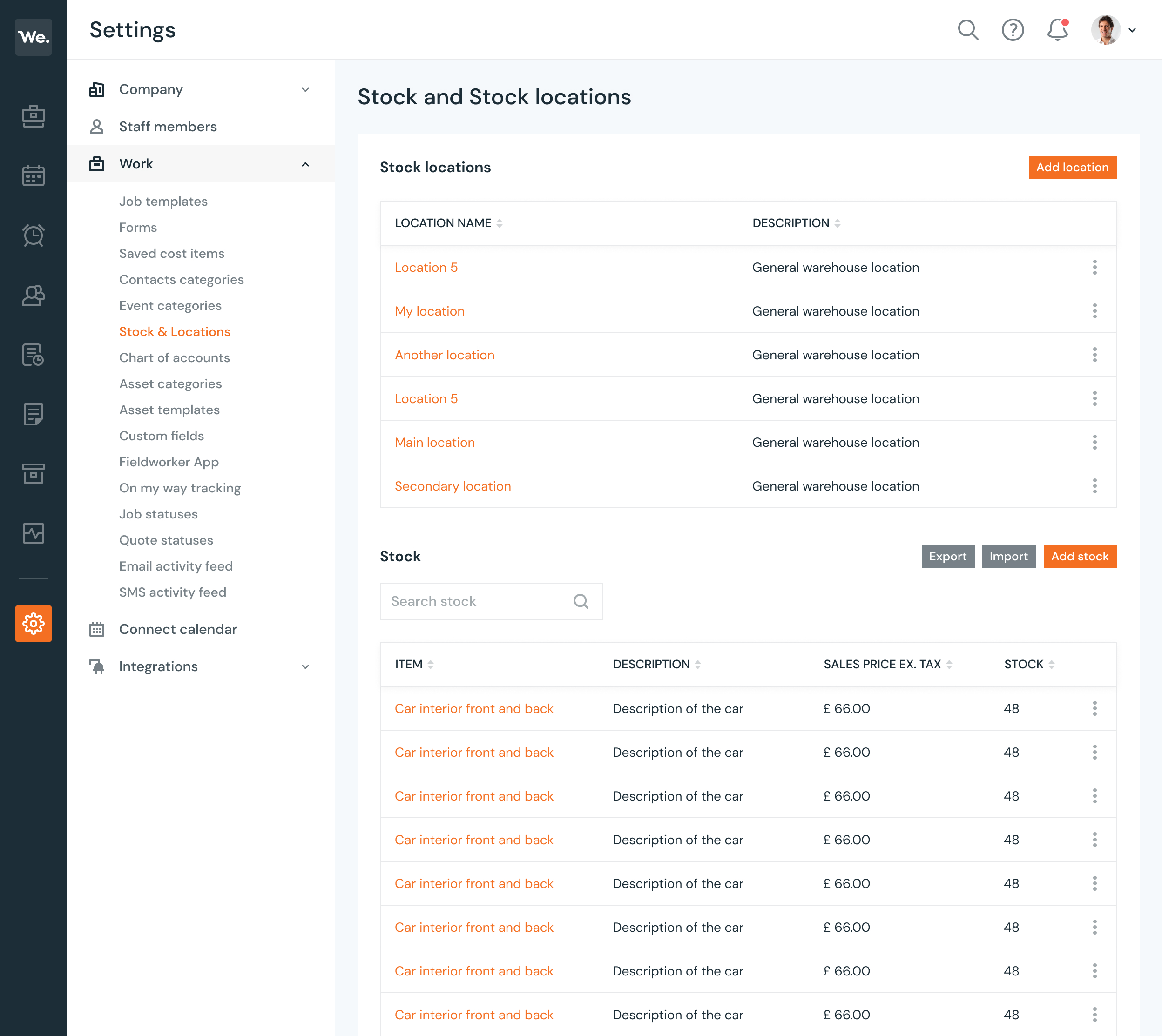 Easily record all your stock items, their price, and how much you have inside Workever. We'll allocate and track everything automatically.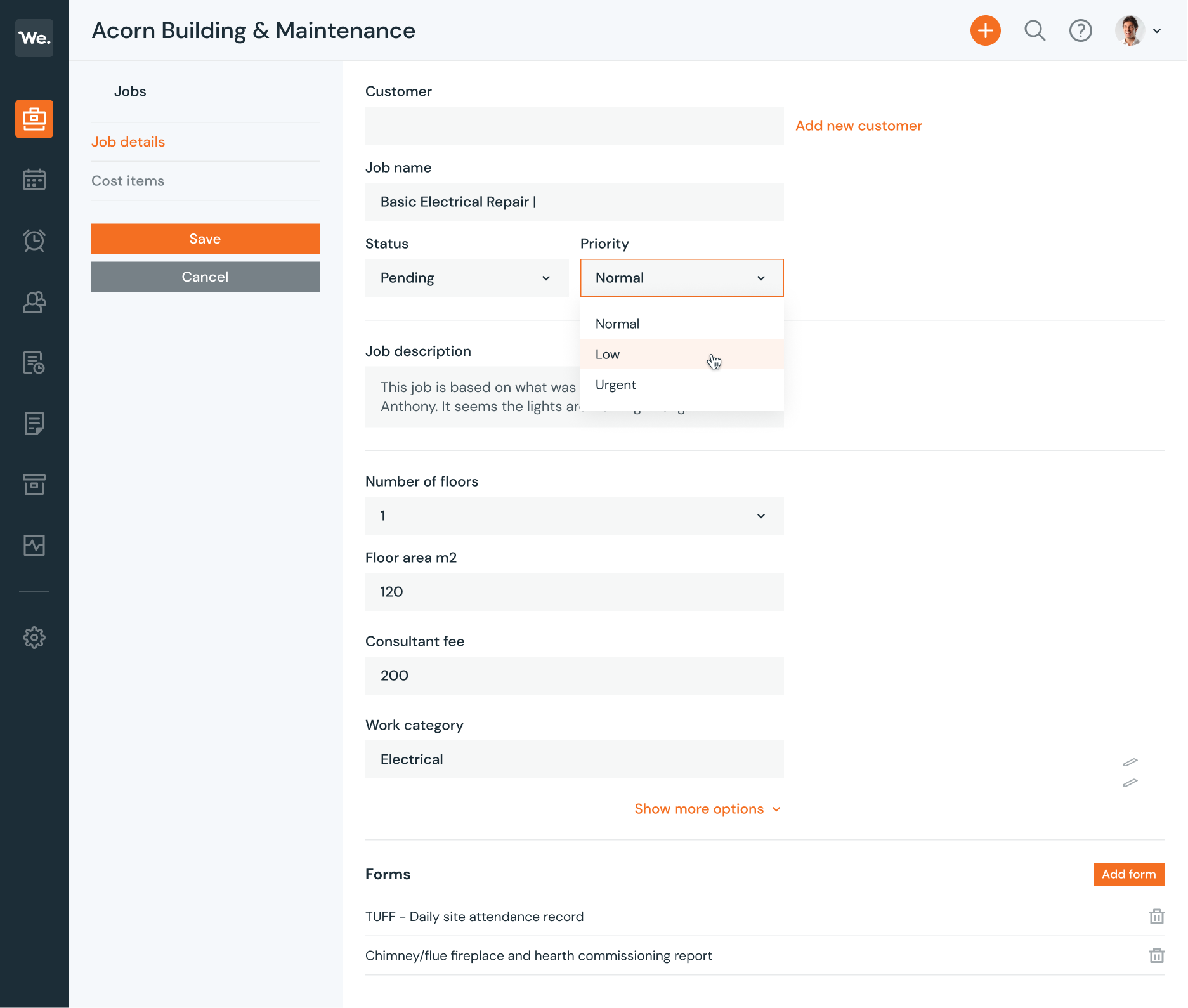 When you create a job, you can add the necessary stock to it. So your fieldworker knows exactly what to grab. Workever's stock management software will allocate the amount you need to the job.
Better stock management
= happy customers
We track the items you actually have in stock. When you use an item on a job, the stock in Workever's system depletes. And we'll tell you when you're getting low on an inventory item, so you never have to about missing stock for any job ever again.
Keep all your stock data on Workever's system or download it into an excel. Whatever works for your business, Workever has the solution.
Helping businesses just like yours
Find out why customers use our software to remove paperwork, improve communicaton, plan, manage and run efficient, growing businesses.
Great software for our nationwide team
With steady growth and incline in customers, we approached Workever. We rapidly went from dis-organised excel files to one centralised, organised system that our entire enterprise now operates on.
Miles Ward
Spalls Nationwide Cleaning & Facilities
It's really easy to use!
We now have everyone working digitally, we can plan in advance, and the technicians can easily see what's going on all the time, so changes to schedules are no longer a problem. The technicians no longer have to keep coming into office.
Mike Philbin
Manager at Nu-Life Floor Care Ltd
50% reduction in paperwork!
The Workever and Xero integration has helped us eliminate the need to double enter data. I love the fact I can invoice in Workever and all of my data automatically appears in Xero. It's brilliant!

Michelle Avis
Office Manager at Drains Ahead
Schedule Any Job and Manage Your Workforce​
No commitment, no auto subscriptions, no credit card required
What is a Stock Management System?
Why Should You Choose Workever?
With tons of inventory management software in the market, you're probably confused about which one to pick. Here are the key features that make Workever the preferred choice:
With our inventory management software, you can easily add stock records and prices to keep track of your supply chain. The system will automatically allocate the products for you to get a full view of how much product is left at any given time.
Why You Need Inventory Management Software
As a business owner, the decisions you make with your inventory will shape not only how much money you have in the bank but also whether or not those funds can be used to improve operations. But what if there was a way for every decision made about inventory management (which is usually done manually) could actually provide data that would help future sales? That's where Inventory Management Software comes into play and why it should become part of any business plan today.
Increasing visibility on trends in supply chain performance means more information which equates to better control over everything from deliveries, pricing strategies, and managing competitor responses – all while maximising profits by using this invaluable tool. The data also allows you to see what customers are buying more, what's not working for your enterprise, make purchase orders as well as receive and make payments using the system.
FAQs on Inventory Management Software