Stop trying to remember everything!
Never lose track of scheduled maintenance or upcoming service dates again – our reminder systems mean that internal or service tasks never need to be forgotten. You can easily assign reminders to a specific job, or set them up from within your jobs. Spend your time thinking about something more important.
Build trust and keep your customers informed
Making sure that everything on your to-do list actually gets done, has never been easier. Create a service reminder to automatically update customers of planned works or any important notifications they have coming up.
All you have to do is fill in the info and the customer will be automatically notified via SMS or Email. Let people know about deadlines, expected arrival times and more. Set yourself a timely reminder, forget about it and move on to the next ask at hand.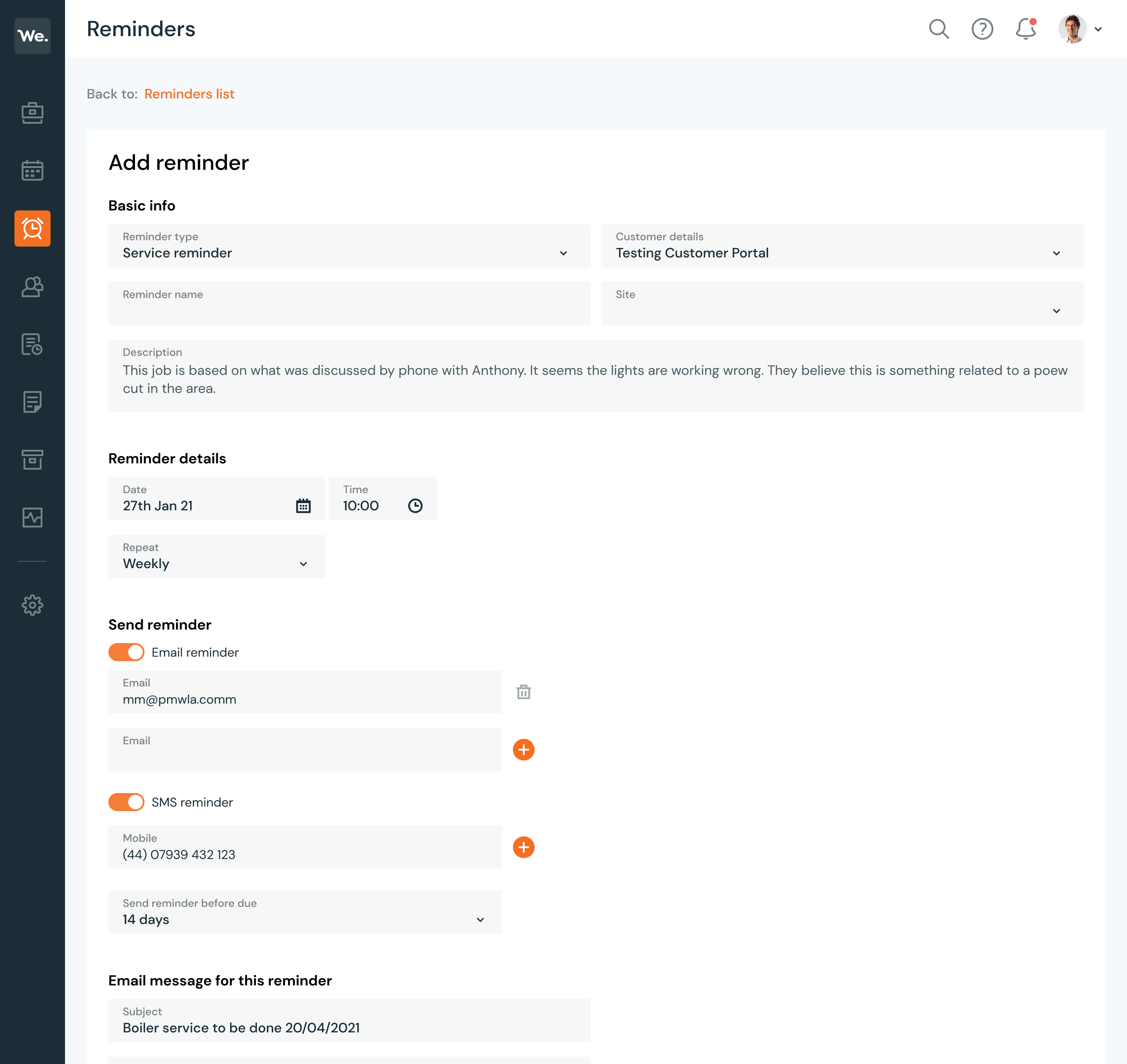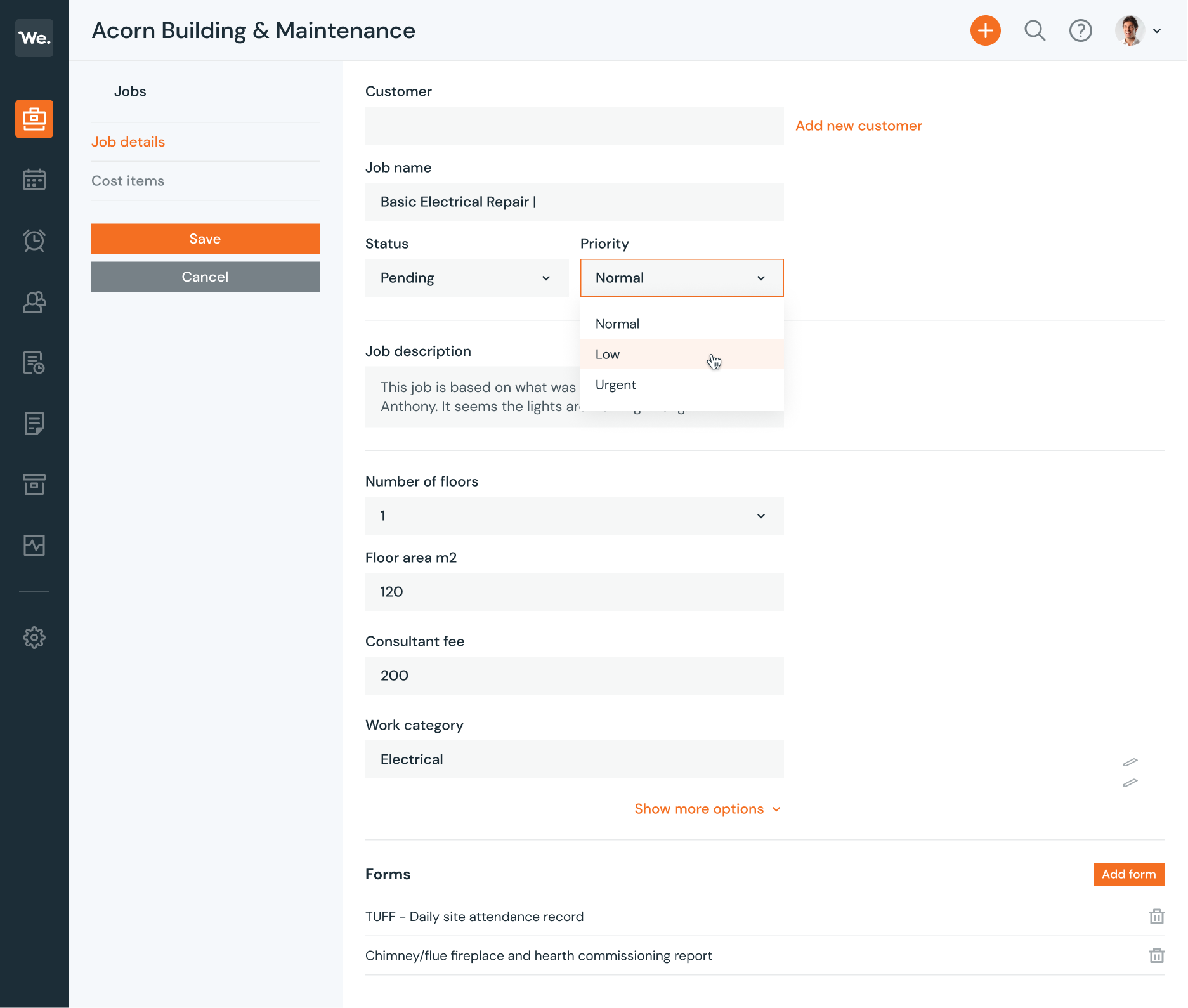 Create reminders within jobs as you go
It's easier than ever to make sure that follow up tasks get done on time. Create service reminders within the Job Management screen to easily synchronise your tasks with specific jobs and customers. You can decide exactly when you need to be reminded, meaning you don't need to worry about daily tasks until exactly the right moment. Say goodbye to the Post-It note!
Your all-in-one management software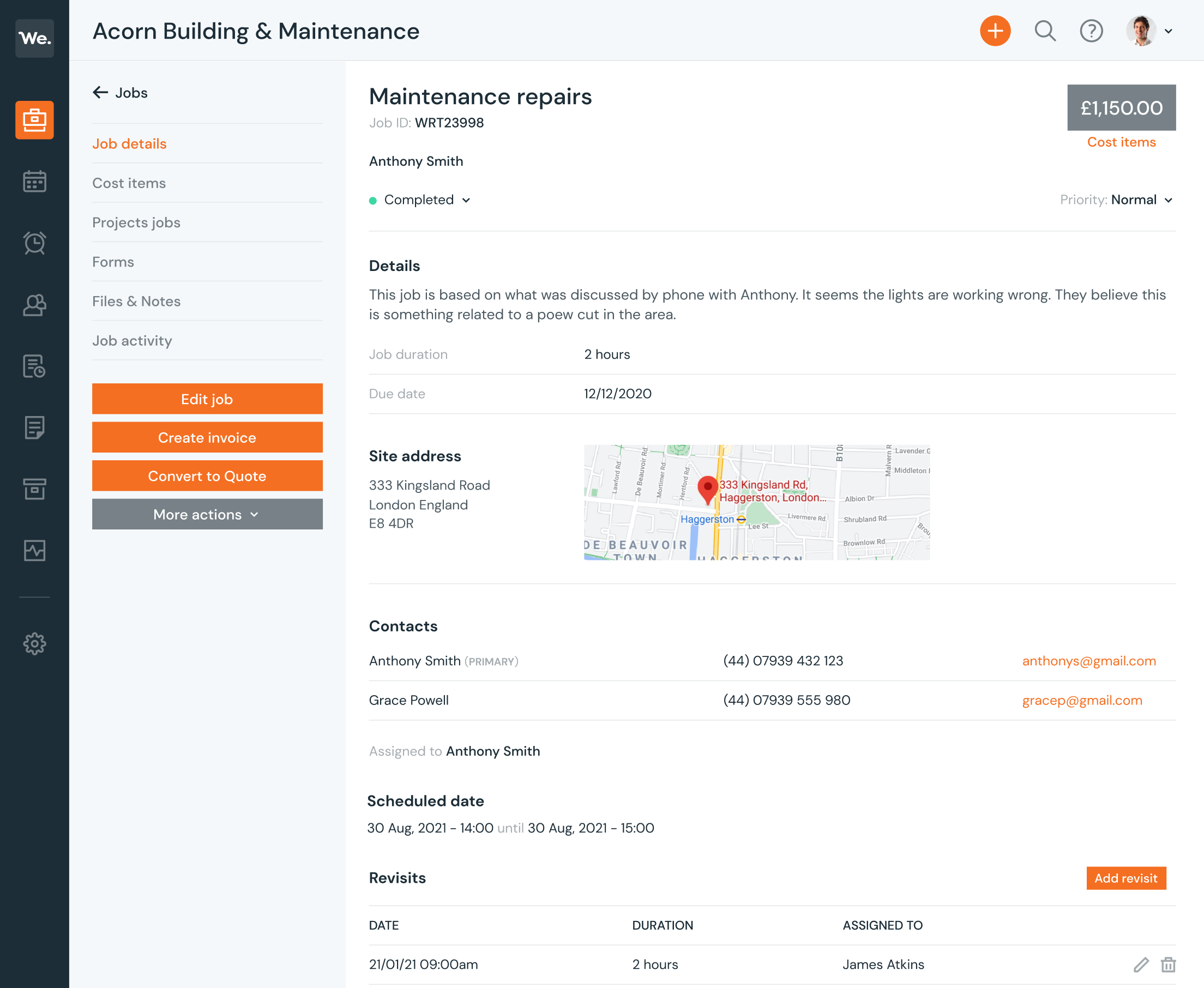 For the past 7 years plus, we have helped over a thousand customers create 1,000,000+ service reminders that have increased their job capacity. Give your business the tools to improve scheduling efficiency and make your customers happy today. We understand fieldwork; let us hold your hand and show you how to optimize your tasks. Start your free trial today and join other successful customers who use our software.
Helping businesses just like yours
Find out why customers use our software to remove paperwork, improve communicaton, plan, manage and run efficient, growing businesses.
Great software for our nationwide team
With steady growth and incline in customers, we approached Workever. We rapidly went from dis-organised excel files to one centralised, organised system that our entire enterprise now operates on.
Miles Ward
Spalls Nationwide Cleaning & Facilities
It's really easy to use!
We now have everyone working digitally, we can plan in advance, and the technicians can easily see what's going on all the time, so changes to schedules are no longer a problem. The technicians no longer have to keep coming into office.
Mike Philbin
Manager at Nu-Life Floor Care Ltd
50% reduction in paperwork!
The Workever and Xero integration has helped us eliminate the need to double enter data. I love the fact I can invoice in Workever and all of my data automatically appears in Xero. It's brilliant!

Michelle Avis
Office Manager at Drains Ahead
Easy to use job and field management software
No commitment, no auto subscriptions, no credit card required
Service Reminder Management Software
Ever find yourself forgetting to take care of some internal and service tasks? Maybe the task is a reminder you need for your employees, or perhaps it's something that needs to be done on behalf of one customer. That being said, there is an easy solution that will help keep all your priorities straight. Our service management software will give reminders when they're due so that all those little things don't fall through the cracks and become forgotten.
When it comes to running a service business, reminding customers of your upcoming visits is the name of the game. If you're an electrical contractor or plumbing company, fleet management technician, HVAC specialist and property maintainer, telecom infrastructure manager, etc., then chances are that these little reminders will be necessary for both the employees and clients! Whatever the case, you need to constantly remind your customers of impending maintenance visits or alert your employees of the need to arrange site visits.
A service reminder management software lets you stay on top of things. You can easily schedule an appointment in case of any additional service needs, generate reminders of recurring tasks, set alarms, and send notifications to customers.
Service reminders are an excellent replacement to having tons of papers with to-do lists, which create inefficiencies, cause confusion, negatively affect customer satisfaction, and ultimately limit revenue generation.
Why Do You Need a Service Reminder System?
Service reminders give your team a 360 degrees view of your maintenance scheduling. You are able to notice any weaknesses in the communication between the administration, field service team, sales team, and the customers. Using service reminders, you can streamline the whole process to ensure there is optimised maintenance scheduling. This keeps you in good standing with your customers and also saves on costs.
The creation of service reminders is linked to the service history. Through the analysis of the service history, you are able to have a critical look at aspects like productivity and other variables, which can help you create a standardised service reporting template. The report is a basis for creating a maintenance plan and scheduling it. Ultimately, this improves your planning, increases customer satisfaction, and benefits your bottom line.
Service reminder systems are integrated with other programs to help automate multiple services. In fleet management, service reminders could be integrated with telematic tools. The telematic tools can diagnose other problems such as engine faults that could be missed during preventative maintenance. That way, you can arrange for a visit with the engineers.
The system can also be integrated with a job management program or a mobile app- that way, once the service provider receives the reminder, they can book jobs.
A significant risk associated with using post-it notes to create reminders for your business or pass on messages to customers is that you can lose them, miss some information, or mix up key details. If you're in fleet management, regular vehicle inspections are essential to monitor existing issues or prevent failure. With a service reminder management software, it's easy to have an automated inspection failure workflow.
Drivers can also conduct regular inspections and communicate to the managers in case of any issues. Fleet managers can schedule the repairs before any failure. The system allows for the creation of automated work orders and based on the failure report. This helps your company to avoid downtime.
With some service reminder systems, you can track all recall alerts. The systems are integrated with the National Highway Traffic Safety Administration, which keeps all records of vehicles, and once there's a recall on any vehicle model, they contact vehicle owners. You get recall notifications before the manufacturer messages you. So you're able to prevent downtime by scheduling repairs before issues arise in your vehicles.
An essential aspect of reminders is timing. Perfect timing ensures you don't miss out on customer appointments. You don't want to send a reminder too early that the customer forgets, so you're forced to follow up with yet another reminder. If you're too late, then the reminder doesn't serve its purpose.
A good example of the impact of a timely reminder is when it comes to landlords and letting agents. In the United Kingdom, landlords have a legal obligation to get specific certificates and services such as gas and electrical safety certificates, energy performance certificates, among others. To help landlords stay on course with their legal obligations, letting agents can leverage service reminder services to issue reminders to the landlords. The letting agents can issue rent notices via the same system to their tenants.
At the core of human needs, everybody wants to feel seen, and so do your customers. Service reminders are a perfect way to make your clients feel appreciated by making the reminders feel personal. You have your customer database with all their relevant service history. Take note of unique details and add them to your reminders. This fosters a better relationship with your customer.
Service reminders offer businesses opportunities to increase their sales. Sometimes customers deactivate automatic renewal of subscriptions; sending that reminder nudges them to make the payment without them experiencing service interruptions.
Reminders are also a good way to communicate discounts on your services or inform customers of other related services that you offer. Discounts are a proven method to promote loyalty to your brand as well as attract new customers from referrals.
Advertising a related service can be a slippery slope. But, with the proper communication and placing it in front of the correct market, this can be an effective way of introducing your existing customers to another service that your company provides. Of course, you have to prove yourself as a reliable service provider first before hoping to get them on another one of your services.
Reminders can be a valuable tool to market your brand. Every opportunity that you have to communicate with your customers is a chance to create a good impression. While you don't send reminders very often because a subscription could be annual, each reminder should engage with your audience. You also don't want to send too many reminders since they could be a nuisance to the customer.
A good reminder avoids using general templates. Since you have different customers, you don't want to use a one-size-fits-all approach. While curating the message, have a clear image of your customer so that you're able to tailor the reminder in a language that resonates with them. You have access to data on the general use of your services, so you can easily create a personalized reminder. The wording of reminders to businesses and property customers will differ from that of private customers, which is a way to build brand loyalty.
A reminder also gives you a leeway to be creative in the way you communicate with your customers. So, feel free to take advantage of tech tools like GIFs, doodles, and witty puns to create fun reminders. You definitely want to keep in mind who your customer is, not to come off as too unprofessional. However, such unique aspects set you apart from your competition which is how you secure the bag.
Service reminders give you the flexibility of using different communication channels. The three main methods of communication are emailing, calling, or sending a message. As a rule of thumb, you definitely don't want to use all three since this would feel excessive to the customer, and nobody wants to feel like they're being spammed with reminders.
However, even with the multiple communication channels available, you need to be smart about how you use them. For good customer service practices, you can ask your customer which is their preferred mode of communication. You can also use a combination of two communication avenues, such as an email and a phone call if there is a need for a follow-up message.
Another advantage of using a service reminder management software is batch communication. You don't have to worry about having to send every customer an individual reminder and, in the process, miss some, which would lead to missed revenue opportunities.
Why use the Workever Service Reminder System?
You know how hectic it can be to get many tasks done, so you create a to-do list, and then you also have to remember to follow the list. This can be quite a bummer. With service reminders, you can generate a reminder for your customers, and they will get notifications via messages or email on when a service is due or expected arrival times.
All you need to do is input the customer details, and the system will manage the reminders. You can concentrate on other agendas because the reminders will help you with task management. This feature works for companies in many industries. And, as long as a business needs to make a booking for recurring jobs, this is an important feature.
Workever allows you to create follow-up reminders on the go. Often during the execution of tasks, follow-up items may come up. You can create service reminders with the job management screen to easily synchronise your tasks with specific customers and jobs. You don't need to worry about remembering when exactly the task needs to be done because the reminder will do it for you. The best part is that you can do this on your mobile phone or your desktop wherever you are.
The service reminder management software is easy to use, so your staff will easily schedule reminders and collect and analyse service reports. It also makes it easy for your customer to book an appointment or job once they receive the reminder because you can include a link to do so.
Workever also lets teams with more than five members use a live demo to get a feel of the software. In case of any questions, call support, and they will guide you through.
With Workever, there's something for everyone- we match your budgetary capabilities as well as the size of your business.
The pricing is pretty straightforward, and you don't have to pay any extra fees for setup or support. You pay for your service plan month to month. You don't have to pay for your first 14 days since we offer a free trial period.
Every single part of our CRM solutions is designed to improve your marketing, sales and reviews. You can streamline your data and receive valuable insights wherever you are. From your social media accounts to sales automation success – data is so helpful in refining your unique sales proposition.
Reputable businesses will always attract more customers because they generate strong trust levels. For example, if someone's looking for a bike, they'll go to Halfords. Why? Because it's known as a business that understands its products and can offer excellent service.
CRM tools enable you to build a strong reputation because once you have data on how your customers behave, you can find new ways to improve your marketing, sales and service management.