Stop trying to remember everything!
Never lose track of scheduled maintenance or upcoming service dates again – our reminder systems mean that internal or service tasks never need to be forgotten. You can easily assign reminders to a specific job, or set them up from within your jobs. Spend your time thinking about something more important.
Build trust and keep your customers informed
Making sure that everything on your to-do list actually gets done, has never been easier. Create a service reminder to automatically update customers of planned works or any important notifications they have coming up.
All you have to do is fill in the info and the customer will be automatically notified via SMS or Email. Let people know about deadlines, expected arrival times and more. Set yourself a timely reminder, forget about it and move on to the next ask at hand.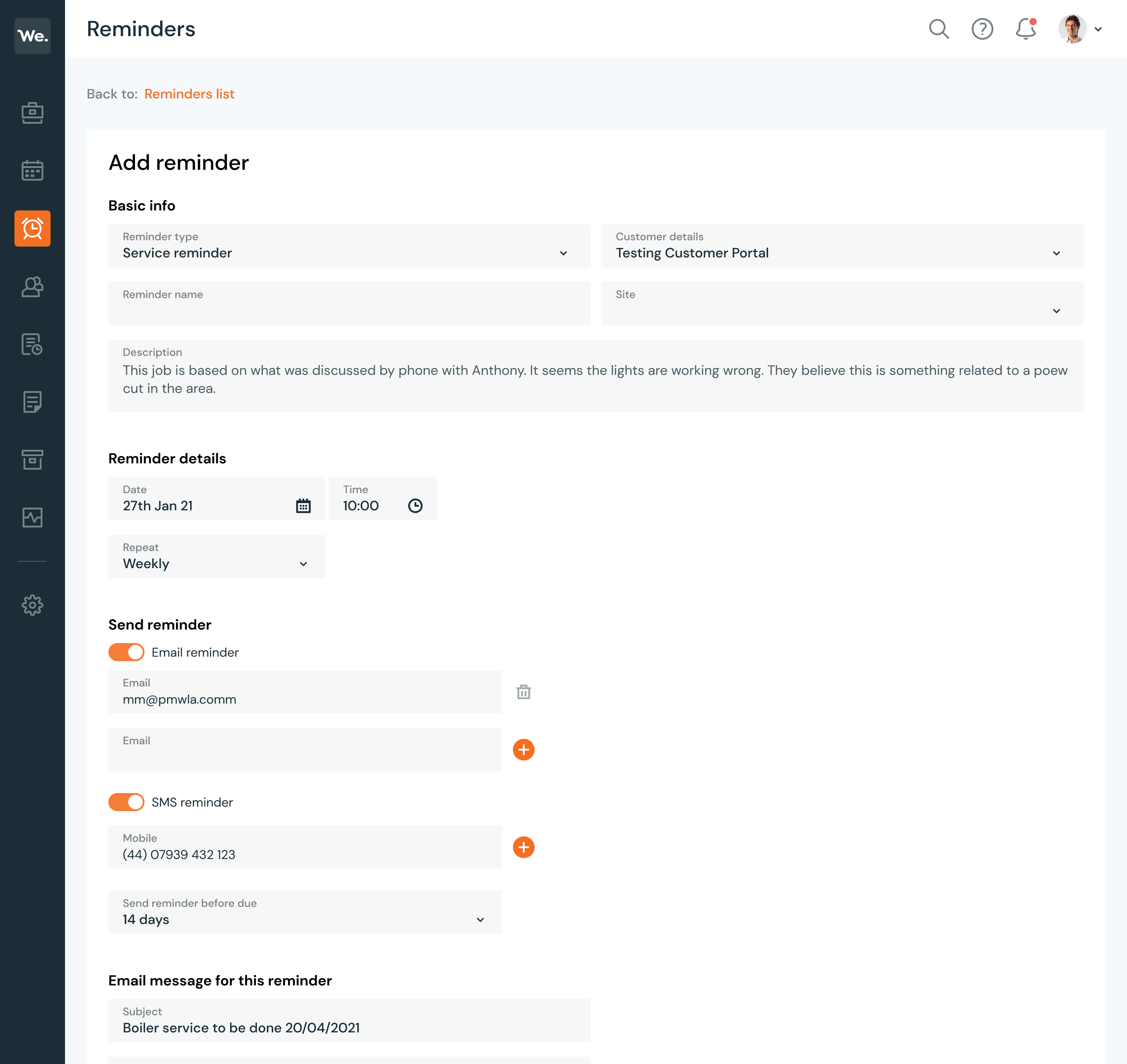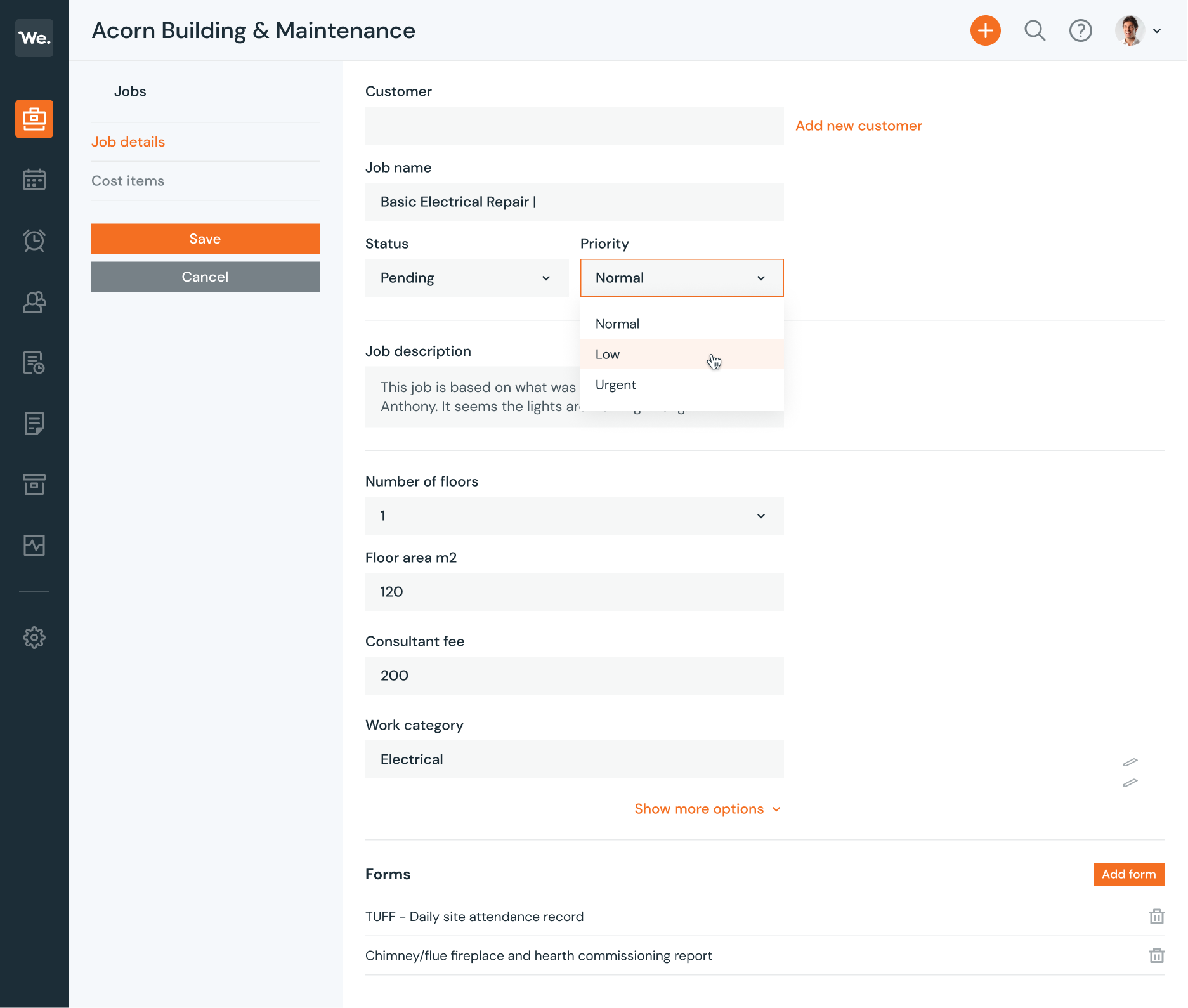 Create reminders within jobs as you go
It's easier than ever to make sure that follow up tasks get done on time. Create service reminders within the Job Management screen to easily synchronise your tasks with specific jobs and customers. You can decide exactly when you need to be reminded, meaning you don't need to worry about daily tasks until exactly the right moment. Say goodbye to the Post-It note!
Your all-in-one management software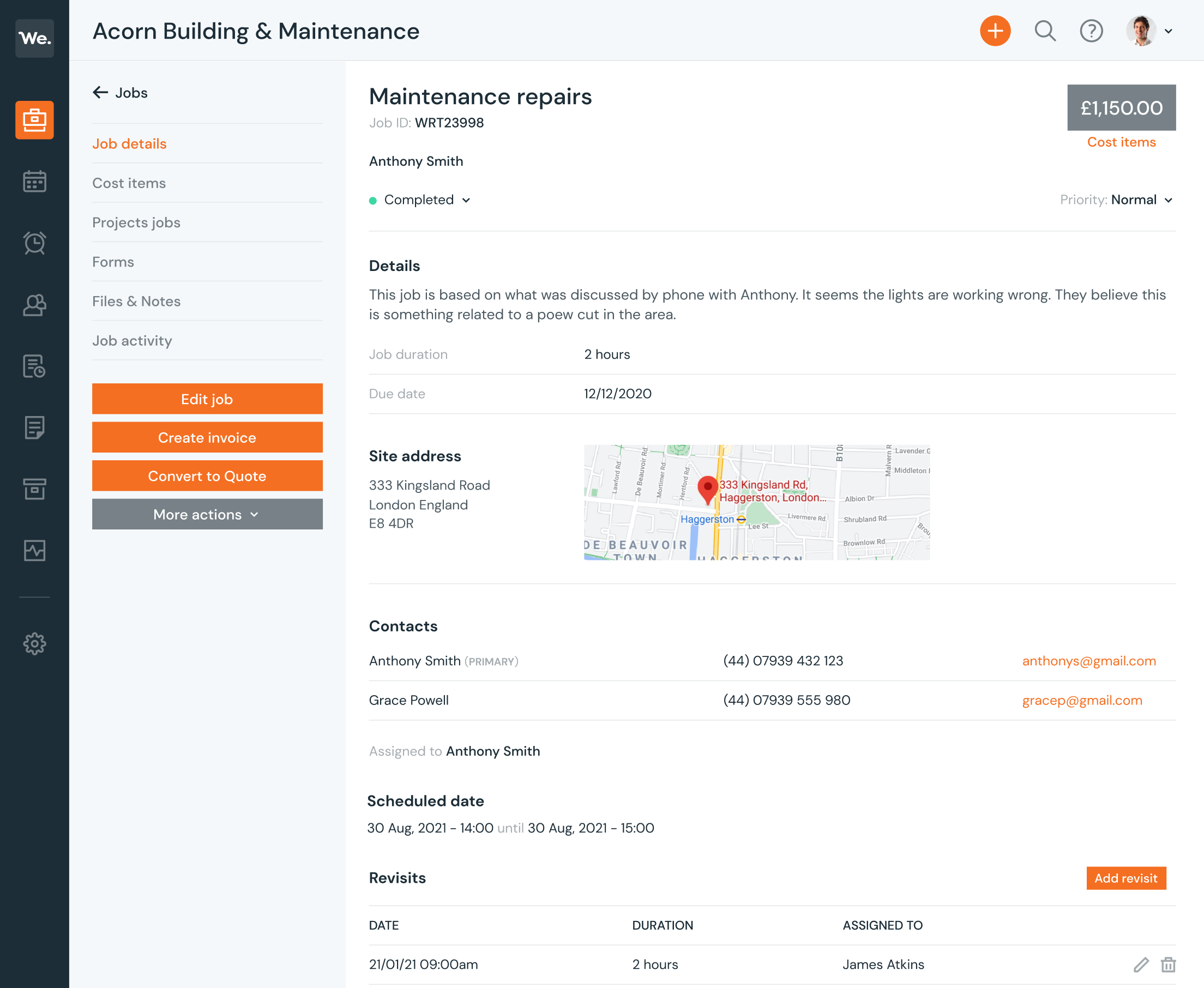 For the past 7 years plus, we have helped over a thousand customers create 1,000,000+ service reminders that have increased their job capacity. Give your business the tools to improve scheduling efficiency and make your customers happy today. We understand fieldwork; let us hold your hand and show you how to optimize your tasks. Start your free trial today and join other successful customers who use our software.
Helping businesses just like yours
Find out why customers use our software to remove paperwork, improve communicaton, plan, manage and run efficient, growing businesses.
Great software for our nationwide team
With steady growth and incline in customers, we approached Workever. We rapidly went from dis-organised excel files to one centralised, organised system that our entire enterprise now operates on.
Miles Ward
Spalls Nationwide Cleaning & Facilities
It's really easy to use!
We now have everyone working digitally, we can plan in advance, and the technicians can easily see what's going on all the time, so changes to schedules are no longer a problem. The technicians no longer have to keep coming into office.
Mike Philbin
Manager at Nu-Life Floor Care Ltd
50% reduction in paperwork!
The Workever and Xero integration has helped us eliminate the need to double enter data. I love the fact I can invoice in Workever and all of my data automatically appears in Xero. It's brilliant!

Michelle Avis
Office Manager at Drains Ahead
Easy to use job and field management software
No commitment, no auto subscriptions, no credit card required
Service Reminder Management Software
Ever find yourself forgetting to take care of some internal and service tasks? Maybe the task is a reminder you need for your employees, or perhaps it's something that needs to be done on behalf of one customer. That being said, there is an easy solution that will help keep all your priorities straight. Our service management software will give reminders when they're due so that all those little things don't fall through the cracks and become forgotten.
When it comes to running a service business, reminding customers of your upcoming visits is the name of the game. If you're an electrical contractor or plumbing company, fleet management technician, HVAC specialist and property maintainer, telecom infrastructure manager, etc., then chances are that these little reminders will be necessary for both the employees and clients! Whatever the case, you need to constantly remind your customers of impending maintenance visits or alert your employees of the need to arrange site visits.
A service reminder management software lets you stay on top of things. You can easily schedule an appointment in case of any additional service needs, generate reminders of recurring tasks, set alarms, and send notifications to customers.
Service reminders are an excellent replacement to having tons of papers with to-do lists, which create inefficiencies, cause confusion, negatively affect customer satisfaction, and ultimately limit revenue generation.
Why Do You Need a Service Reminder System?
Service reminders give your team a 360 degrees view of your maintenance scheduling. You are able to notice any weaknesses in the communication between the administration, field service team, sales team, and the customers. Using service reminders, you can streamline the whole process to ensure there is optimised maintenance scheduling. This keeps you in good standing with your customers and also saves on costs.
Why use the Workever Service Reminder System?
You know how hectic it can be to get many tasks done, so you create a to-do list, and then you also have to remember to follow the list. This can be quite a bummer. With service reminders, you can generate a reminder for your customers, and they will get notifications via messages or email on when a service is due or expected arrival times.
All you need to do is input the customer details, and the system will manage the reminders. You can concentrate on other agendas because the reminders will help you with task management. This feature works for companies in many industries. And, as long as a business needs to make a booking for recurring jobs, this is an important feature.