Quote Software for Business
Create custom quotes whilst on the move and automatically connect jobs, customers and invoices. Get from customer enquiry to receiving payments faster than ever before.
Create a Quote on the Fly
Responding to a customer enquiry quickly can make a huge impact on the likelihood of securing their business. By using Worker's iOS or Android mobile app, you and your team get custom quotes sent out in seconds, wherever you are.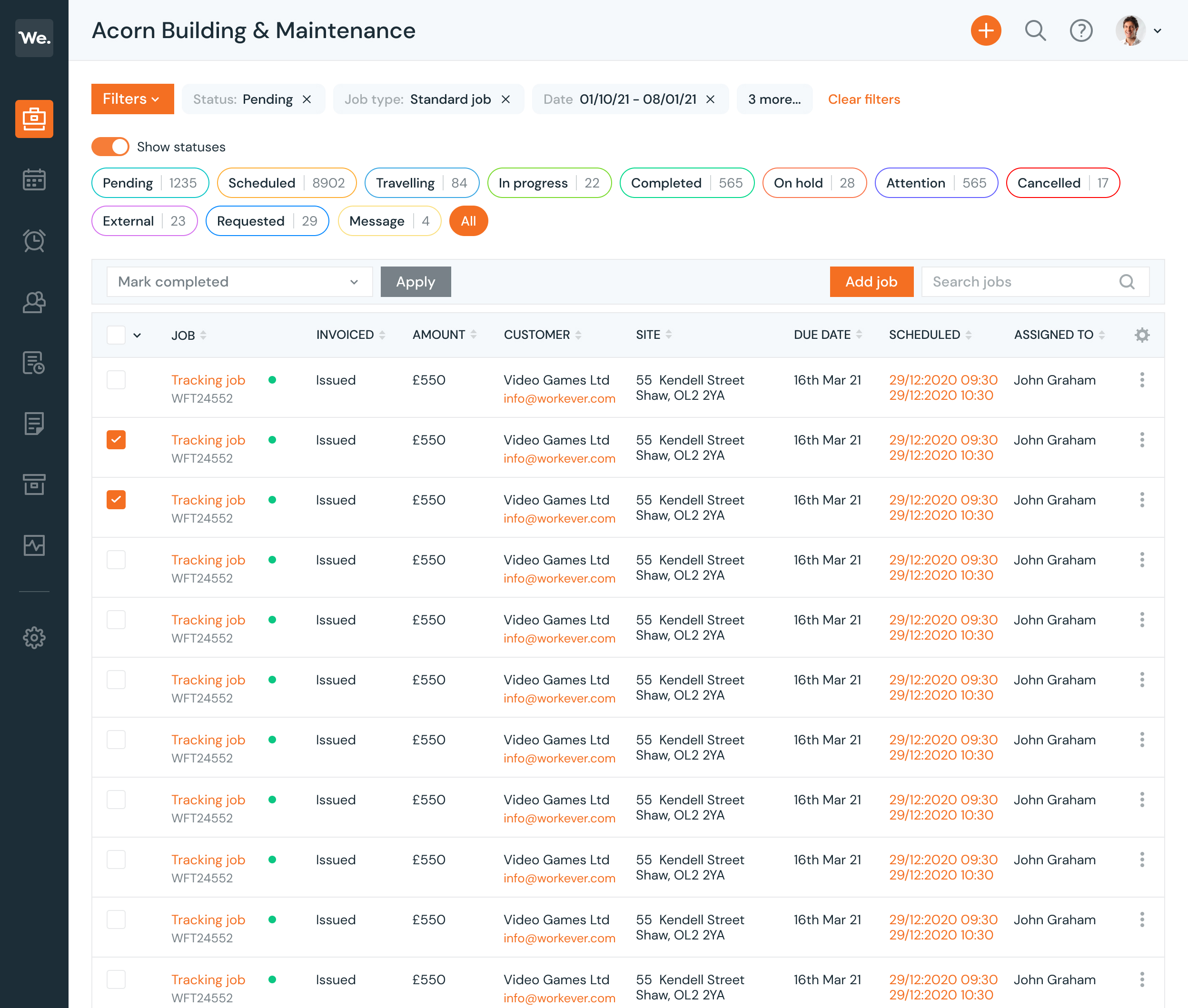 Workever's desktop version is a powerful home for all of your connected workflows, meaning that going from quotation, to starting work, to invoicing and to receiving payment is a seamless process. You also have all of your customer data at hand, making communications and updates easy.
Everything you need in one place
Your customers can see all of their quotes whenever they want and approve them if you give them permission.
Syncing sales management and contact management tasks can be very complex, but it doesn't have to be. Customers can request quotes themselves, meaning that going from quote to job to payment can be as quick as possible.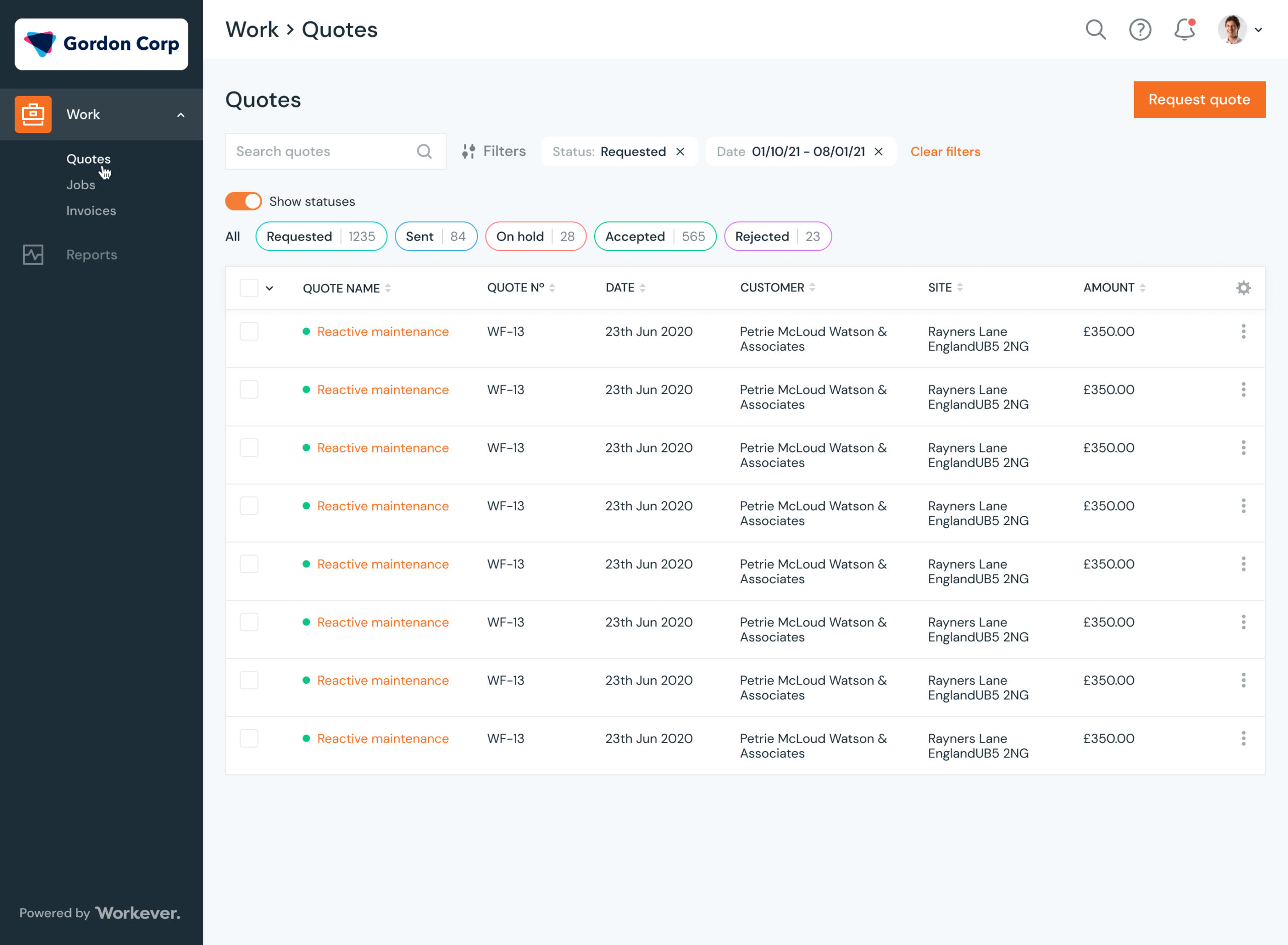 Jobs with your customer will be automatically updated in their portal. Help customers know what invoices are outstanding and what they've paid. Get paid and manage sales automatically: the best bit about CRM software.
Helping businesses just like yours
Find out why customers use our software to remove paperwork, improve communicaton, plan, manage and run efficient, growing businesses.
Great software for our nationwide team
With steady growth and incline in customers, we approached Workever. We rapidly went from dis-organised excel files to one centralised, organised system that our entire enterprise now operates on.
Miles Ward
Spalls Nationwide Cleaning & Facilities
It's really easy to use!
We now have everyone working digitally, we can plan in advance, and the technicians can easily see what's going on all the time, so changes to schedules are no longer a problem. The technicians no longer have to keep coming into office.
Mike Philbin
Manager at Nu-Life Floor Care Ltd
50% reduction in paperwork!
The Workever and Xero integration has helped us eliminate the need to double enter data. I love the fact I can invoice in Workever and all of my data automatically appears in Xero. It's brilliant!

Michelle Avis
Office Manager at Drains Ahead
Schedule Any Job and Manage Your Workforce​
No commitment, no auto subscriptions, no credit card required
What Is Quoting Software?
Workever: A Quoting Management-Solution That Helps
It doesn't matter where you are or what device you're using. Whether it's your desktop in the office or out with clients on-site who want some quotes but only have your mobile phone handy – don't worry about anything! We've got your back covered at Workever. You can edit one of our pre-existing templates that fit every occasion imaginable (and then some!) to generate single or multiple quotations, all within an easy clickable, user-friendly interface.
Benefits of a Quoting Management Software
What to Consider When Getting a Quoting Software