Order. Grab. Get On Your Way.
No more fumbling around, wasting time building purchase orders from a word doc. Workever's customisable and easy to use purchase order software gets supplies in your hands faster.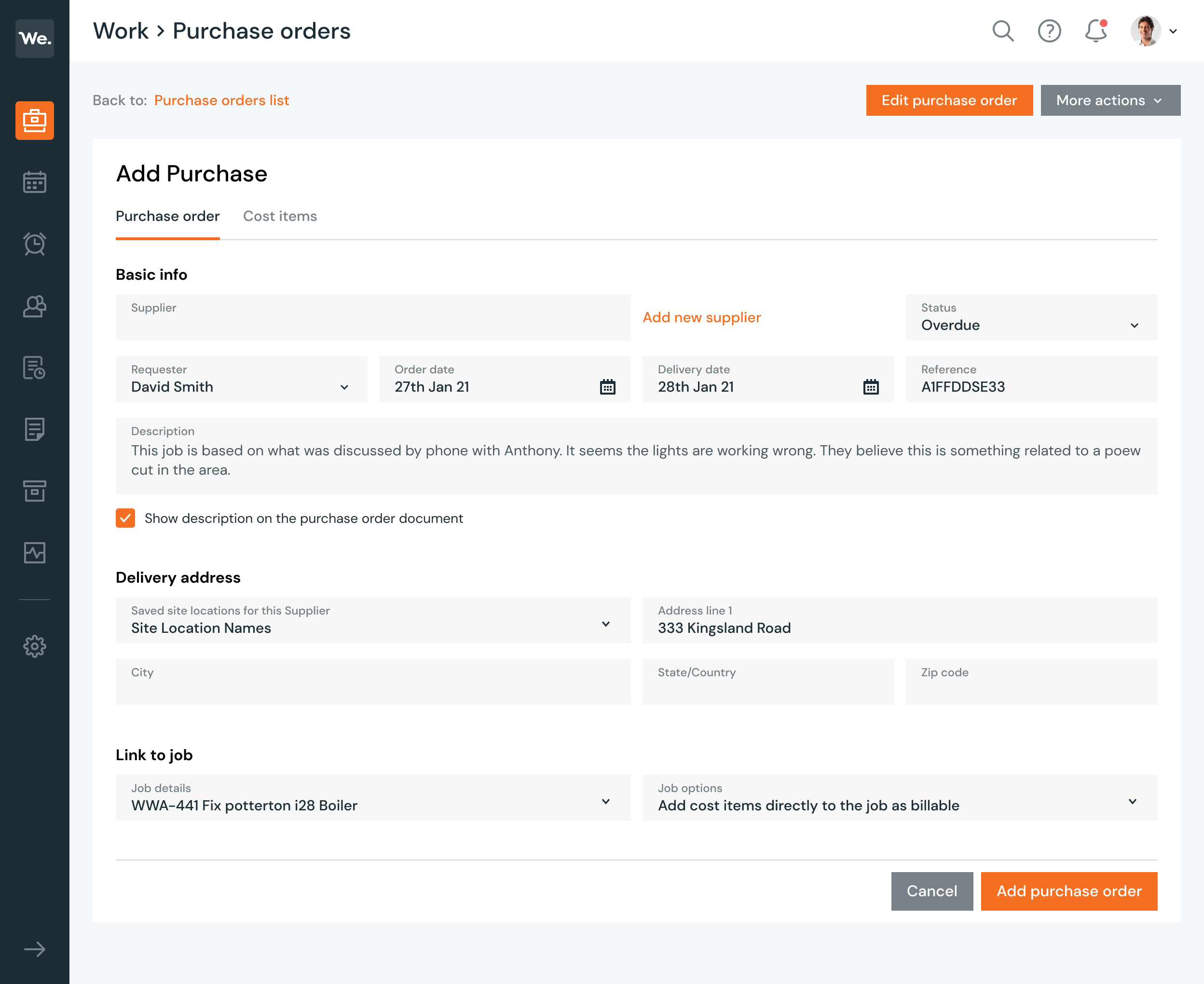 More Supplies, Less Paperwork
You've been there before – you need to buy something from a supplier right NOW, but you don't have a purchase order on hand. Then you have the scramble to find a way to get the paperwork just to pay your supplier in order to actually get the work done!
Well, Workever's purchase order software lets you create purchase orders from anywhere and send them on the go. Forget the mad dash – that's in the past with Workever.
Use the information already in your system to create a purchase order in seconds rather than minutes. You can even pull data directly from your customers for extra time saved. Get supplied faster and be more efficient with Workever's complete purchase order software system
For that professional finish, your purchase order can be branded to show any logo or branding you want. Just add it to the system and it will automatically generate with every purchase order
You can attach any file or note you have in the system to your purchase order with the click of a button. No need to send multiple emails for every purchase!
Helping businesses just like yours
Find out why customers use our software to remove paperwork, improve communicaton, plan, manage and run efficient, growing businesses.
Great software for our nationwide team
With steady growth and incline in customers, we approached Workever. We rapidly went from dis-organised excel files to one centralised, organised system that our entire enterprise now operates on.
Miles Ward
Spalls Nationwide Cleaning & Facilities
It's really easy to use!
We now have everyone working digitally, we can plan in advance, and the technicians can easily see what's going on all the time, so changes to schedules are no longer a problem. The technicians no longer have to keep coming into office.
Mike Philbin
Manager at Nu-Life Floor Care Ltd
50% reduction in paperwork!
The Workever and Xero integration has helped us eliminate the need to double enter data. I love the fact I can invoice in Workever and all of my data automatically appears in Xero. It's brilliant!

Michelle Avis
Office Manager at Drains Ahead
Schedule Any Job and Manage Your Workforce​
No commitment, no auto subscriptions, no credit card required
What is a Purchase Order System?
Today's business is all about speed- how fast you can give your customers the required services. When you need to create purchase orders urgently, you don't want to go through the hassle of using Excel sheets and writing emails back and forth to get your orders processed. Telling a client that you can't deliver because of a delay with the PO is somewhat similar to telling the teacher that the dog ate your homework.
To avoid the delays, inefficiencies, and costs that come with manual purchase order processes, you need a purchase management system. It's a cloud-based purchase order management software that manages the whole process from creating the PO all the way to the invoicing stage.
Purchase order systems store the data electronically, which allows for easy retrieval and updating. It also assists in inventory management, financials and forecasting. Companies can use the information stored to determine their standing with each vendor, such as lead time and delivery status, stock levels etc.
Workever's customisable and easy-to-use purchase order software will save you time – no more fumbling around, wasting hours building a purchase order from scratch. By eliminating paperwork for goods suppliers in your office or warehouse, the Workever digital management platform helps increase transparency across departments while enforcing compliance requirements with ease! Boost efficiency by accelerating orders approvals using this smart solution.
Workever - The Best Purchase Order Software
At this point in time, we have grown to become a well-known company. This is because of our commitment to giving customers what they need and providing them with something that best suits their needs. We are confident about the management solutions we offer, as evidenced by all these years of successfully serving thousands upon thousands of large and small businesses.
Simplify your purchase order process by using these features from our top-of-the-line software.
Workever lets you generate purchase orders in no time. Say goodbye to copy-pasting information across your system and wasting precious minutes! Workever will extract customer data from the portal directly, so there's never a need to worry about getting that one pesky field wrong when copying it over again – because we've got all of our bases covered for you here at Workever. And if a PO needs to be created from scratch, it has easy procedures that won't take more than 10 minutes of your time!
The Benefits of Digital Purchase Orders System
A manual purchase order process is cumbersome and prone to errors. If you're an enterprise with several stakeholders involved in the purchasing process, it usually involves a lot of back and forth; this means lots more time lost for all parties! The human-driven nature of manual processes makes them vulnerable to risks like loss or theft: imagine going through the whole procurement process only to find that you misplaced the purchase orders during invoicing?
No more lost POs and other integral documents. Additionally, with e-signatures, there is no need to meet the liable parties in person for PO approvals. The software is automated, so you spend less time on each step without compromising compliance, quality or accuracy.
You can start your free trial to see how we make procurement and inventory management easy with just one click. No credit card or payment is required for the first 14 days, so sign up now!. Just give us your email, and you get an email with a link to set up an account, and you're good to go. Move from an inefficient way of handling purchase orders to having control over your procurement and inventory management.
Workever is a good fit for both small businesses and large ones because it can handle all scales of purchasing needs. You can access the site online using any device regardless of your location, thus saving time.
Once you're done with your free trial, you can proceed to pay. Our payments are flexible, and you pay per user every month; therefore, a small business doesn't have to worry about paying hefty fees. Pick a package that suits the needs of your business, and in case of any questions, you can reach our support staff using the contact information on the website.
Stay on top of your competition, increase the efficiency in your purchase order workflows, get speedy analytics, and manage your inventory by trying us today.