Mobile Management Software
A perfect union of office & field
With Workever's mobile management app, your fieldworkers are always connected to the office.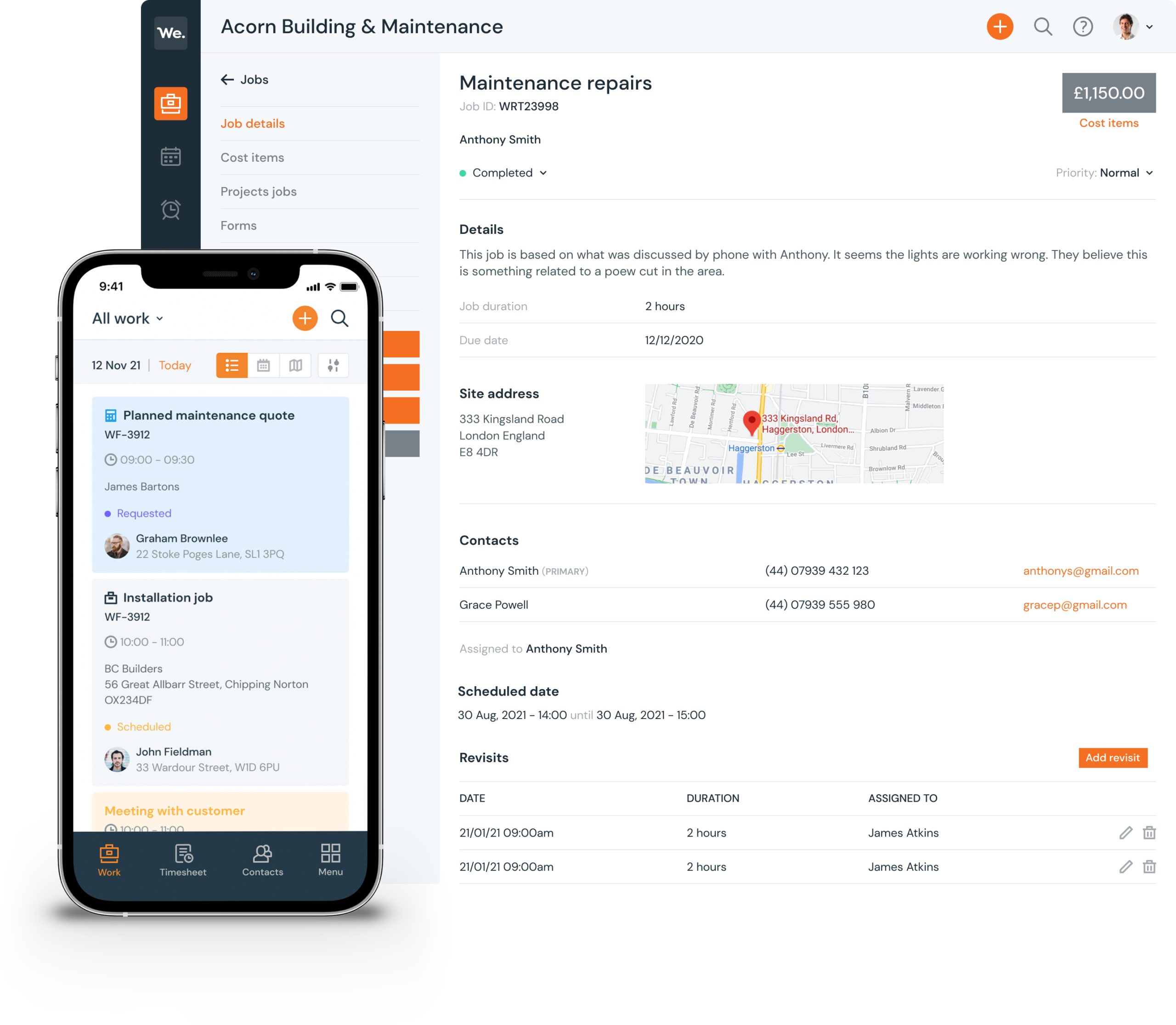 Everything you need to run your business in your pocket
You can update team schedules, add contacts, send purchase orders, manage timesheets, track your field employees' locations and so much more.
Meanwhile, on site, your field team are able to capture every bit of data they might need and have it sent back to the office automatically and all in real time.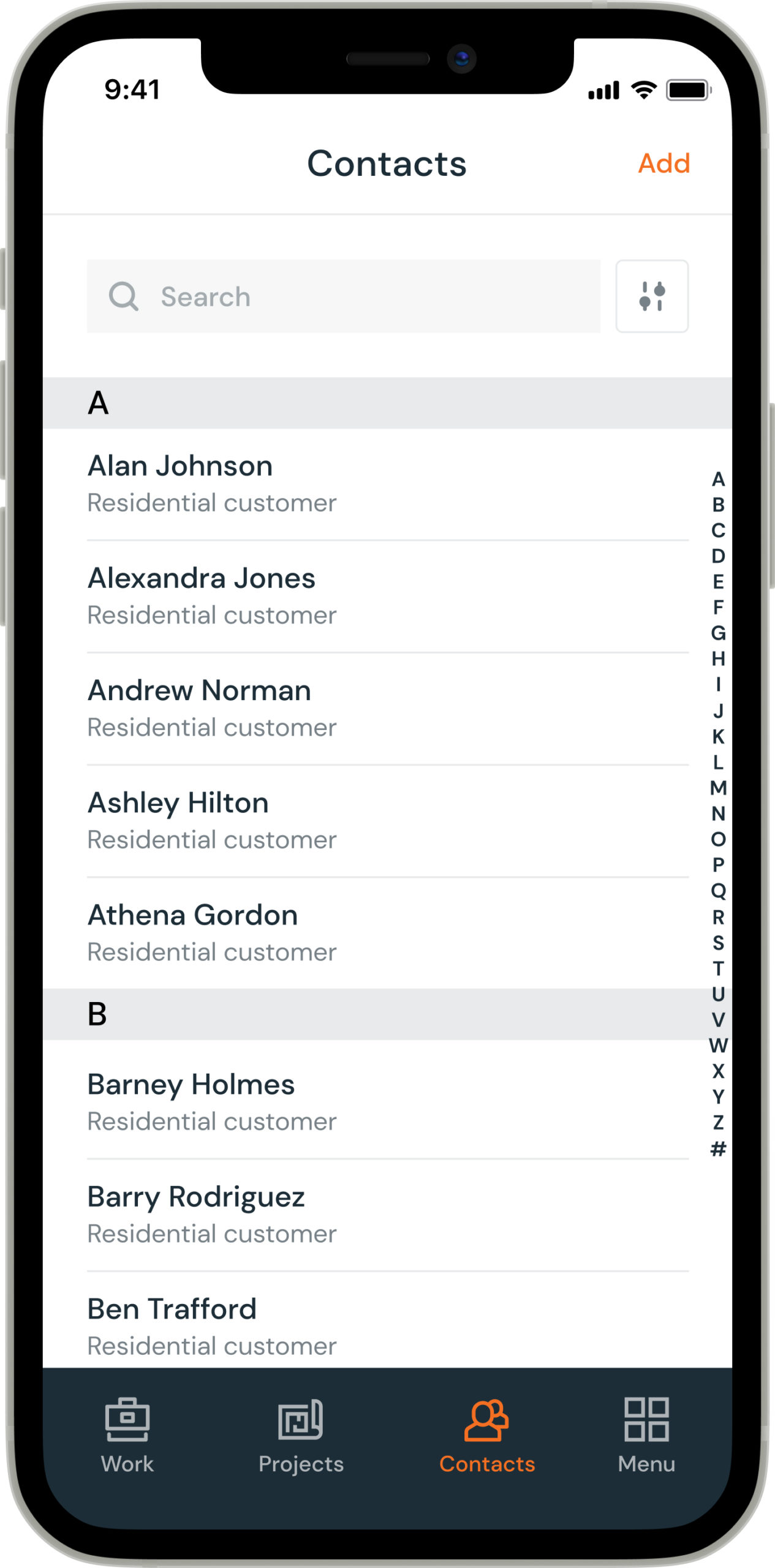 Get an overview of the stuff you need to know about every customer and job in a flash.
Click "Add Contact" to input new customers. Keep your list updated wherever you go.
Everything you need all in one place
Manage worker expectations and help them know where their next job is, right in the app. No more getting lost or going to the wrong address first!
Your fieldworkers can use iOS and Android mobile devices to capture all types of data onsite including forms, customer signatures, photos, documents and notes, which all sync back to the office in real time.
Give your fieldworkers the flexibility you want them to have. Restrict their mobile app to updating the system and completing jobs, or give them full access to customers. It's your call.
Need to assign an unscheduled appointment? Stop wasting time on phone calls that might reach your worker. They'll see their updates in real time
Mobile devices: An Essential Site Companion
Workever keeps the fieldworker, office, and customer in sync.
And because on-the-go communications are so vital to this formula, the app comes with every plan we offer.
Works Everywhere On Everything
The Workever App works on both iOS & Android. It also works both when online and offline which means you can get on with work even if you don't have an active internet connection. We will sync your data back as soon as you do!
The perfect mobile management app for your business
Workever is used by a huge range of business types and industries, find out what sort of companies that use our software to reduce admin and increase business.
Helping businesses just like yours
Find out why customers use our software to remove paperwork, improve communicaton, plan, manage and run efficient, growing businesses.
Great software for our nationwide team
With steady growth and incline in customers, we approached Workever. We rapidly went from dis-organised excel files to one centralised, organised system that our entire enterprise now operates on.
Miles Ward
Spalls Nationwide Cleaning & Facilities
It's really easy to use!
We now have everyone working digitally, we can plan in advance, and the technicians can easily see what's going on all the time, so changes to schedules are no longer a problem. The technicians no longer have to keep coming into office.
Mike Philbin
Manager at Nu-Life Floor Care Ltd
50% reduction in paperwork!
The Workever and Xero integration has helped us eliminate the need to double enter data. I love the fact I can invoice in Workever and all of my data automatically appears in Xero. It's brilliant!

Michelle Avis
Office Manager at Drains Ahead
Schedule Any Job and Manage Your Workforce​
No commitment, no auto subscriptions, no credit card required
What is Mobile Device Management (MDM)?​
Your team can work on both Apple and Android devices using the Workever app. It works on both online and offline modes so you don't have to worry about working without an internet connection. Once you get back online on your enterprise mobile devices the data will automatically be synced.
To get a perfect fit for your enterprise mobility needs for your business, you need to carefully examine the features of the MDM solution before you purchase it.
Here's a list of important features to look out for in a good mobile device management:
Range of devices supported
Companies today use iOS devices, Android devices, Windows devices so you need mobile device management software that fully supports the kind of devices that you use.
Management of security
Perhaps the most important feature to examine is security. Your employees in the field and office will constantly access corporate data without compromising its safety so you need you to have mobile security to safeguard it. Security features include passwords, proper authentication protocols, geo-fencing as well as remotely locking and wiping devices.
Content Capabilities and Management
In the course of your job you might need to collect customer signatures, images, and files so the mobile device management systemn should support the upload of content and distribution between different users. For example, if an employee in the office needs to share a document needed in the field, the MDM solution should allow for seamless sharing with just the necessary parties.
App management
Examine whether your mobile device management requires you to have third-party mobile apps and how to handle the required updates on each of the devices.
Service management and support
Similar to purchasing any software you need to know your MDM provider will provide after-sale services. These range from working with your business until you successfully implement the MDM solution across each platform your company uses. The provider should also be clear on providing services in case you run into technical difficulties in the future.