All of your forms at your fingertips
With Workever's custom form builder, you can easily digitise your forms. Fill them out on the fly and get on your way – faster.
Our lightning fast mobile forms software make it easier than ever to eliminate paper forms. Just input the info you need, and your fields will be put into a form using our form builder software. Assign it to the job, and you're off!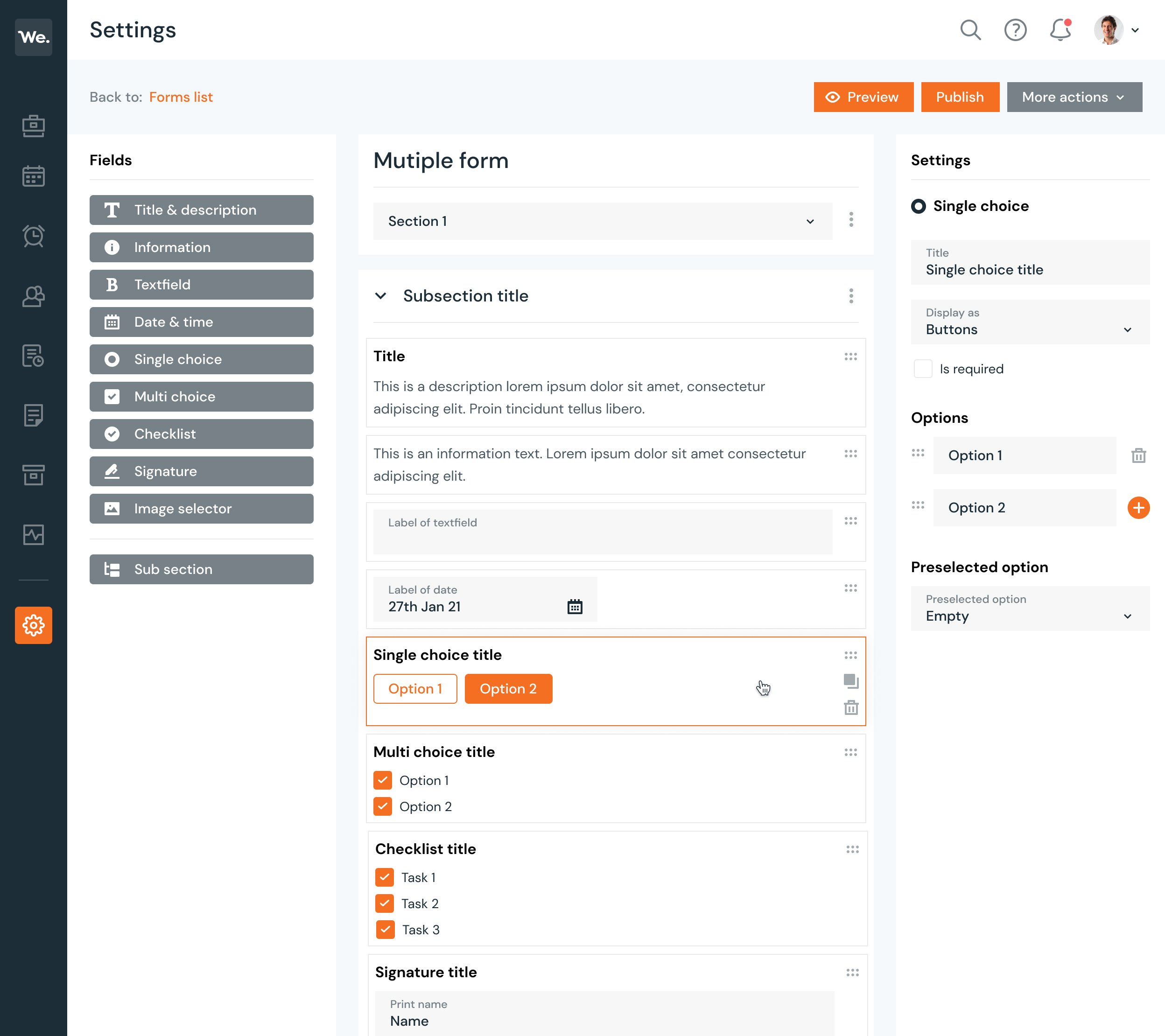 All the field forms that you set up will appear in the mobile app as easy-to-use options. Fill out everything you need in seconds, rather than minutes. Then get your customer's signature on the mobile form and be on your way.
With the form completed, it's easier than ever for the office to send it to your customer. Download, print it, or email it – all from right inside Workever.
Helping businesses just like yours
Find out why customers use our software to remove paperwork, improve communicaton, plan, manage and run efficient, growing businesses.
Great software for our nationwide team
With steady growth and incline in customers, we approached Workever. We rapidly went from dis-organised excel files to one centralised, organised system that our entire enterprise now operates on.
Miles Ward
Spalls Nationwide Cleaning & Facilities
It's really easy to use!
We now have everyone working digitally, we can plan in advance, and the technicians can easily see what's going on all the time, so changes to schedules are no longer a problem. The technicians no longer have to keep coming into office.
Mike Philbin
Manager at Nu-Life Floor Care Ltd
50% reduction in paperwork!
The Workever and Xero integration has helped us eliminate the need to double enter data. I love the fact I can invoice in Workever and all of my data automatically appears in Xero. It's brilliant!

Michelle Avis
Office Manager at Drains Ahead
Schedule Any Job and Manage Your Workforce​
No commitment, no auto subscriptions, no credit card required
Key Features of Form Automation Software
Good form automation software will be designed to help you improve efficiency and eliminate wasteful processes from your business.
Choosing the best online form builder will depend on what business goals you're trying to achieve. Undoubtedly, there are also many ways in which a particular software tool could help you achieve those goals.
Nonetheless, when searching for the right form automation software, be on the lookout for these key features that will definitely make your life easier:
Forms automation software is only as good as the extent to which the electronic forms can be customised. Being able to quickly and easily build custom forms with a range of different fields, as well as pre-made templates and rich multimedia is essential to any good form automation software.