Customer Management Software
Make Customer Management Easy
Keep all of your customer data in a single cloud-based location for easy access and better record keeping. Never let anything fall through the cracks again with Workever's customer relationship management features.
Our CRM software is design with speed and ease in mind. It doesn't matter if you're in the office or the field using your mobile add, adding and editing customer data can be done in seconds – with everything syncing automatically via the cloud.
Sales marketing and lead management can turn casual customers into long-term relationships, and our features are designed to streamline your customer service processes and data management.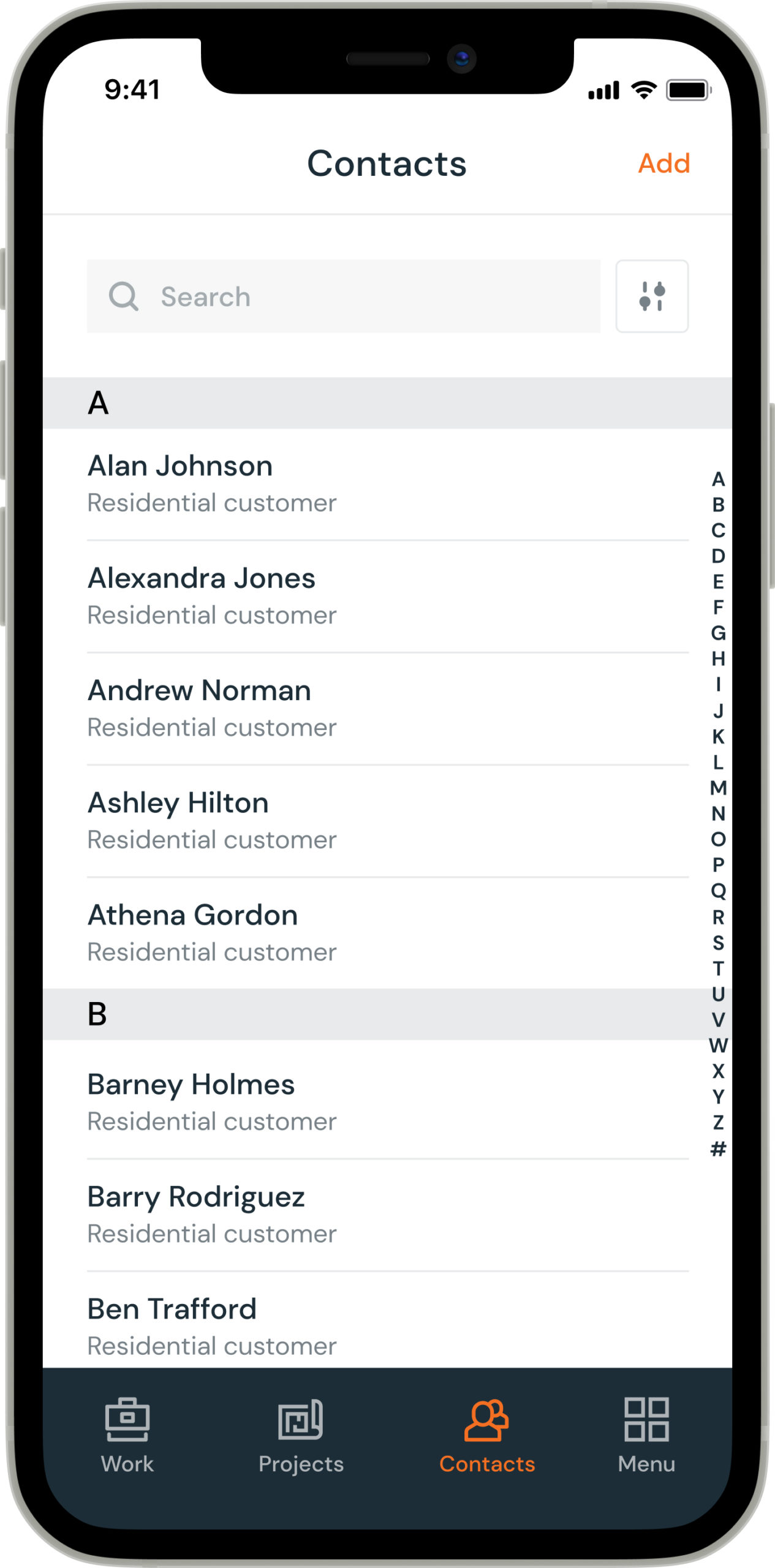 Quick Customer Information at hand
Get an overview of the stuff you need to know about every customer in a flash.
Our customer management software system means that business owners, sales reps, field service coordinators and other team members can easily manage customer data, keep on top of customer support and make customer relationship management easy!
Everything you need in one place
Your customers can see all of their quotes whenever they want and approve them if you give them permission.
Syncing sales management and contact management tasks can be very complex, but it doesn't have to be. Customers can request quotes themselves, meaning that going from quote to job to payment can be as quick as possible.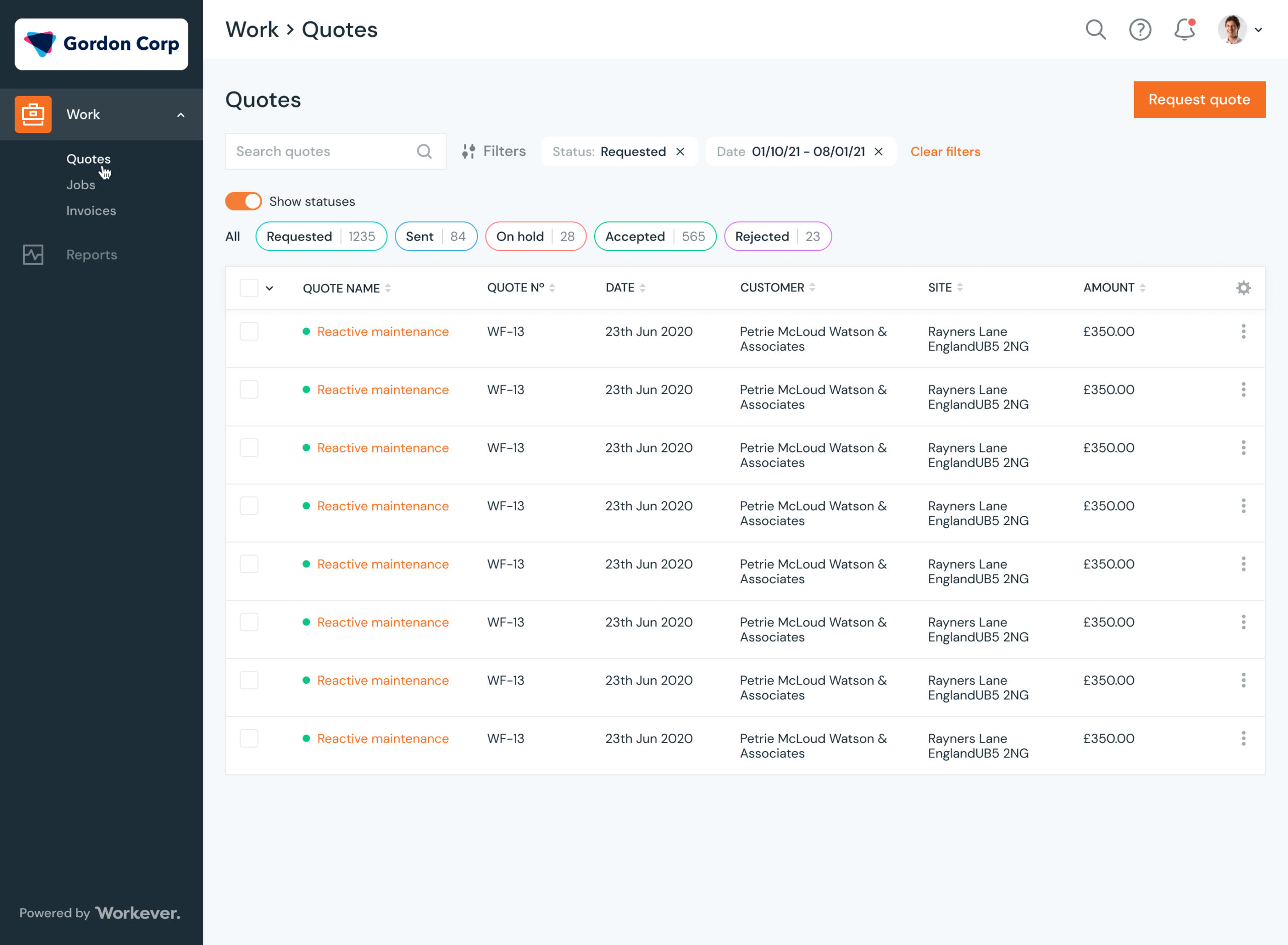 Jobs with your customer will be automatically updated in their portal. Help customers know what invoices are outstanding and what they've paid. Get paid and manage sales automatically: the best bit about CRM software.
Helping businesses just like yours
Find out why customers use our software to remove paperwork, improve communicaton, plan, manage and run efficient, growing businesses.
Great software for our nationwide team
With steady growth and incline in customers, we approached Workever. We rapidly went from dis-organised excel files to one centralised, organised system that our entire enterprise now operates on.
Miles Ward
Spalls Nationwide Cleaning & Facilities
It's really easy to use!
We now have everyone working digitally, we can plan in advance, and the technicians can easily see what's going on all the time, so changes to schedules are no longer a problem. The technicians no longer have to keep coming into office.
Mike Philbin
Manager at Nu-Life Floor Care Ltd
50% reduction in paperwork!
The Workever and Xero integration has helped us eliminate the need to double enter data. I love the fact I can invoice in Workever and all of my data automatically appears in Xero. It's brilliant!

Michelle Avis
Office Manager at Drains Ahead
Easy to use job and field management software
No commitment, no auto subscriptions, no credit card required
Why You Need Customer Relationship Management Software
It doesn't matter how big or small your company is; the relationship you build with each customer will define your future success. The most successful brands understand that customers can be fickle, and if they're not getting exemplary service, they'll go elsewhere.
If you want to create the best experience for your customers and build a company that you can be proud of, CRM Software is an essential component of the journey to success.
How our customer management software system can help you to scale your business
We built Workever because we knew customer management should be different. Using other CRM software showed us some distinct issues with the automation and data management solution features.
Workever is all about streamlining your communication processes while gaining valuable insights into how customers travel through your sales pipeline. Our easy to use CRM will give you all of the information you need to manage your sales and customer journey.
What Makes Our CRM Software Special?
Field-based businesses often struggle to find effective CRM software because most tools are designed for office and internet-based companies. We built Workever to enable enterprises with field employees to increase their workflow automation and pipeline management.
By providing valuable insights and working to ensure that you receive support with third party integrations and live chat, we'll give you access to data so you can improve your operations and business management strategy.
With a range of management tools designed for head office down to each field worker, you can give your customers the best experience – without busting your budget.
It's time we did the same for you. Please find out about our relationship management CRM software.
Customer relationship management (CRM) can enhance your email marketing, task management and marketing automation functions. All three of these things are so crucial for service-based businesses, which is why we provide practical solutions for businesses of all sizes.
Are you looking for the best CRM software for field-based businesses? Contact us today.
If you're looking for a specialist customer and sales CRM, please feel free to contact us today. Our software works for large companies and small business owners, so if you want your sales team and field employees to close more deals and improve your retention rates, we're confident Workever can help you.